Telemark is a region in southern Norway famous for its natural beauty and industrial heritage. On this drive, we'll pass the birthplace of skiing, a UNESCO World Heritage Site, and go to one of Norway's highest peaks! To finish it all off, we visit Norway's largest stave church. Join me for a beautiful drive through Telemark.
Practical info can be found at the bottom of this article
Start: Dalen
End: Heddal Stave Church (Find my guide here)
Distance: 210km / 130 miles
Drive time (without stopping): 3.5 hours
How long did it take us? 8 hours
Tolls: No
Ferries: No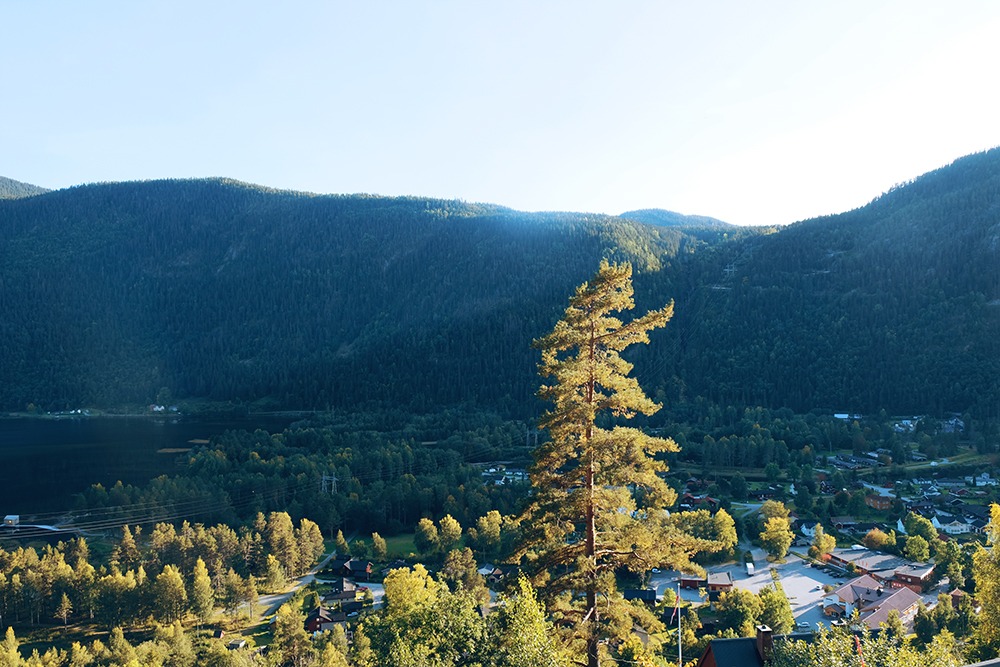 This drive begins in Dalen, a small town located on the westernmost endpoint of the Telemark Canal. The Telemark Canal goes all the way to Skien on the coast of Norway – originally the canal was used for industry, but today it is more popular with tourists.
When the canal was completed, it was referred to as the 'eighth wonder'. Ferries were able to link Telemark with Oslo through the canal and then Oslofjord.
Dalen Hotel is a famous historic hotel; it is one of the best preserved hotels from the 1800s. The hotel was built with the opening of the Telemark Canal in 1892. When it opened, it became popular with European royals.
During the occupation, it was a resort for German officers. Most of the interior was stripped and sold for parts. The building fell into disrepair.
After the war, the building was bought by singer and evangelist Aage Samuelsen. The hotel got a lot of attention and was restored in the 1980s. The hotel reopened in 1992. In 2000, the hotel won the Europa Nostra award for outstanding conservation.
The architecture is a mix of Swiss chalet with national romanticism and Dragestil, a type of Norwegian architecture inspired by Viking and medieval art.
A night at the hotel starts at 3,000 NOK, with rooms going up to 8,300 NOK.
Driving Directions:
Head north on the Fv45 (Fylkesvei 45) out of Dalen. Follow signs towards Høydalsmø. You'll have to do a series of hairpin turns to get out of the town.
You pass the Eidsborg Stave Church & Vest Telemark Museum on your left.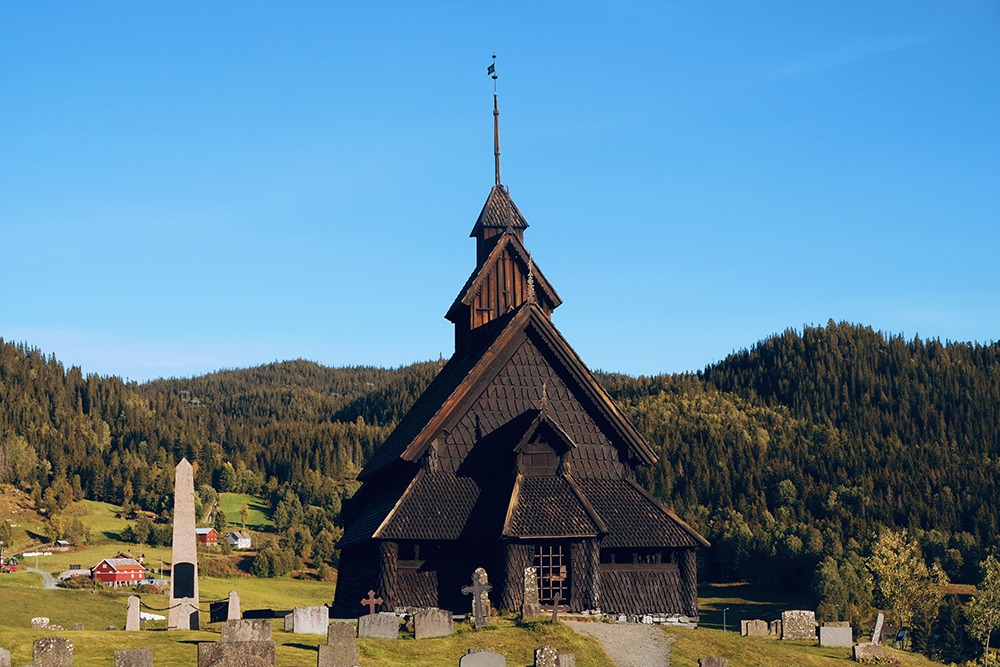 Eidsborg Stave Church is one of the 28 remaining stave churches in Norway. Built some time between 1250 and 1300, the church stands out for being one of the smallest stave churches. Additionally, it is an important pilgrimage church that gave way to its own cult in the old times! Eidsborg Stave Church is located on the hill above the village of Dalen, and today is part of the Vest Telemark Museum. A visit to the church also includes a look at the historic farm buildings from the region. Here's my overview of the history and importance of Eidsborg Stave Church.
Eidsborg Stave Church is an important pilgrim site and is located in the West Telemark open air museum.
Read More »
Driving Directions:
Continue on the Fv45. At Høydalsmo, turn right onto the E134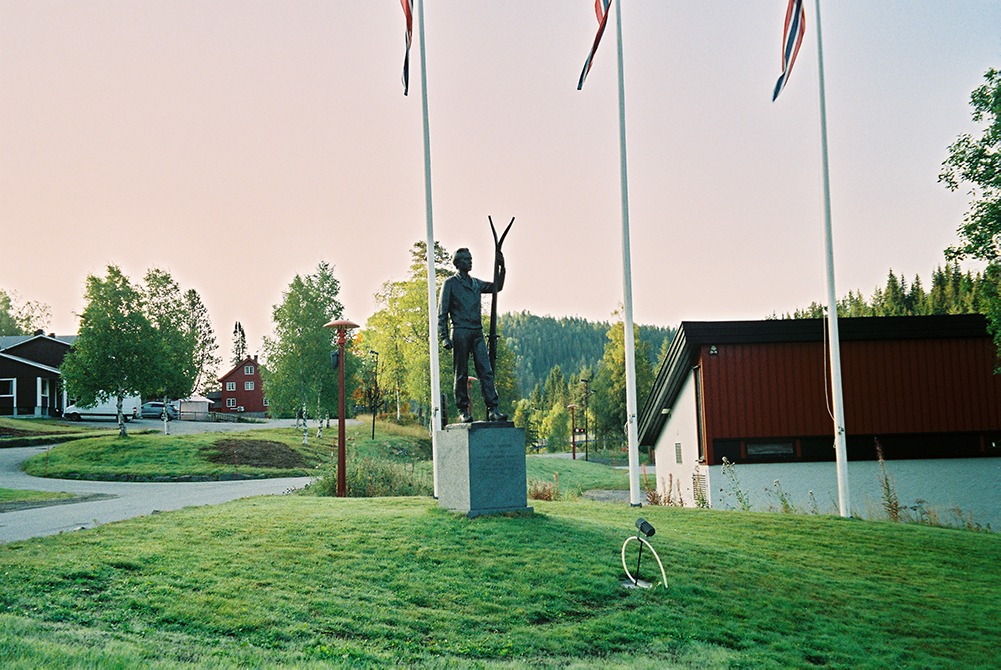 You can learn all about skiing at the Norwegian Skiing Museum located in Morgedal. Click here for all the info.
Note – Google Maps gave us the complete wrong directions (it wanted us to drive on the pedestrian path!). You can clearly see the museum as you drive through Morgedal, so just follow the obvious roads.
Morgedal & Sondre Norheim
Things Telemark is known for #1: It's the birthplace of skiing! Well, modern skiing to be exact. Telemark skiing is a style of skiing invented by Sondre Norheim. There's also the characteristic Telemark landing of ski jumping.
Sondre Norheim was born in a small valley here in 1825. He was the first to introduce what is today known as modern skiing. He introduced an improved, more stable binding and was the first to develop skis with a side cut, today called carving skis.
He is the father of Telemark skiing. It is a technique to turn when going downhill. The heel is detached from the ski and the front of the boot is fixed. This allows the skier to kneel as they turn, pushing forward one ski while lifting the heel of the other.
Sondre combined ordinary skiing with jumping and slalom, making it a sport. In 1868 he won the first national skiing competition in Christiania (Oslo). He set the first-ever ski jumping record at this event.
His reputation grew and made Norwegian words like ski and slalåm known worldwide.
Torjus Hemmestveit and Mikkjel Hemmestveit were from here. They are considered the foremost pioneers of modern skiing in the United States. Before they emigrated to the United States, they created the world's first skiing school at Christiania (Oslo).
When Norway has hosted the Winter Olympics (Oslo 1952 and Lillehammer 1994), the flame was lit at Sondre Norheim's birthplace.
Driving Directions:
Continue on the E134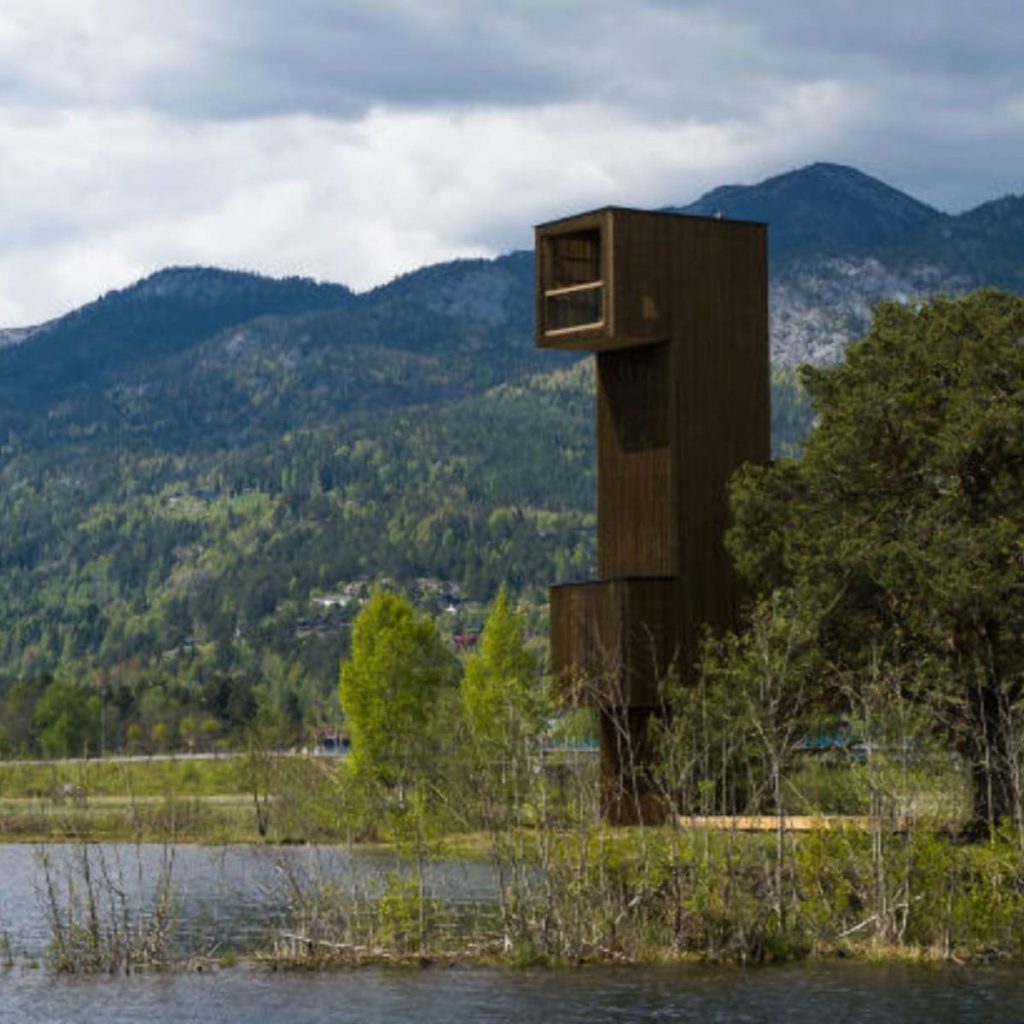 Seljord & Selma the Sea Serpent
Seljord is famous for its sea serpent Selma, who lives in Lake Seljord. She is mentioned many times in Norwegian folklore; the first 'sighting' of her being from 1750. The town has recently built a tower so you can go and try to spot her. The tower is located at 'Seljord Camping' – a caravan park – and you have to pay to park on site. The tower itself is free, but there's no way to avoid paying for parking.
The yearly Dyrsku'n Market, held since 1866, attracts up to 80,000 visitors a year. It's a fair that started as a show of farm animals. Today it has a huge market with vendors selling almost anything from outdoor gear, outdoor clothing, crafts and food. There are also rides.
Seljord Church is one of the oldest churches in Norway. Built between 1150 and 1180, it is in a Romanesque style and dedicated to St. Olav. The church has old furniture, including Norway's oldest post-Reformation Altar from 1588.
On the north side, you can see a face in the wall. According to legend, it is Olav the Holy.
Another legend about the church says it was built by a 'tussock' – a Norwegian folkloric supernatural being. When he was to build the church tower, he fell and died. The place where he died still doesn't grow grass to this day.
Driving Directions:
Continue on the E134, following signs towards Oslo & Notodden
Shortly after leaving Seljord you'll go through the brand-new Mælefjelltunnelen.
The tunnel opened on 19 December 2019 and is 9.3km (5.8 mi) long. It was built to provide better accessibility for trucks and avoid the narrower mountain roads. It is the longest tunnel in Telemark and the seventh-longest in the country. It took 6 years to build.
Driving Directions:
Continue on the E134, following signs towards Oslo & Notodden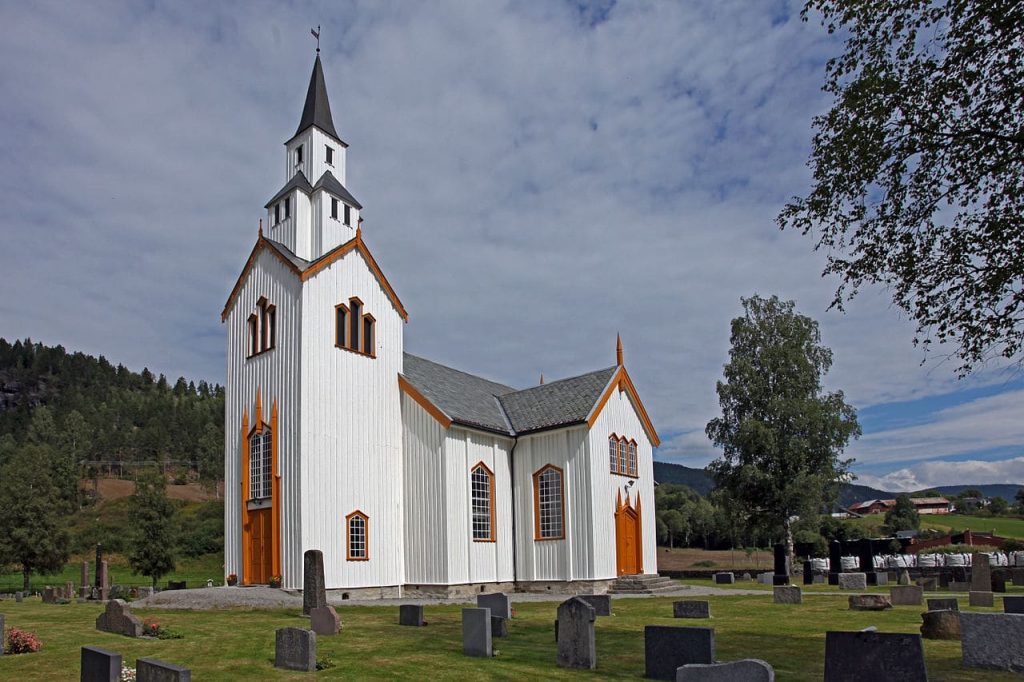 Around 800 people live in Sauland, a small village that was a major centre until Notodden was built. Sauland even had its own stave church, which was torn down and replaced with the current Sauland Church.
Sauland has a large gravel industry, and there are plans to establish a hydroelectric power station here. Sauland is also known for its mineral thulite, which is a manganese rich red-pink variant of zoisite. It is found on a couple farms north of the village. It was discovered 200 years ago.
At Sauland you'll find a petrol station, grocery store, and shops. 
Driving Directions:
In the middle of Sauland village, you'll find the left-hand turn onto the Fv3430. It will be pointing to Rjukan and Gaustabanen.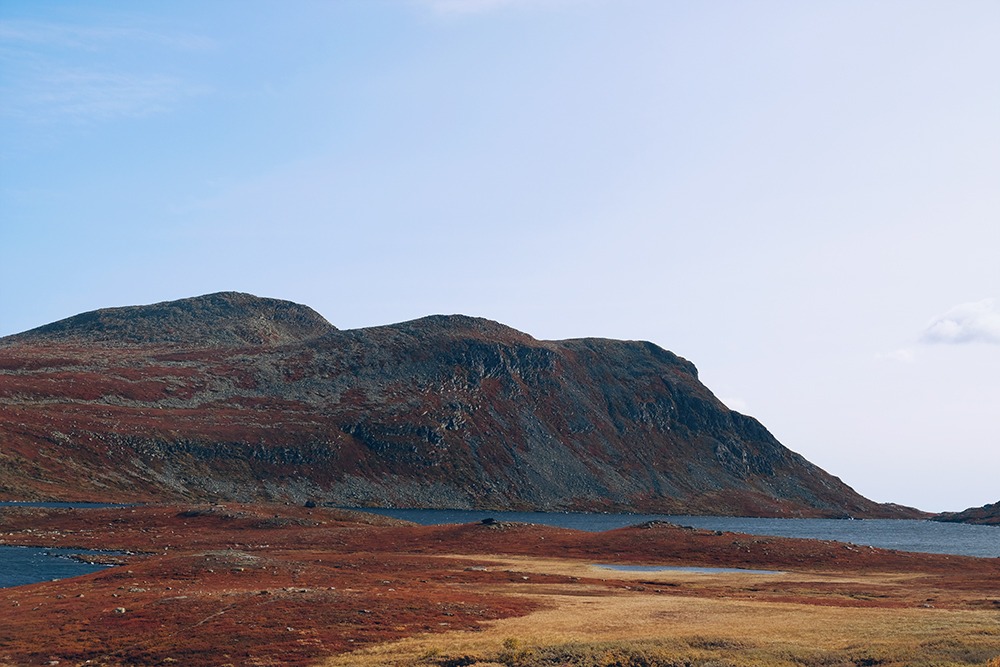 The Fv3430 is a beautiful mountain pass that takes you very quickly from green pastures to bare rugged mountain peaks. There are many beautiful places to stop for photos before reaching Gaustabanen. 
Please note that this road closes in winter. 
Driving Directions:
Continue along Fv3430. The entrance to Gaustabanen is via a sharp-turn to the left towards the other end of the road. Note that the road is not clearly signed, so you'll need to be on the lookout for it. You see the mountain ahead of time, so you can use that as a marker. Or just use Google Maps.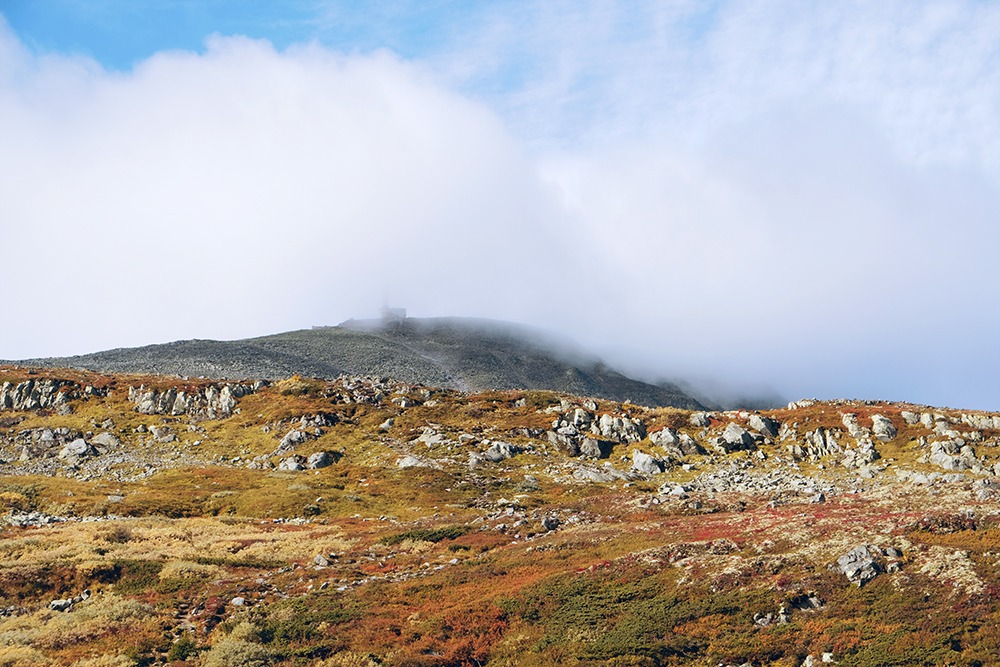 Gaustabanen is a treat. You ride an underground funicular that was built for NATO during the Cold War (the purpose remains a mystery) and come out the other end on Gaustatoppen, a nearly 2000m-high mountain that (on a clear day) has a view over 1/6 of Norway!
This is not to be missed (unless the weather is bad). But you will need at least 2 hours – preferably 3-4 – to do this ride. 
My info on visiting Gaustabanen is below. 
Practical information about riding the underground funicular Gaustabanen, including its history and present day use!
Read More »
Driving Directions:
What goes up must go down! Turn left when leaving the Gaustabanen carpark and follow signs all the way down a series of hairpin bends to Rjukan.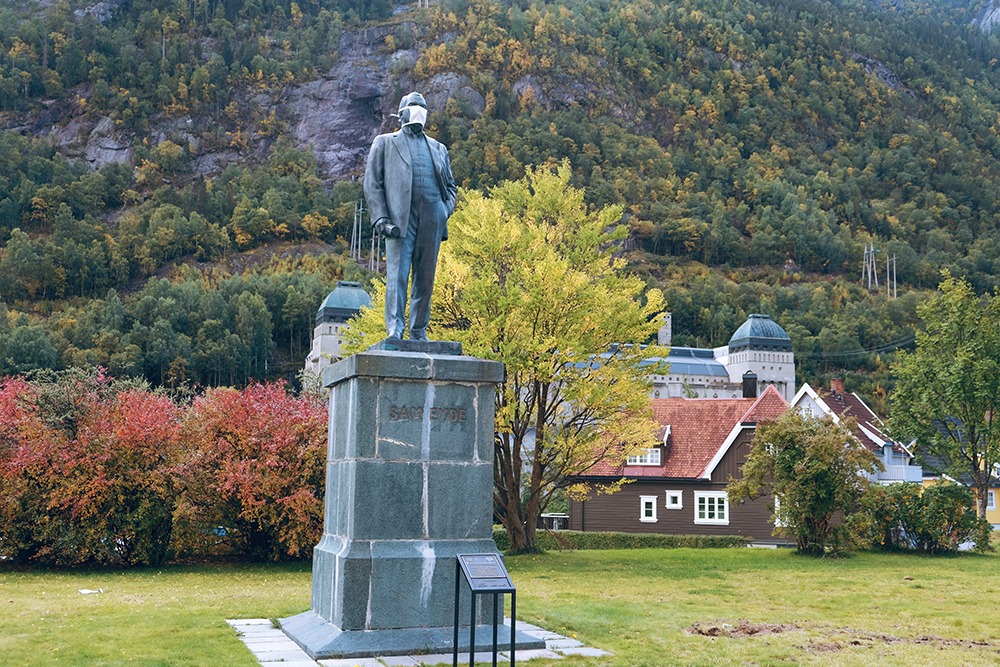 Rjukan is a fascinating town. Here you will find the Vemork Museum, which is about Rjukan's development as an industrial city and the role of the hydropower plant during World War II. After all, Vemork was the site of Norway's most famous sabotage operation. My info about Rjukan can be found below. 
Telemark is a fascinating part of Norway and best viewed with a road-trip. Here's where I recommend going.
Read More »
Driving Directions:
If you have the time, I recommend spending the night in Rjukan to divide the drive and enjoy all that Rjukan has to offer.
From Rjukan, following the highway east towards Oslo.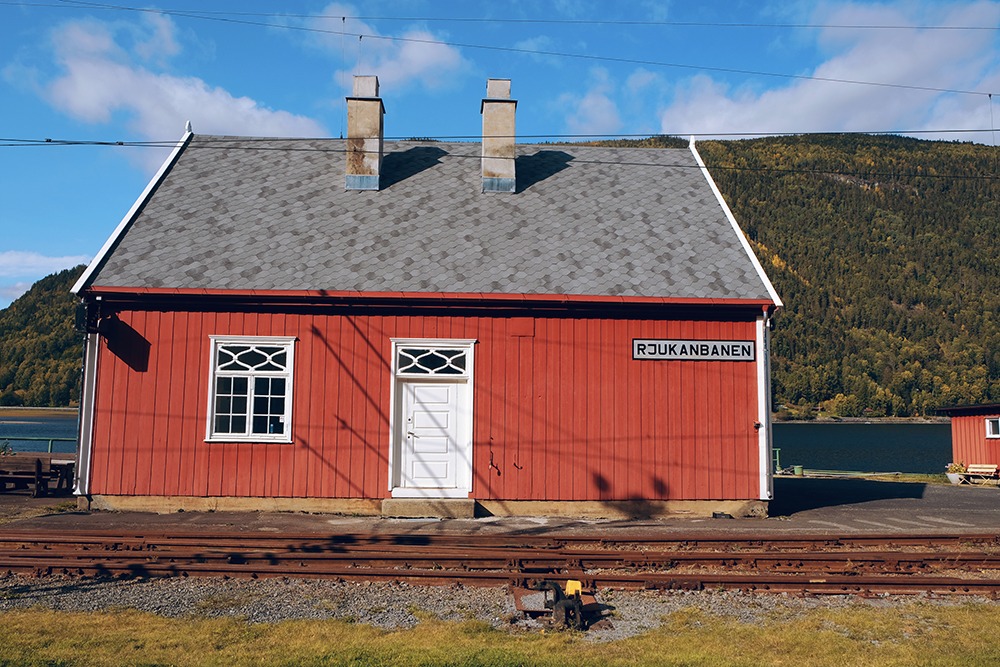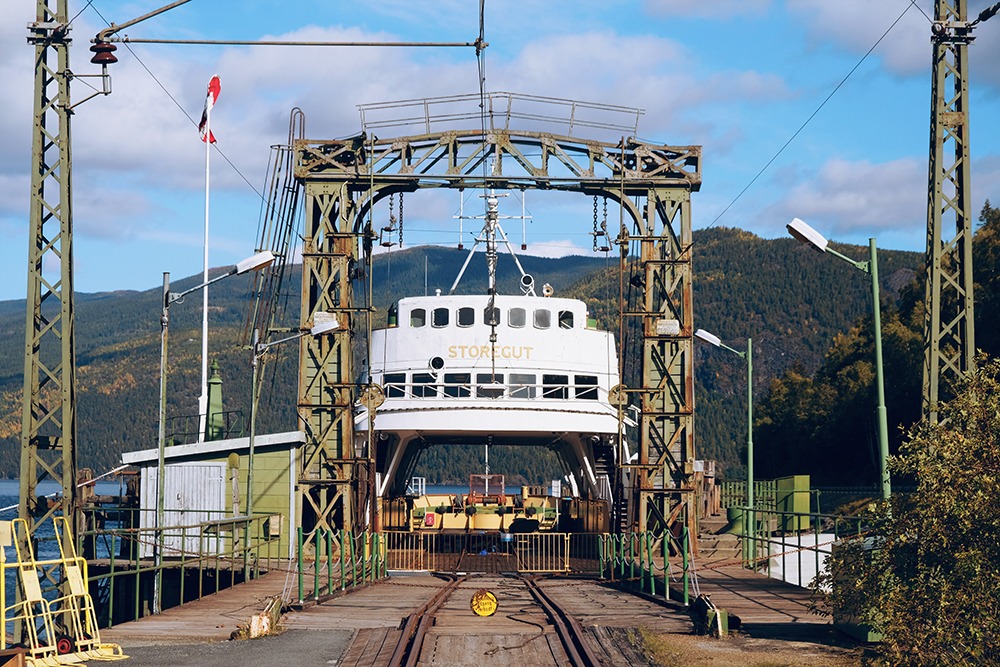 Shortly after leaving Rjukan, you'll reach the lake Tinnsjøen. At the edge of the lake is a preserved section of the Rjukanbanen, or the old train-ferry-train line that transported goods from the plants at Rjukan to the harbour in Skien. The name of this town is Mæl. 
The stop is marked and has information boards about how it worked.
This is also the site where a sabotage operation sank a German ship trying to export heavy water to Germany and assist in developing an atomic bomb. 
Tinnsjøen is one of Norway's deepest and largest lakes – we'll be following it for most of the drive to Heddal. 
More info can be found on my Rjukan page below. 
Telemark is a fascinating part of Norway and best viewed with a road-trip. Here's where I recommend going.
Read More »
Driving Directions:
There is very little between Mæl and our next stop, Heddal. Follow the Fv37 towards Gransherad and then take the Fv361 until it joins with the main highway, the E134. Turn left and follow it to Heddal (the signs to the stave church will appear close to it, and the church is just off the highway). In total, this is a 45 minute drive.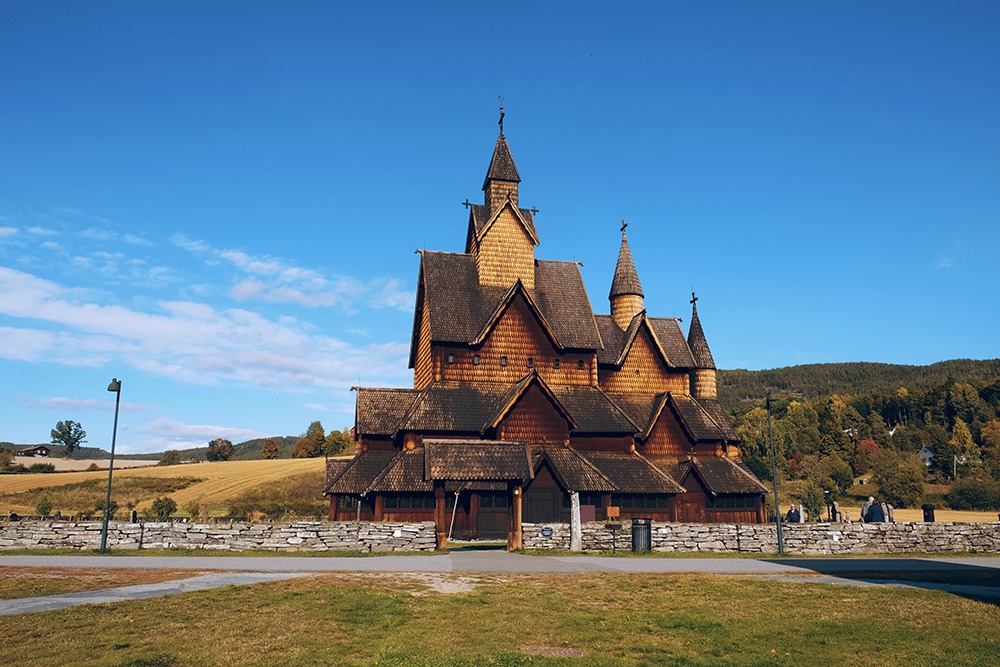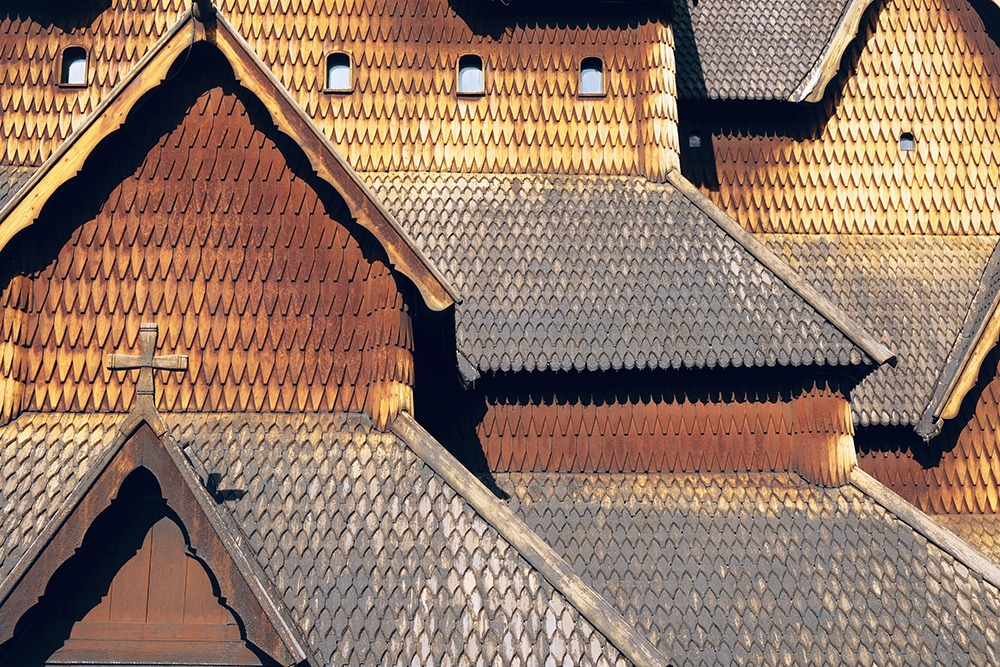 We've made it to Heddal Stave Church! This is Norway's largest stave church, and one of the best preserved. At this church you'll find an open-air museum, indoor museum with exhibitions and you can enter the stave church. More info can be found on the stave church below. 
Explore Norway's largest and most famous stave church, Heddal Stave Church.
Read More »
End of the drive!
This is the end of the drive. 
From here, you can spend the night in Notodden if you are interested in seeing more of the industrial history.
We drove to Kongsberg, where we spent the night. Kongsberg is a historic Danish-influenced mining town that's well worth visiting.
The following day, we continued north to Geilo through the historic Numedal Valley. You'll find a video on that very soon!
Break up the drive! Where to stay
This is a long drive with lots to see, and I recommend dividing it in half at Rjukan to make the most of Telemark. 
Unique Hotels
The most unique hotel is the Dalen Hotel in Dalen (click here), but it comes with a price. If you are looking for something slightly cheaper, I recommend the Dalen Bed and Breakfast (click here). We stayed there and loved it. The breakfast is amazing. 
There aren't many hotel options in Rjukan, but this isn't a bad thing. You can stay at the various lodges in the mountains, such as Gaustablikk, the ski area near Gaustabanen and Rjukan (click here). 
Chain Hotels 
There are no chain hotels on the coast; the closest are in Oslo.
Camping Grounds
There are campgrounds all through Telemark. Some of them will also have cabins for rent, for example Rjukan Hytteby in Rjukan has very charming cabins – we considered staying here! (click here). 
Things to know when booking a camping site/cabin on a camping site:
In Norway, some campgrounds only take reservations over the phone. It's best to check their website before booking.
Summer is a very popular time for campgrounds, and they will sell out months in advance.
In winter, some close.
Campgrounds are more likely to not speak English. 
Cabins are not fancy or modern (some campgrounds are upgrading their cabins though). You will get bunk beds, a living room with an old TV, and a kitchen with a sink and stove top. These days, most have their own bathrooms but be sure to check the website! (egen bad in Norwegian). They will probably not serve breakfast and will likely charge extra for sheets and towels (we just take our own). But cabins are very affordable, very clean, very cosy and very Norwegian 🙂 Don't be put off because they are a little dated. 
AirBNB
Many Norwegians own cabins in Telemark, and when they are not using them they put them on AirBNB. This is a great option, and we use AirBNB on our trips. However, some can be more expensive than hotels. Make sure they come with all the amenities! Some will have the same function as a cabin on a campground but for twice the price.
In most cases, the Norwegian is not there to greet you when you show up. It's all done with keys in lockboxes. 
Some accommodations can be on very narrow and windy roads. 
You are never far from a town with a cafe.
At minimum, towns will have service stations that will serve baked goods and some hot items, like hot dogs! 
We don't have roadside stops in Norway like you do in the United States or Australia, for example. There are no signs on the highway pointing to the nearest McDonalds. In fact, there are no fast food options on this drive. 
Get food at a service station or supermarket, or spend some time at a 'kro' (our version of a roadside diner) or a local cafe. Everyone is friendly!
Service stations have restrooms
The road between Sauland and Gaustabanen closes in the winter months, typically from November to April/May. 
Always check road information at Statens Vegvesen (our road authority) before driving. Click here to view their page. It's in Norwegian but easy to figure out. They also have a Twitter and some cars have announcements on the radio
If you do drive in Telemark in winter, there will be snow and ice. 
In summer, you will encounter construction work. Expect delays
All the roads are single lane. If you get stuck behind a truck or caravan, in most cases you have to wait it out
The Fv roads (county roads) are narrow
If you have done this drive or have any questions let me know in the comments 🙂