The Rondane National Park is incredible. When I was editing the footage for this article, I desperately wanted to get in the car and go. This is the same reaction you'll have when looking through this article. 
The park needs no introduction; images speak for themselves. I also don't really need to convince you why you should visit. But you should. The Rondane National Park is Norway's first, established in 1962. A primary reason for making it a national park was to protect the famous 'Rondane massif' (pictures above). Also, there is a large population of wild reindeer in the mountains and ancient traps used by nomadic hunter-gatherers. 
The drive is the national scenic road for Rondane – one of Norway's 18 national tourist roads (click here to view their site). 
It's not a particularly long drive and can easily be done in a morning. There are hiking trails (long and short) everywhere, so you can spend some days here if the outdoors is your thing.
We drove through the Rondane National Park on our way from Ringebu in Gudbrandsdalen to Røros, a UNESCO World Heritage town. In this article, I cover the section from Ringebu to Folldal, and the next article will be Folldal to Røros. 
For this drive, you pass incredible views, historic sites, and small towns. It's not touristy at all. But trust me, it's worth doing.
Here's my guide for the Rondane National Scenic Drive, from Ringebu to Folldal. 
Practical info can be found at the bottom of this article
This drive is great for: Anyone who wants to see and experience the great outdoors
This drive lacks: Museums, shops, towns. 
How hard is this drive? The road is fine, but beware of snow in winter. It is a single-lane highway and fairly wide, considering some of the roads in Norway. It's also pretty flat. 
Start: Ringebu
End: Folldal
Distance: 97km (60 mi)
Drive time (without stopping): 1 hour 30 minutes
How long did it take us? 2 hours
Tolls: No
Ferries: No
This was the first part of our day. The previous day, we did the drive through Gudbrandsdalen. After Folldal, we drove to Røros.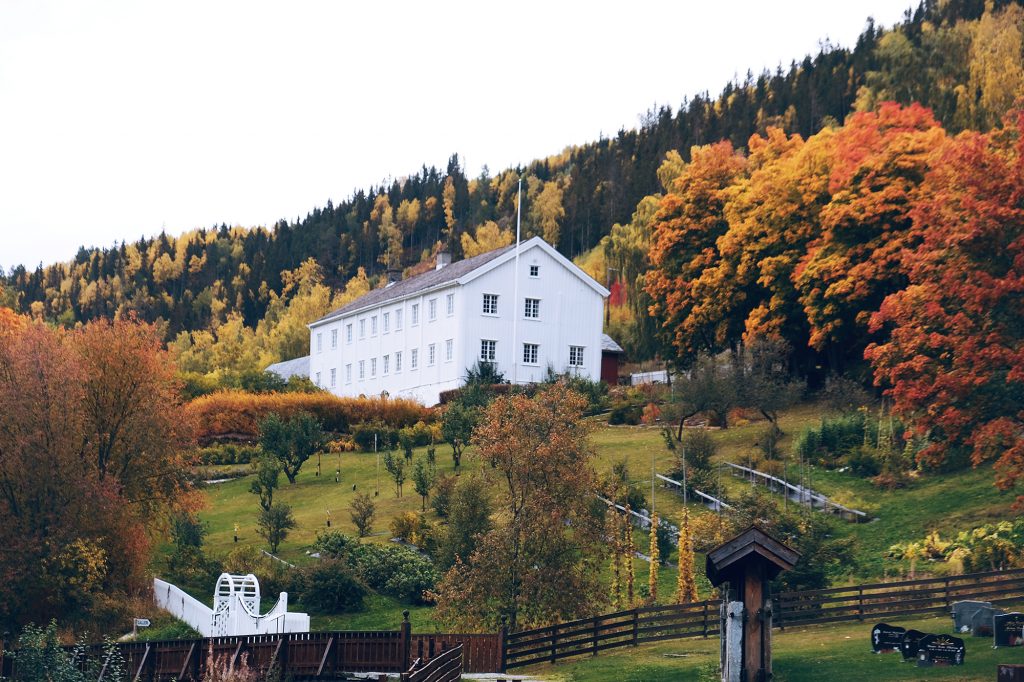 This drive begins in Ringebu, a small town in the southern part of Gudbrandsdalen (Gudbrand Valley). From the main street (the E6 highway) you'll see signs leading you to Folldal, the town on the other end of the national park. 
When in Ringebu you have to see the stave church. My info on it can be found below.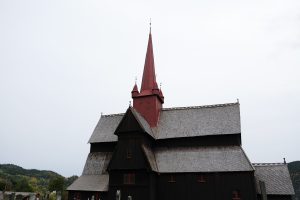 Find the remains of the original 13th-century stave church in this 'modern' 1630 cruciform church. All you need to know about Ringebu Stave Church!
Read More »
Driving Directions:
You'll leave Ringebu heading north on 'Kjønnåsvegen'. Don't worry so much about looking for that name; just follow your GPS or signs pointing towards "Folldal". That's the town on the other end of Rondane National Park. You twist and turn up the hillside before reaching the end of the road. Turn right onto highway 27 (Rondevegen).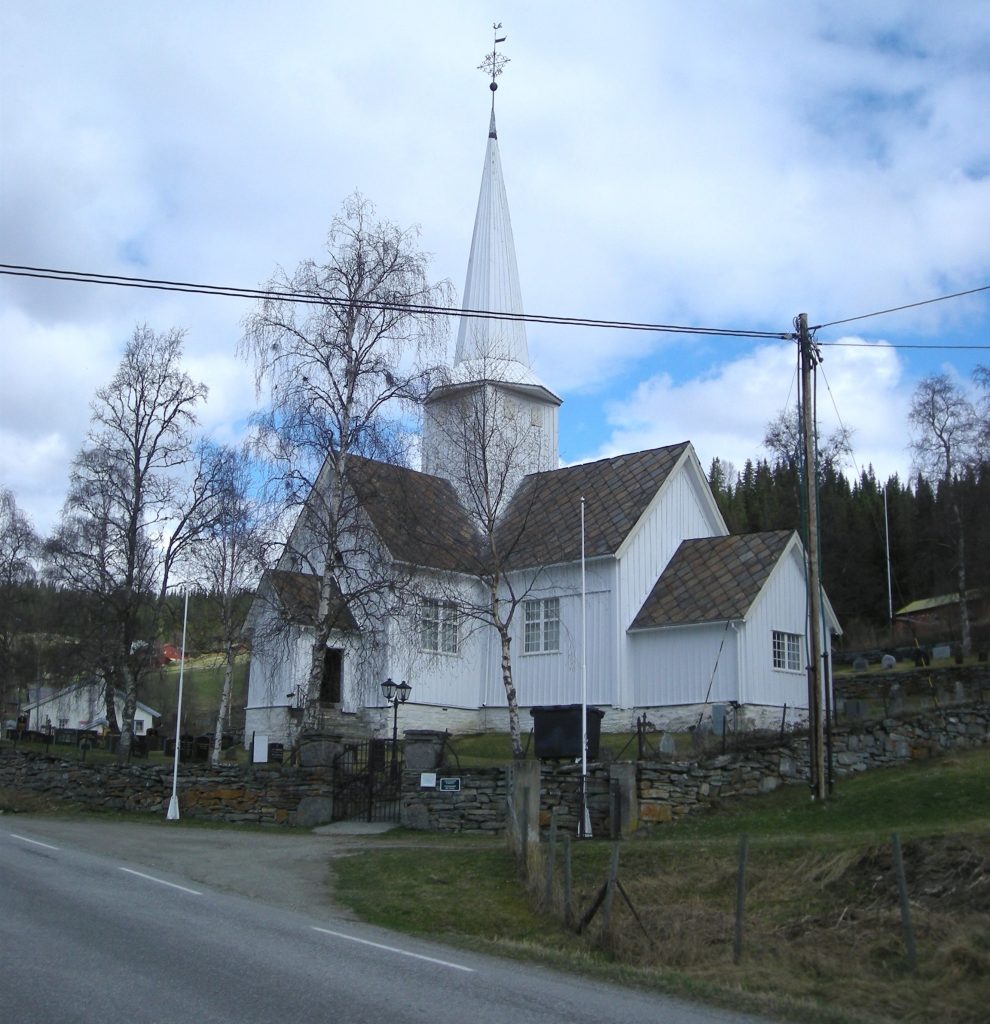 Venabygd is a tiny town on the highway. There's not much here – not even a sign welcoming you to the town – but you will see the church.
Venabygd Church is from 1780. 
Driving Directions:
Continue on Fv27 (Fv = county road(Fylkesvei)/highway)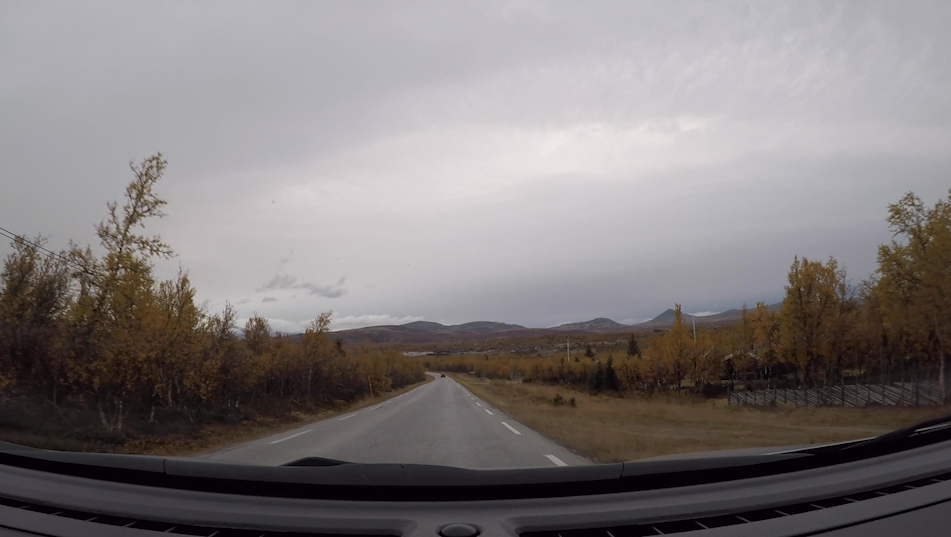 The next part we'll be driving through is Venabygdsfjellet, a mountain area just south of the Rondana National Park. It varies between 850 and 1000m above sea level. The terrain is partly above the tree line.
There were many farms here in ancient times, but today the area is characterised by cabins and hotels.
Venabygdsfjellet is guaranteed snow throughout winter. There are 140km of marked ski trails. There is a competition from Høvringen in Rondane to Lillehammer called "The Troll Trail" – it is the world's longest 1-day ski run (95km). The race takes place in early April.
The area is very popular with hikers and cyclists in summer.
You'll pass some supermarkets, cafes and hotels here. Also keep an eye out for the chapel from 1979. 
Driving Directions:
Continue on Fv27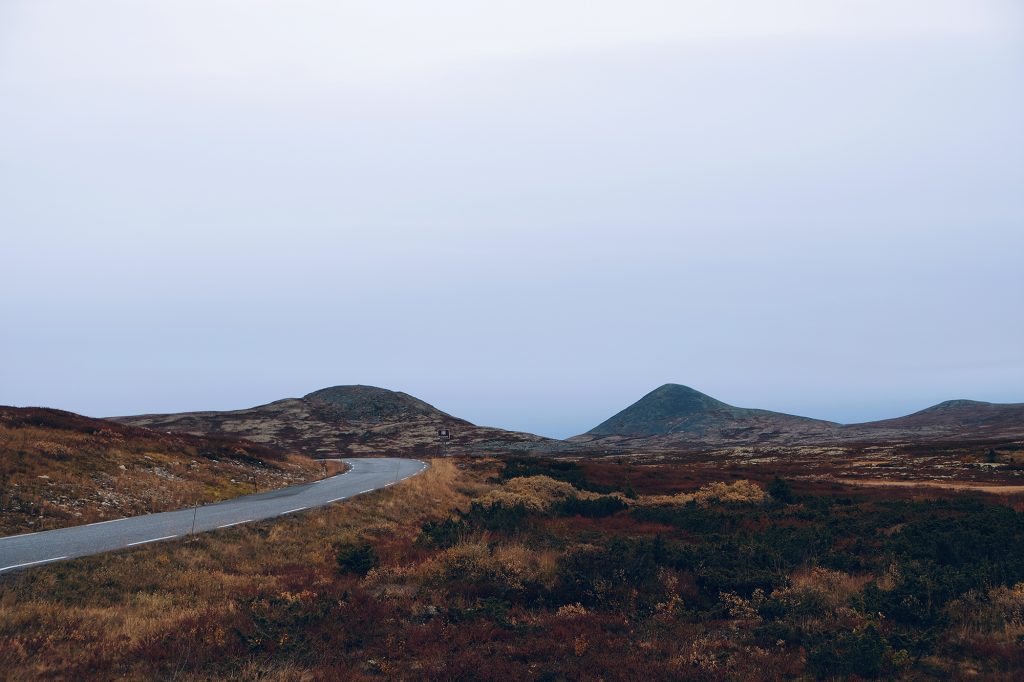 Soon you'll pass the official sign welcoming you to the Rondane National Park Tourist Road. We've made it!
Rondane National Park is Norway's first; created in 1962 to protect the Rondane massif, regarded as the finest alpine hiking region in Norway.
The area has been inhabited by thousands of years, as evidenced by ancient reindeer-trapping sites and burial mounds. Rondane National Park is home to one of Norway's oldest wild reindeer populations, with an estimated 2,000 to 4,000 in the mountains. They are not friendly like the semi-domesticated reindeer in the north, so if you encounter them walk away slowly. 
After the last Ice Age ended, climate changes allowed the reindeer to spread across Scandinavia, only to eventually be forced back to a much smaller area. 
On the mountain plateaus, there is evidence that the hunter-gatherers lived off reindeer. Large traps used to catch reindeer are found all over the park. They are constructed from stone to make holes or large fenced-in areas. Reindeer were tricked or led in.
There are also small stone walls. They are believed to have been used as hiding places for archers waiting for prey. The earliest traps may be 3500 years old. Additionally, remains of houses from 500 to 700 AD are found in the area. Considering all of this, it's believed that people lived and hunted here until the Black Death in the 14th century. 
After a decade of planning, Rondane was established as the first national park on 21 December 1962. It was first established as a nature protection area, but was later named a national park. In 2003, the park was enlarged from 580 to 963km2 (224 to 372 sq mi). 
More on the park later. Lets get back to driving. 
Driving Directions:
Continue on Fv27. Just before Atnbrua, you'll have to turn left to remain on the Fv27. It's marked to Folldal. 
The first village in the park in Atnbrua, and there are a few things you can do here. 
Industrial Museum
There is a museum called Atnbrufossen Vannbruksmuseum. It is all about the use of hydropower in industry here in the mountains, and it is located on Atnbru waterfall. The museum complex consists of a restored flotation plant, sawmill and hydropower plant. You can see a sawmill, sauna, drying house, timber floating plant, and a small power plant. Industrial traditions here date back to the 18th century, making it an interesting place to visit. The opening hours seem to be rather short, but they also open by appointment. 
Click here for more info on the museum. 
War Collection
A little past that museum is another, possibly more interesting one. The Sollia War History Collection was put together by one of the locals on a heritage farm (more on that soon). The war museum has weapons, uniforms, and items from the Norwegian resistance group 'Milorg' and the Norwegian Nazi party 'Nasjonal Samling'. The owner of the museum, Jo Øvergaard, even has items from her own family's collection as her father was part of 'Operation Grebe' from 1944 (click here to read about that). Jo will tell you lots of stories on your visit, if you're interested.
The farm, Amperhaugen, has been awaded the Olavsrosa from the Norwegian Hertiage Foundation, which is an award given to unique cultual experiences. You can spend the night at this fam. Click here to view their page.
Again, it has very short opening hours but you can contact Jo and arrange a visit.
Knut Hamsun's Cabin
Additionally, there is a historic farm here. Practically across the street from the museum, Nordre Brænd was built in 1849 and is today still a farm but also a cabin area. Norway's famed writer Knut Hamsun lived here for a year with his new wife Marie. He worked on the novel A Wanderer Plays with Sordin and the play Life in Violence in a cabin on the property. The cabin is still there today and you can rent it as a place to stay. 
Click here to view their website. 
Otherwise, in Atnbrua you'll find a supermarket. 
Driving Directions:
Continue on Fv27. Shortly after passing through Atnbrua you'll see signs pointing to our next stop.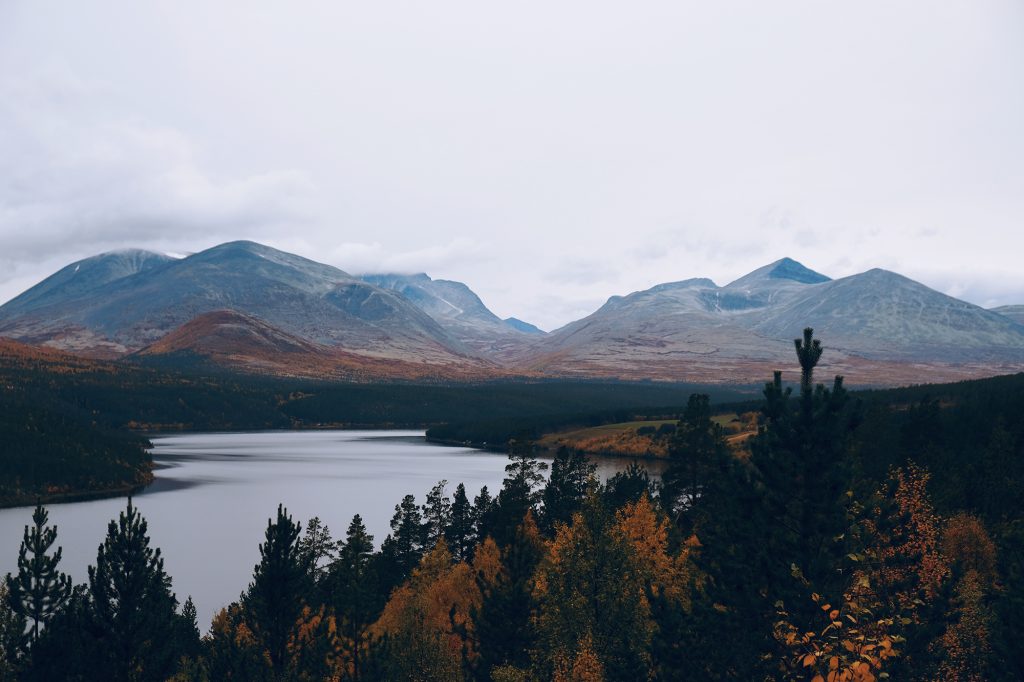 This is my favourite stop on the drive, simply because the view is spectacular. 
Here is where you'll see the Rondane massif – a collection of tall barren mountains with the river flowing in front. This view has inspired many artists, but perhaps the most famous is Harald Sohlberg's painting Winter's Night in Rondane. After all, this stop is named after him.
The viewing platform is interesting as well. It is built around the pine trees.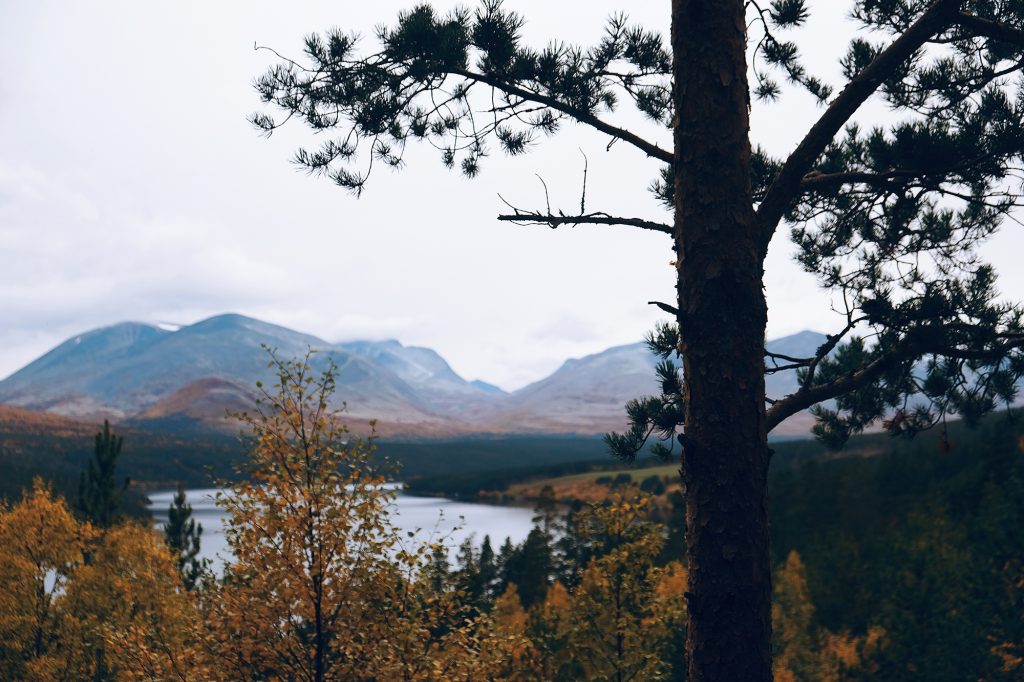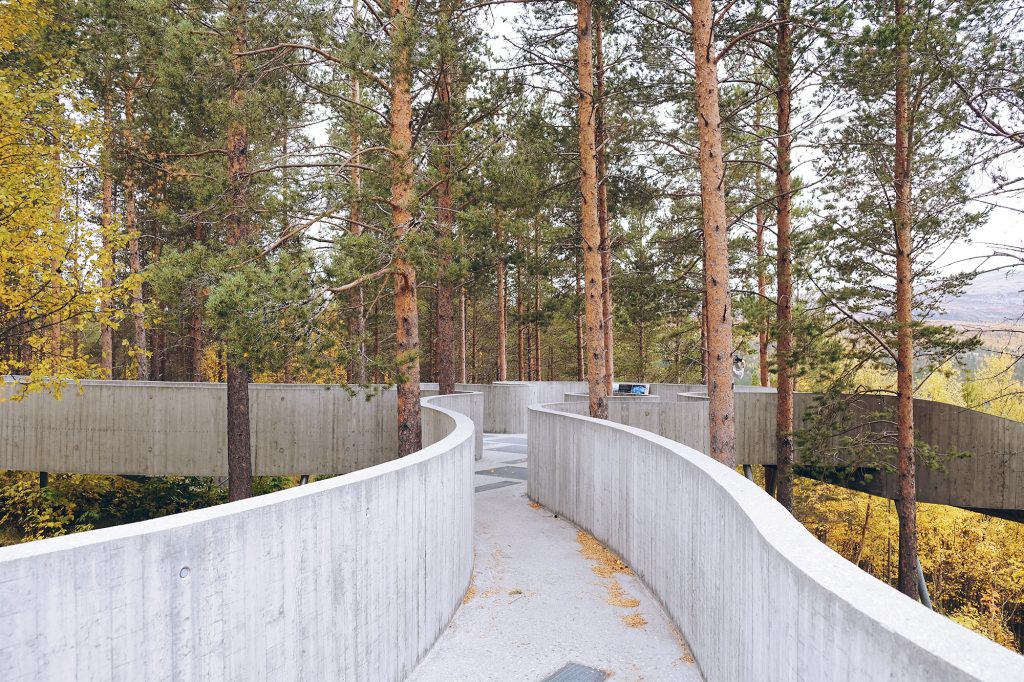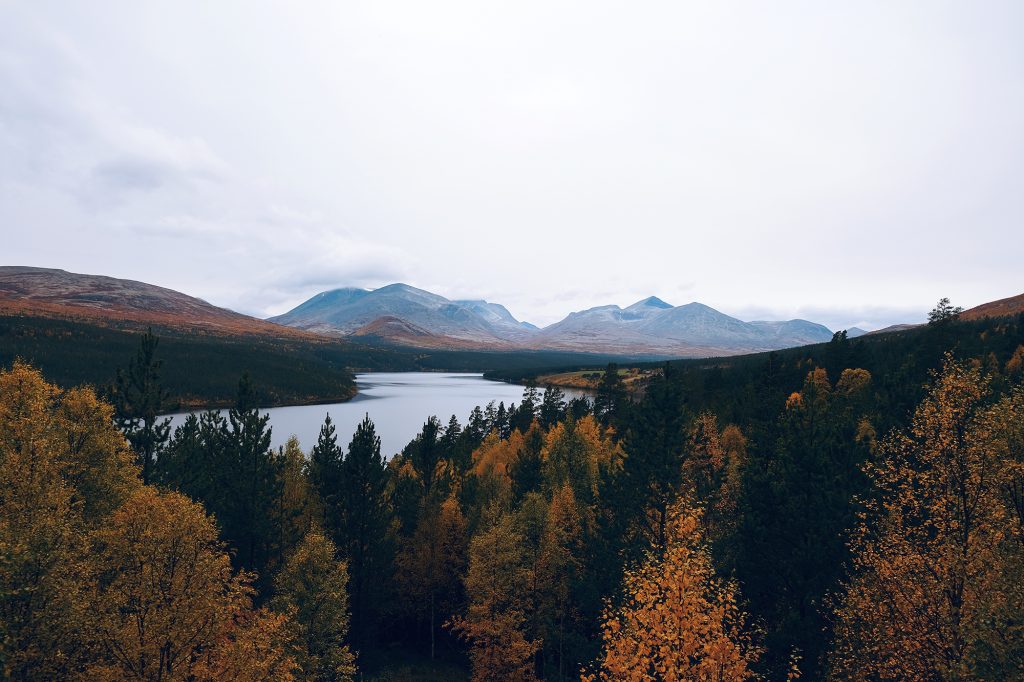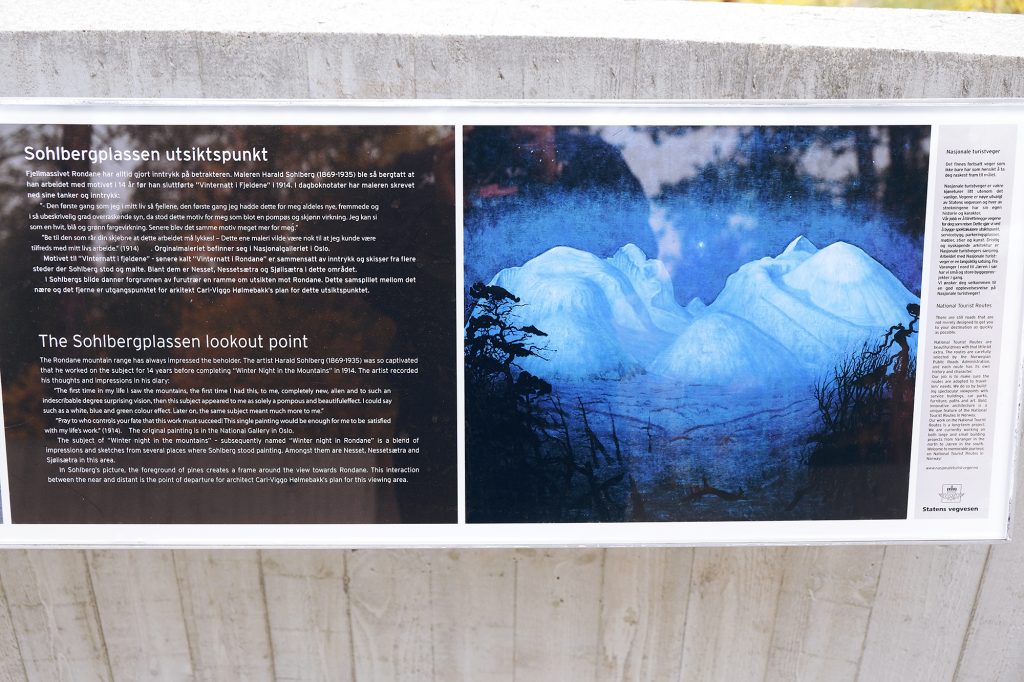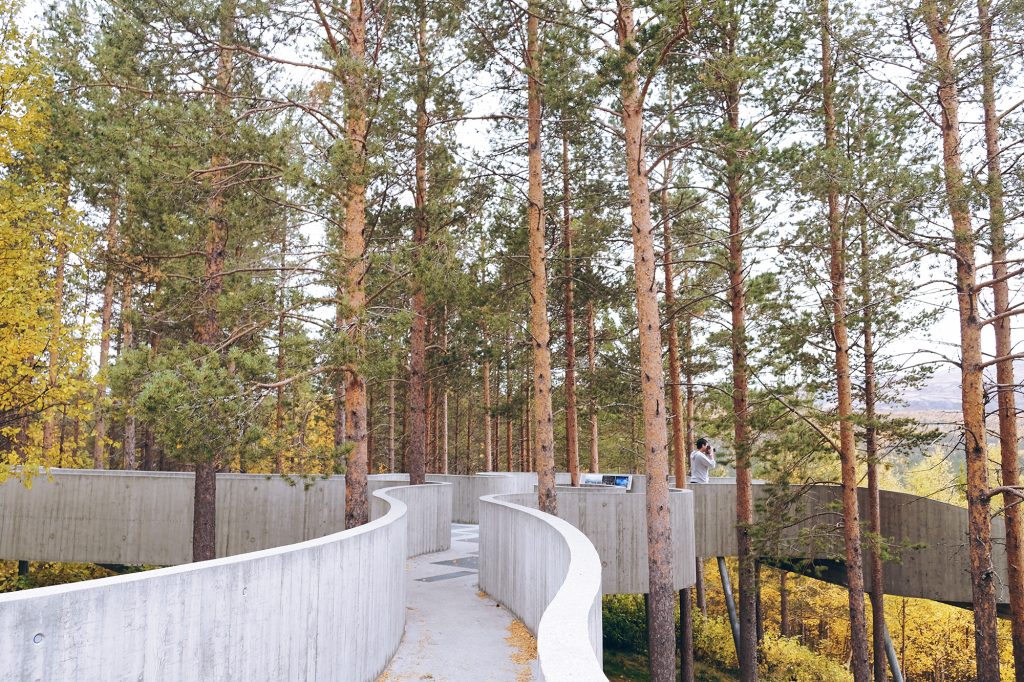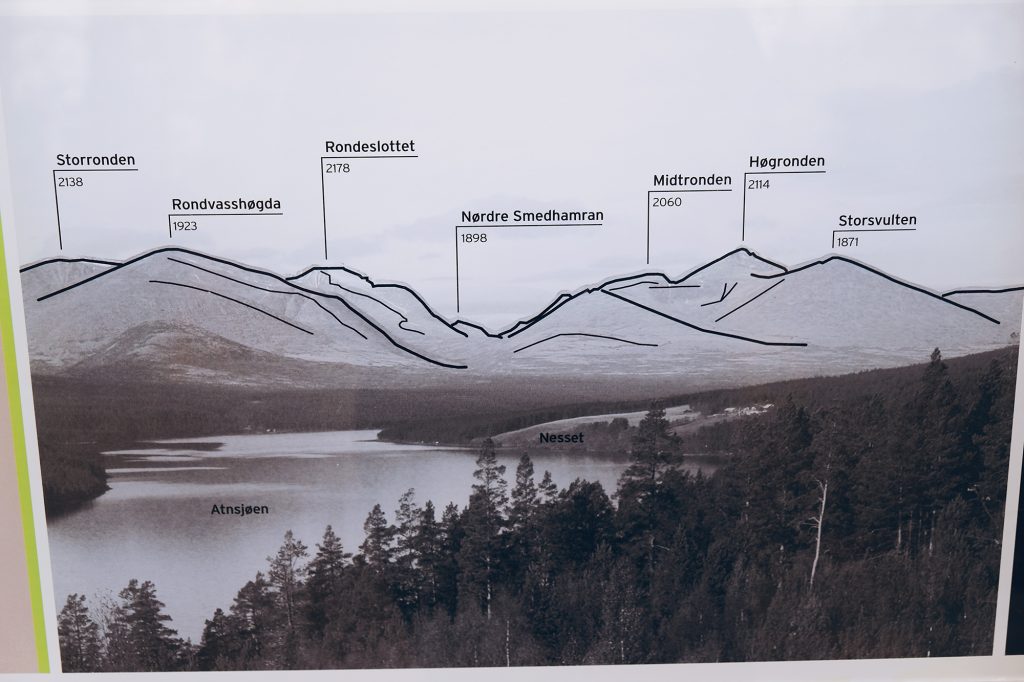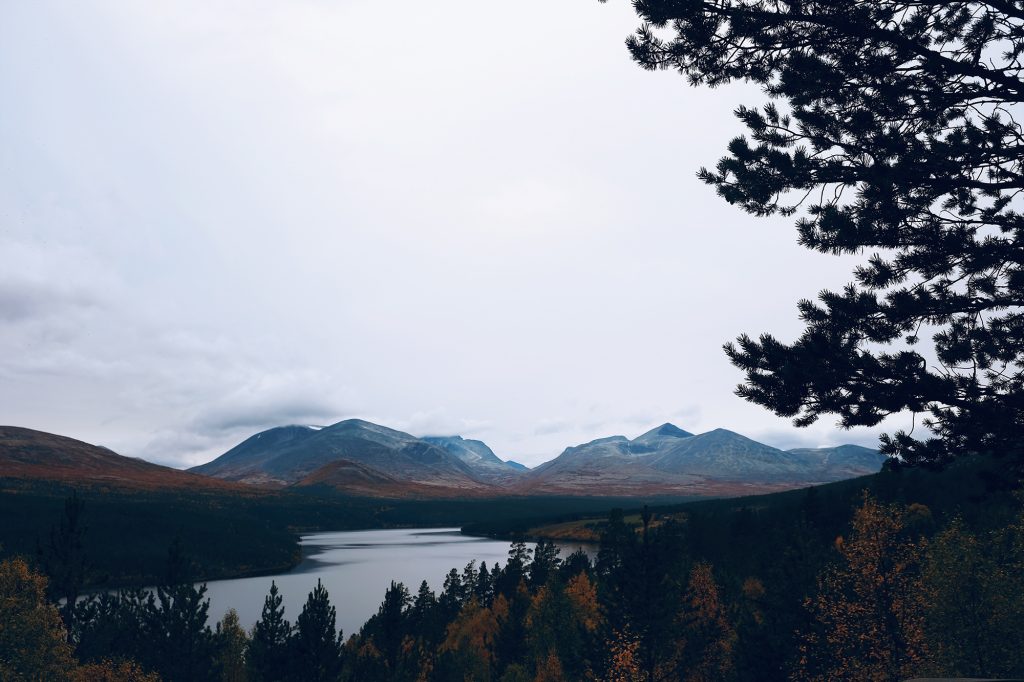 Driving Directions:
Continue on Fv27. You'll see the Rondane massif for most of this part of the drive, but there's not really anywhere to park. After about 10 mins, you'll be at the next photostop.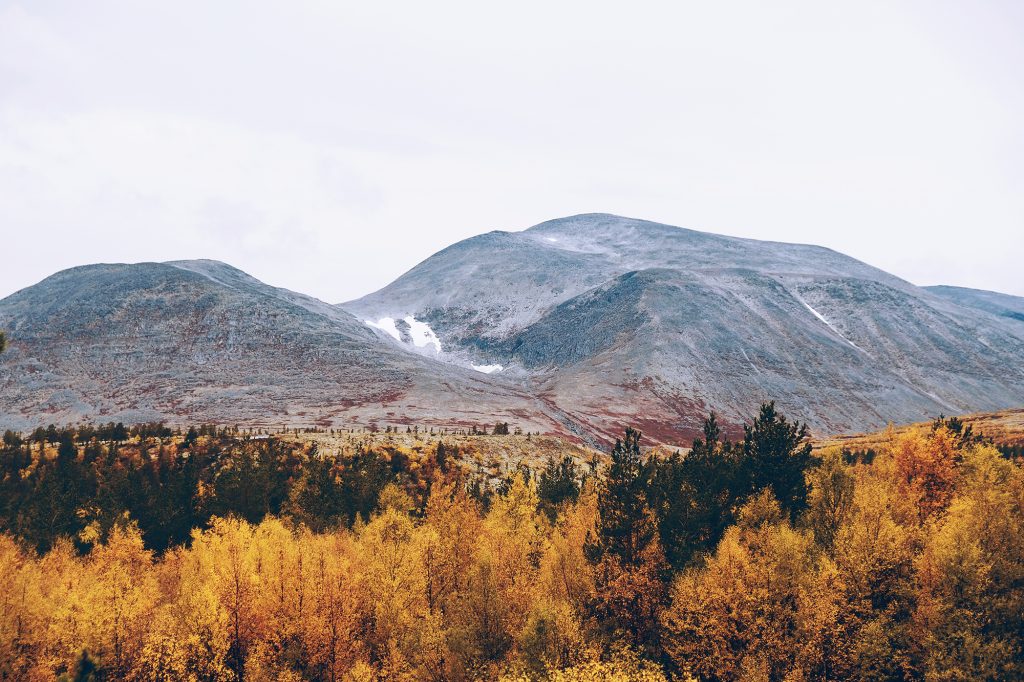 If you are planning to go hiking, this is a great spot to park the car, as there are many paths leading off towards the mountains. Otherwise, if you just want to relax, there are benches, a covered area, and excellent views of the mountains.
There is a tourist info office here, but it was closed when we visited. If they are open you can rent canoes or bikes, or they can show you short (1-2 hour) marked paths.
If you want to learn about the history of Norwegian currency, this is the place! I know. It's a bit weird. But there are information boards about the old banknotes in Norway. It's only in Norwegian, but it's not like you come to this viewpoint to read about banknotes.
There are public bathrooms here but I must warn you: when we went, they were disgusting. The more you know!
We walked down to the river – a short and easy walk – and took photos from there.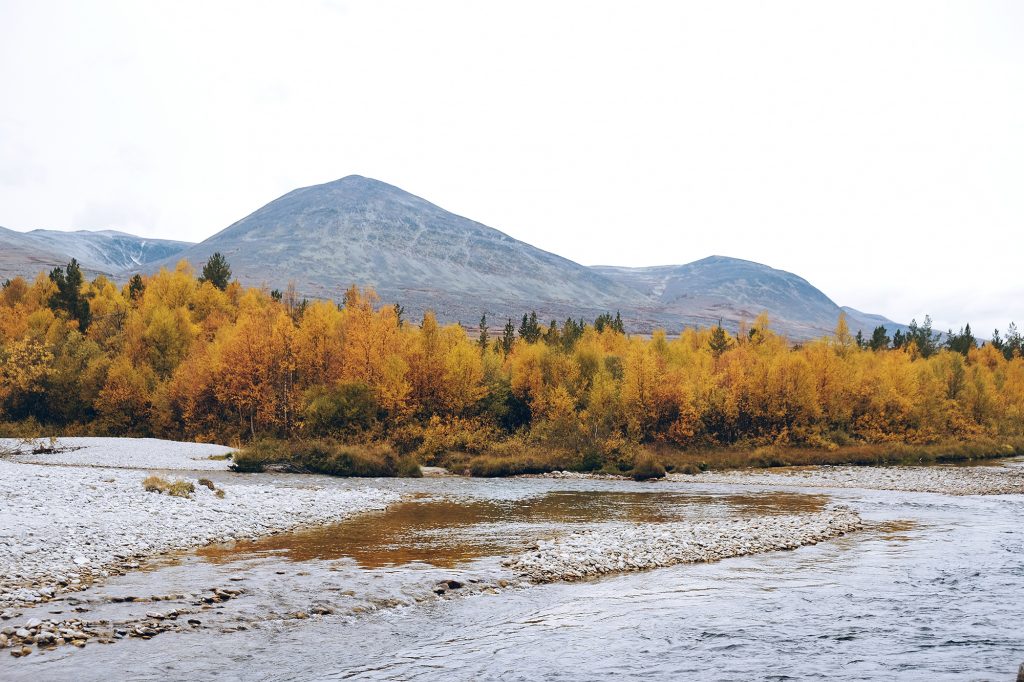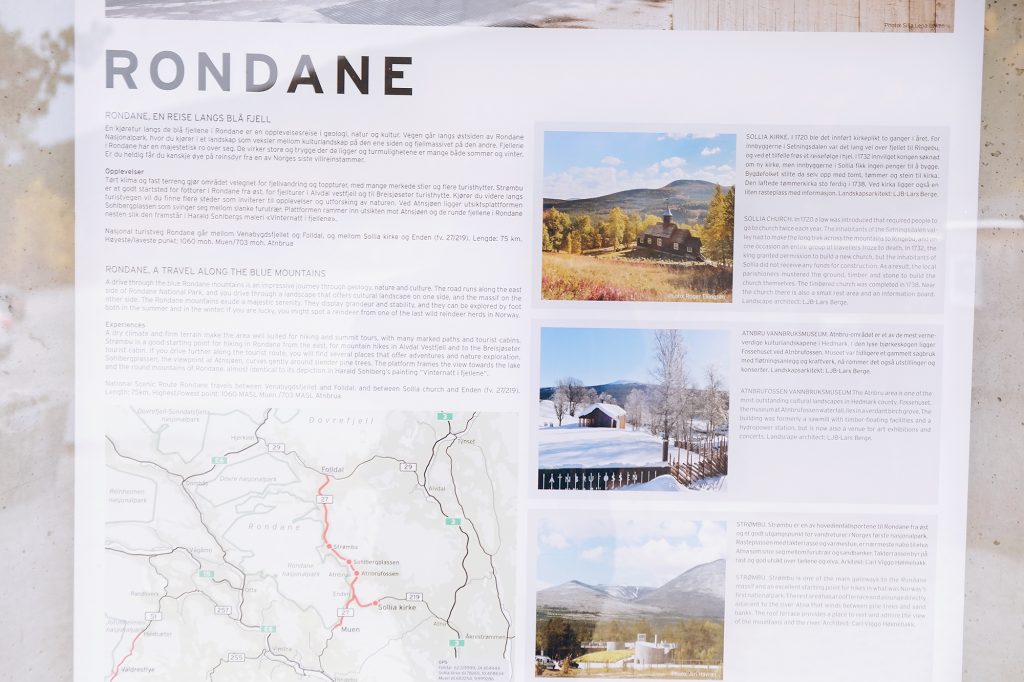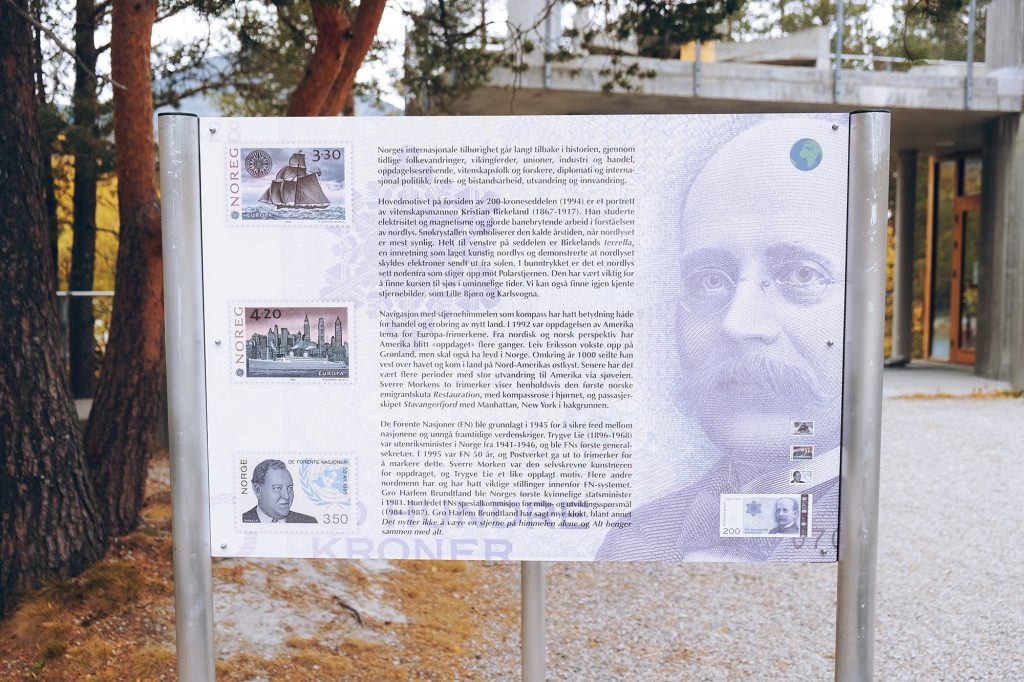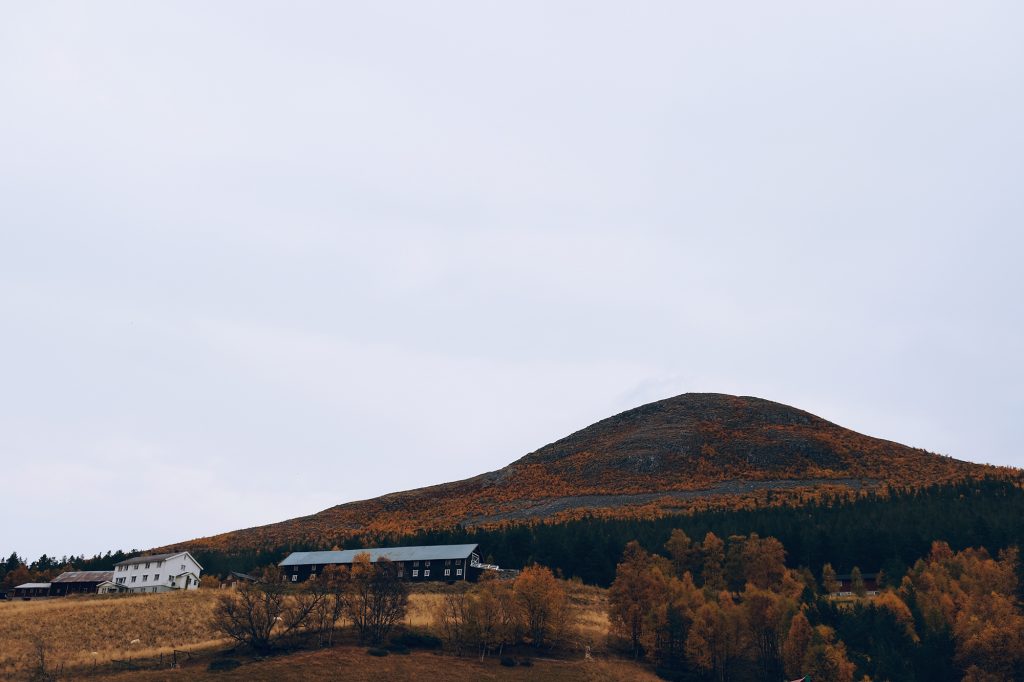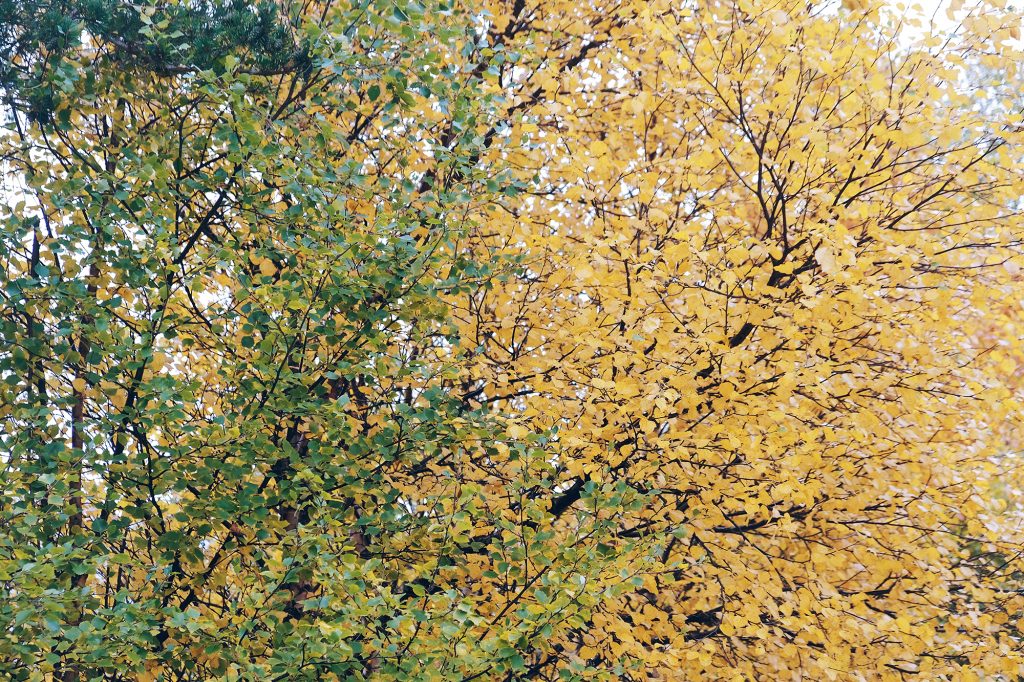 Much of the park's glaciated and lichen-coated landscape is 1400m high, and 10 rough and stony peaks rise over 2000m, including Rondslottet (2178m), the highest, and Storronden (2138m). Rondanes range of wildlife includes 28 mammal species and 124 bird species. 
Rondane has a relatively mild climate, making it one of the safer areas for avoiding hiking in pouring rain. Low precipitation means less snow in the winter, but snow is still guaranteed on the mountains.
The landscape was formed during the last Ice Age, 9,000 to 10,000 years ago. At that time large quantities of ice were formed, and it is believed the ice melted gradually. The ice melting must've been rapid when it happened, digging deep river valleys. There are a few small cabins here caused by rapid ice melting.
There are no restrictions on where you can hike in the park, but please be considerate of the animal populations. It's recommended to stay on marked trails. If you do happen upon some reindeer, slowly move away from them.
The hiking season runs in July and August. There are guided hiking tours. Cabins you can spend the night in are scattered throughout the park if you want to spend a few days here.
Driving Directions:
That's right: continue on the Fv27! We are going all the way to Folldal now. 
Optional detour: Folldal open-air museum (Folldal Bygdetun)
The museum has a number of old farm buildings, including 18th century houses and 17th century cabins. There's also a school building from 1898. Yes, it's quite similar to other open-air museums, but worth stopping at if you are interested in history.
Driving Directions:
To get to the mines, once you enter Folldal follow the brown tourist signs leading to "Folldal Gruver". You continue straight across the Fv29 (where we go next) and then it's straight through the town and up the hill. Easy!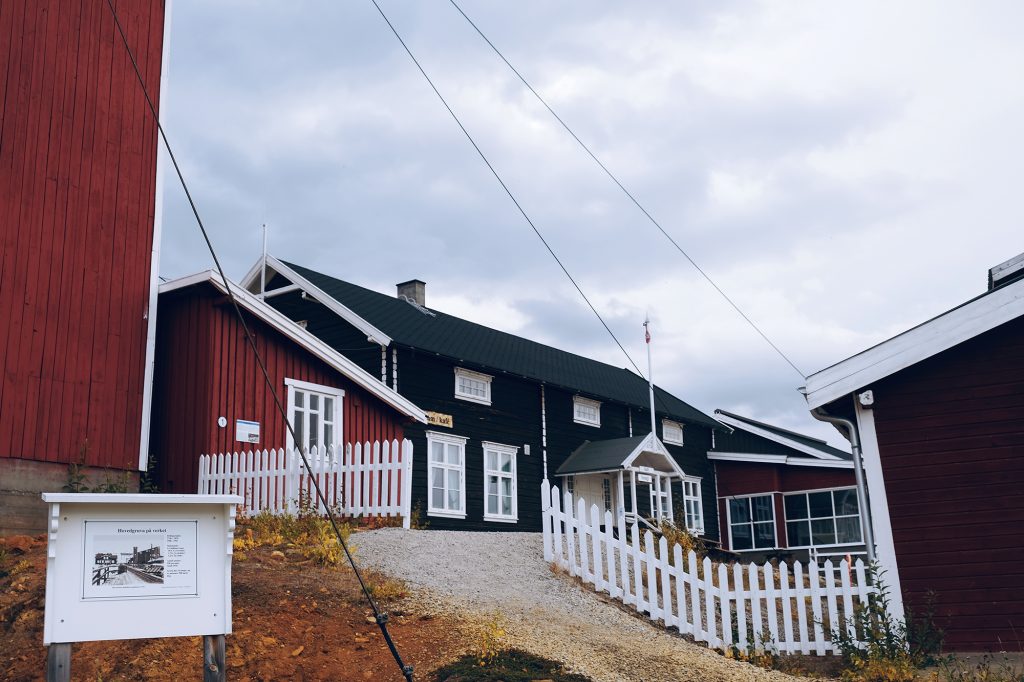 We've made it to Folldal, the other end of the national park!
Folldal is a small town with a population of 526 that today focuses primarily on agriculture. The population is actually declining; between 2009 and 2019 the population fell by 5.6%. 
Long before there was a settlement here, the area was visited by nomadic hunters looking for reindeer. There are around 1,000 animal graves in Folldal, plus a mass trapping facility from the 13th century.
According to local legend, the first man to settle here was the outlaw Torkjell Barfrost. According to the Faroese saga, Sigmundur Brestisson and his cousin Tori got lost in a snowstorm on Dovrefjell while on their way to meet Håkon Earl of Norway. They met Torkjell Barfrost and stayed with him, his wife and his daughter. They ended up staying with him for six years before moving on. Sigmundur and Tori spoke up in supoort of Torkjell, and eventually he was acquitted and became governor of the area. 
Even though Torskjell was the first man to live in Folldal, there wasn't really a settlement until the 17th century. Folldal didn't become a town until the 18th century, when mining started.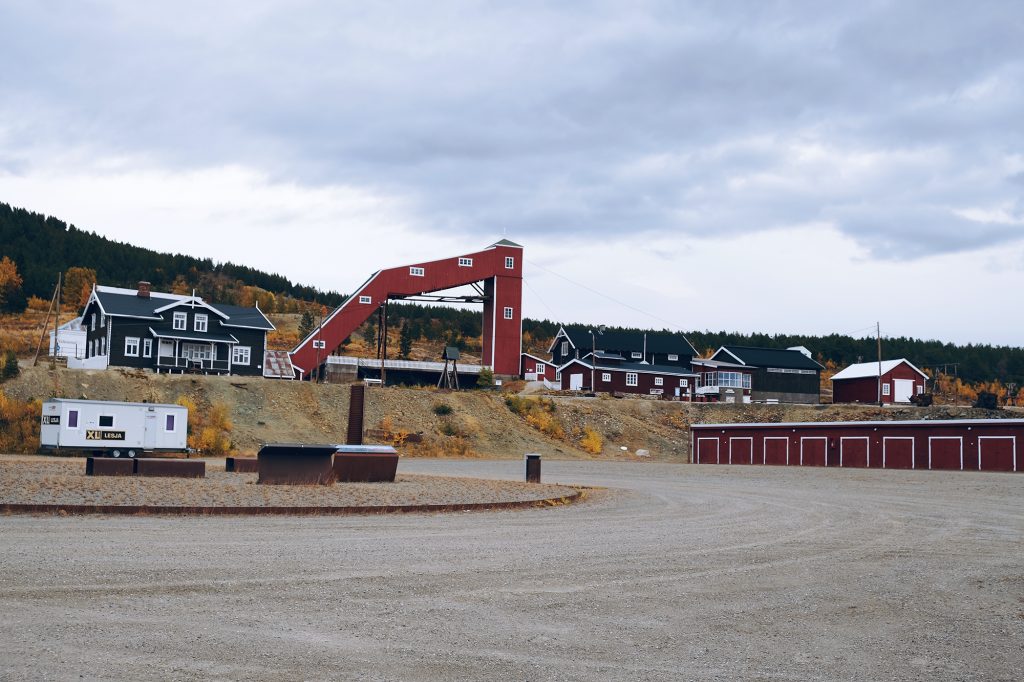 Folldal's Mining History
Mining was the main industry in Folldal from the 18th century until 1993. 
Folldal Works (Folldal Verk) was founded in 1748, the same year the main copper mine opened. Copper, mine and zinc was all mined in Folldal. It was then transported by horse carriage to the neighbouring Alvdal municipality, where there was a smelter. In 1906, a 34km-long cable car (North Europe's longest) was built to transport goods to the smelter.
The main mine closed in 1941, but smelting continued using ore from other deposits until 1968. Business closed in 1993.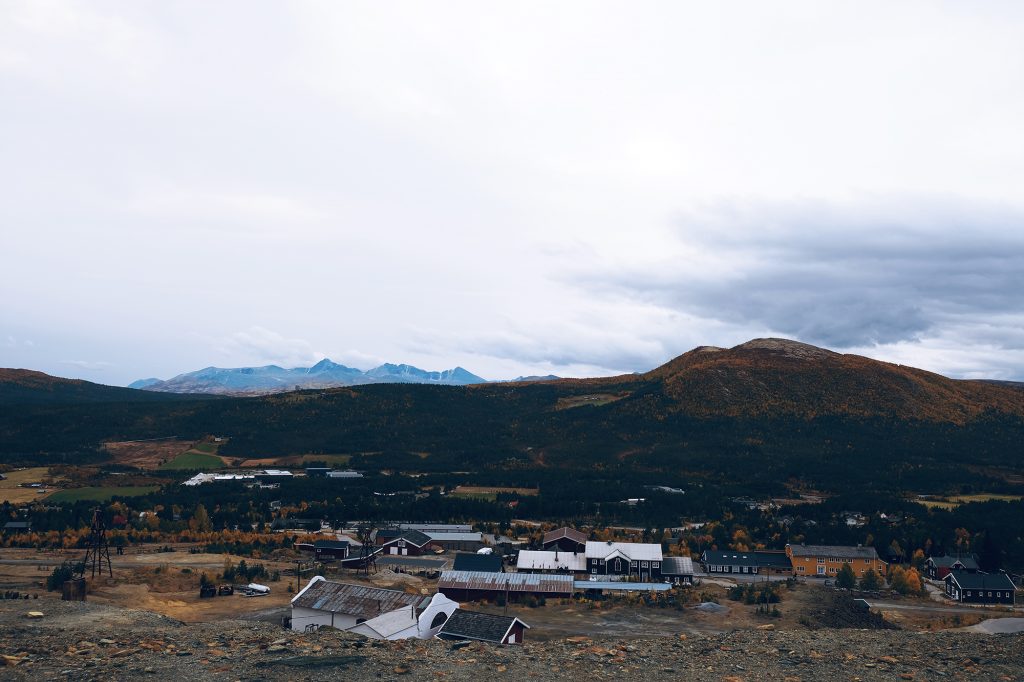 Climate
It is cold in Folldal! Folldal has an alpine tundra climate, with short cool summers and long cold winters. The daily mean temperature in July is +9C (48) and the daily mean in January is -36C (-33F). So yeah, it's cold! On the plus side, there is little precipitation. The municipality has Norway's highest municipal centre; Folldal town is 712m above sea level. 
Agriculture
Agriculture is still important to Folldal and accounts for 20% of employment. The area consists of pastures and meadows, and most of the farming is livestock.
Tourism
Today Folldal has turned its attention to tourism, and is seen as the gateway to Rondane National Park. There are heaps of outdoor activities to do here, including hiking, fishing and hunting (elk, reindeer and grouse). You can also do river kayaking, horseback riding, dog sledding, ice climbing, canyoning and musk ox safaris. There's even a motorcross track. For those interested in history, you can visit the old mines – turned into a museum – just above the town.
In my video, I visit the mines. They were closed when we were there, but I recommend driving up for the view!
Visiting the Museum
The museum has short opening hours – late June to mid-August. They have some really interesting attractions and ticket combos, so I will be back!
You can drive up to the carpark and wander around outside for free. 
Click here to view their website. 
On their website you'll find opening hours and ticket fees. 
The mines are well marked from the Fv27.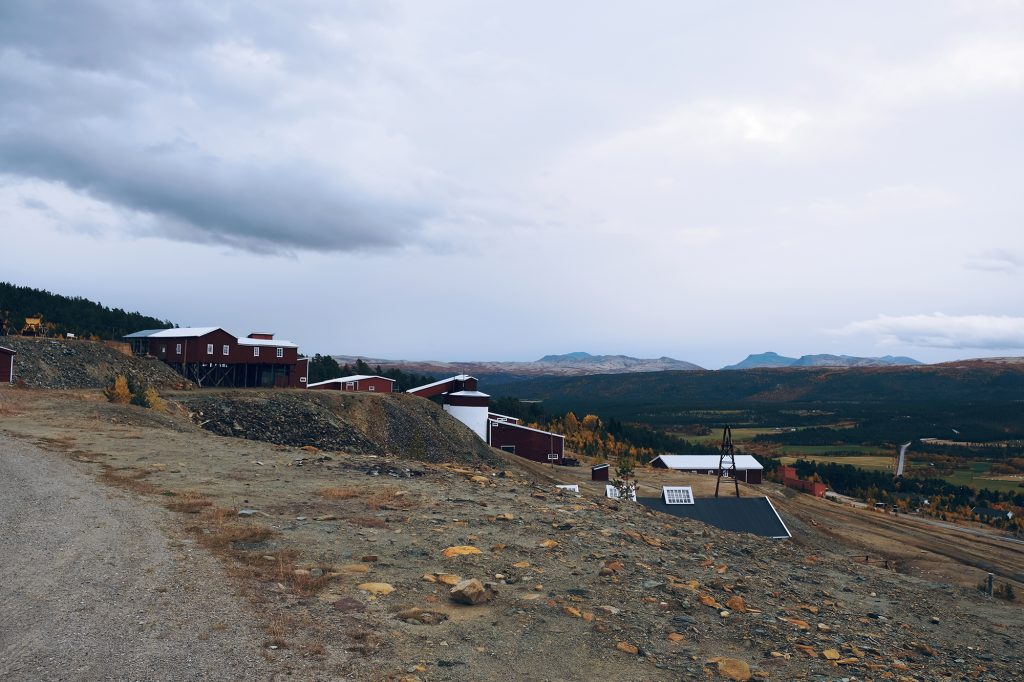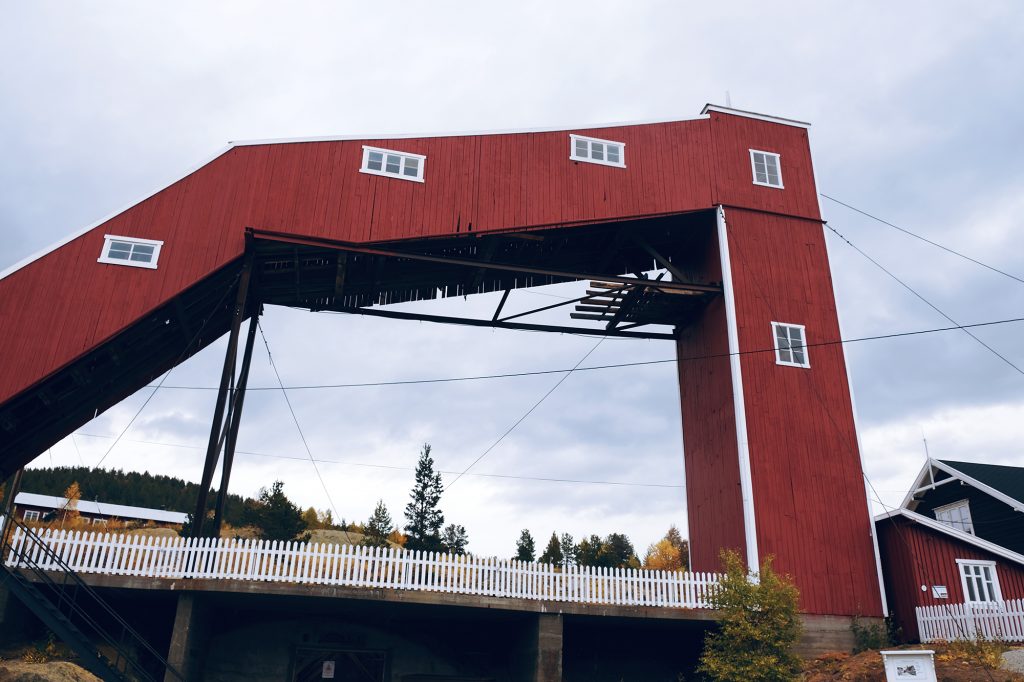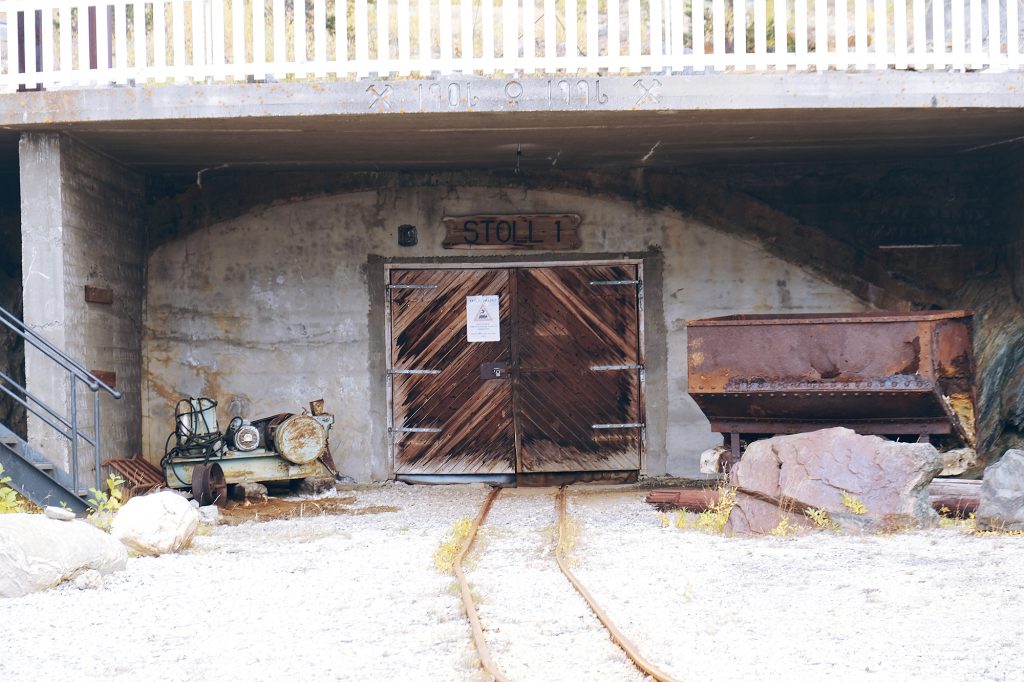 We took a short break in Folldal before heading to Røros. 
That's not the only place you can go:
Follow the Fv29 west to rejoin with the E6
The E6 will link you to Trondheim, Oslo, Gudbrandsdalen, Dovrefjell National Park, and the West Fjords
For example, if you take the E6 to Dombås you can turn off and head to Åndalsnes, famous for the Trollstigen Scenic Drive. 
Follow the Fv29 east to join with Highway 3, which will take you to Hamar. 
I mention some old farms at Atnbrua, but there are campgrounds all throughout Rondane National Park. We stayed at Ringebu the night before. There are also some hotels at Folldal; much like Atnbrua, they are old farms-turned-BNBs. 
This is a short drive. You'll find grocery stores at Ringebu, Venabygdsfjellet, Atnbrua and Folldal. There are cafes in Ringebu, Venabygdsfjellet and Folldal. 
At minimum, towns will have service stations that will serve baked goods and some hot items, like hot dogs! 
We don't have roadside stops in Norway like you do in the United States or Australia, for example. There are no signs on the highway pointing to the nearest McDonalds. In fact, there are no fast food options on this drive. 
Get food at a service station or supermarket, or spend some time at a 'kro' (our version of a roadside diner) or a local cafe. Everyone is friendly!
Some of the towns will have a place to get food, others won't. 
Service stations have restrooms
The highway is open all year round, but the scenic roads around it will likely close
Always check road information at Statens Vegvesen (our road authority) before driving. Click here to view their page. It's in Norwegian but easy to figure out. They also have a Twitter and some cars have announcements on the radio
Even when the road is open, there is a chance of snow or ice on the ground
In summer the road will be full of travellers in cars, caravans, and even by foot. 
The E6 (highway) has overtaking lanes