The most known UNESCO World Heritage sites in Norway are the fjords, historic wooden buildings and stave churches. And why not? Both represent romantic ideals of Norwegian culture and identity. However, there's something else that Norwegians are very proud of. That's their industrial heritage. And industrial heritage is best on show in Rjukan.
In a short period of time, Norway went from a rural isolated country to an industrial powerhouse. This is mostly thanks to the exploitation of waterfalls in the remote landscape. The late 19th and early 20th centuries were marked by rapid growth across the country. Industrialists established businesses close to waterfalls and rivers. Akerselva in Oslo is an excellent example of this. Another good example is Odda in Western Norway. In Southern Norway, however, there's Rjukan.
In September 2020 I visited Rjukan. For this article, I write about what I discovered about Rjukan's industrial heritage. Rjukan is famous for its World War II heavy water plant, but there's more than that here. Let's explore Rjukan's heritage!
Telemark Scenic Drive
You can visit Rjukan when driving through scenic Telemark. I've put together an overview of the drive, including what to see and do. I also recorded it, so you can see the drive for yourself!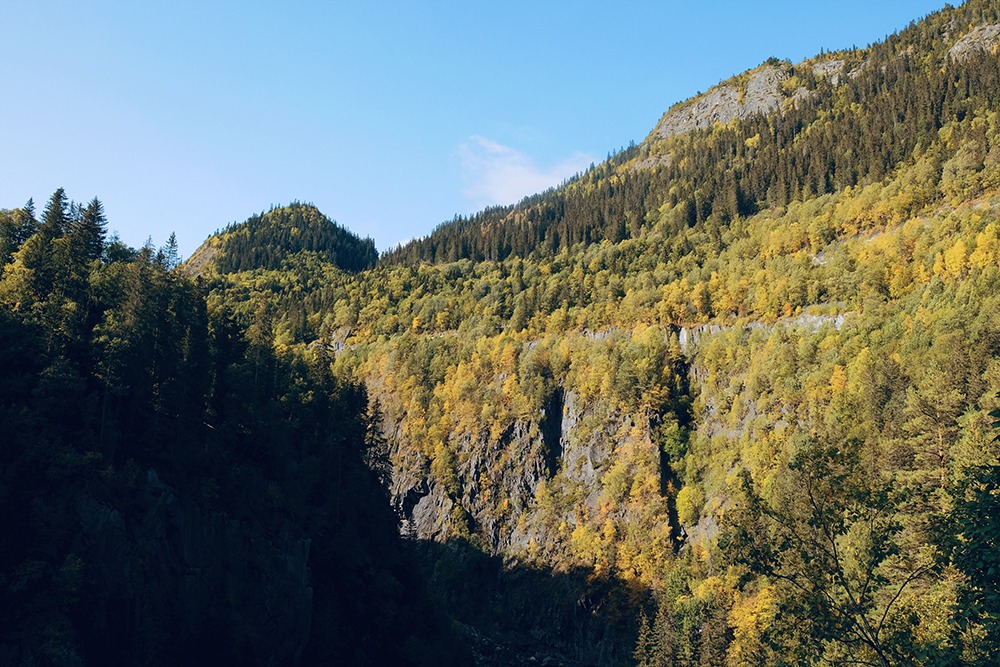 Pre Industrial Era
Before industry came to Rjukan, it wasn't a town and there were very few people living here. However, Rjukan was a known tourist destination. The area has good terrain for skiing and hiking, and it's a good starting point for the Hardangervidda Plateau. Moreover, in the 1860s, the Norwegian Mountain Touring Association built their first cabin here, by the waterfall. Additionally, Rjukan is close to Gaustatoppen, one of the highest mountains in the country. It also experienced tourism growth in the 19th century.
Industrial Growth in Norway
In the early 20th century, Norway experienced rapid industrial development. They worked out how to utilise the cheap hydropower properly. Industrial development began in the East Telemark region. Before then, it was an underdeveloped and sparsely populated agricultural area. The factories built here were to make fertiliser, which could be used to blast the mines.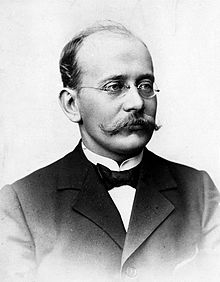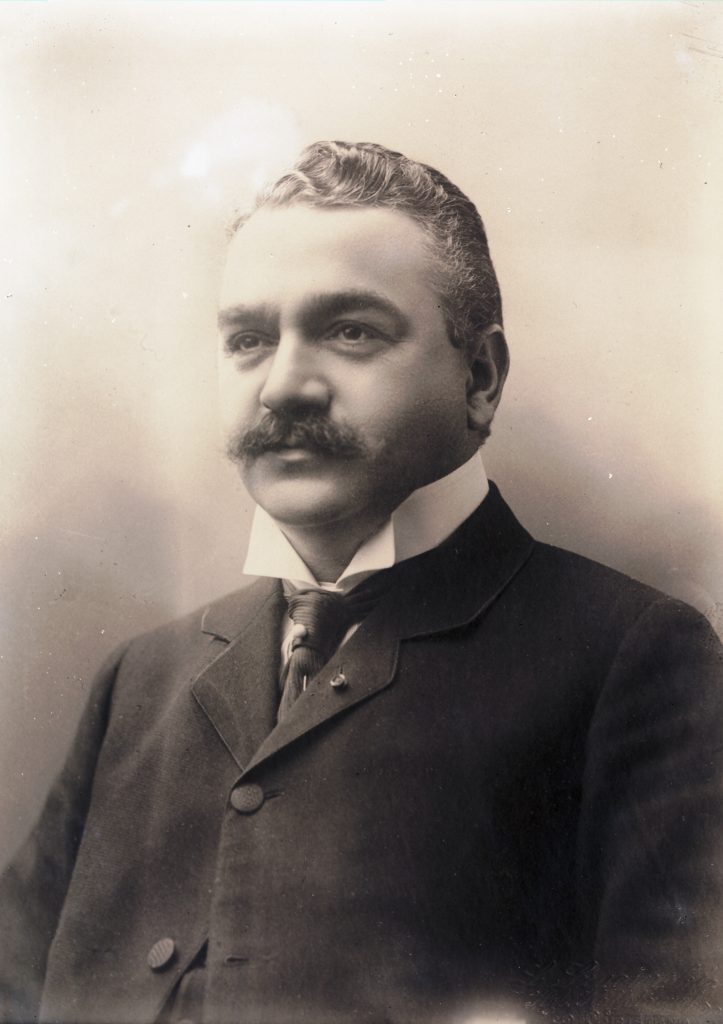 The background for industrial development in Rjukan and the neighbouring town Notodden is thanks to these two guys. The process was used to fix atmospheric nitrogen into nitric acid, one of the several chemical processes generally referred to as nitrogen fixation. The resultant was then used as a source of nitrate. It's a little above me, so you can read about it here.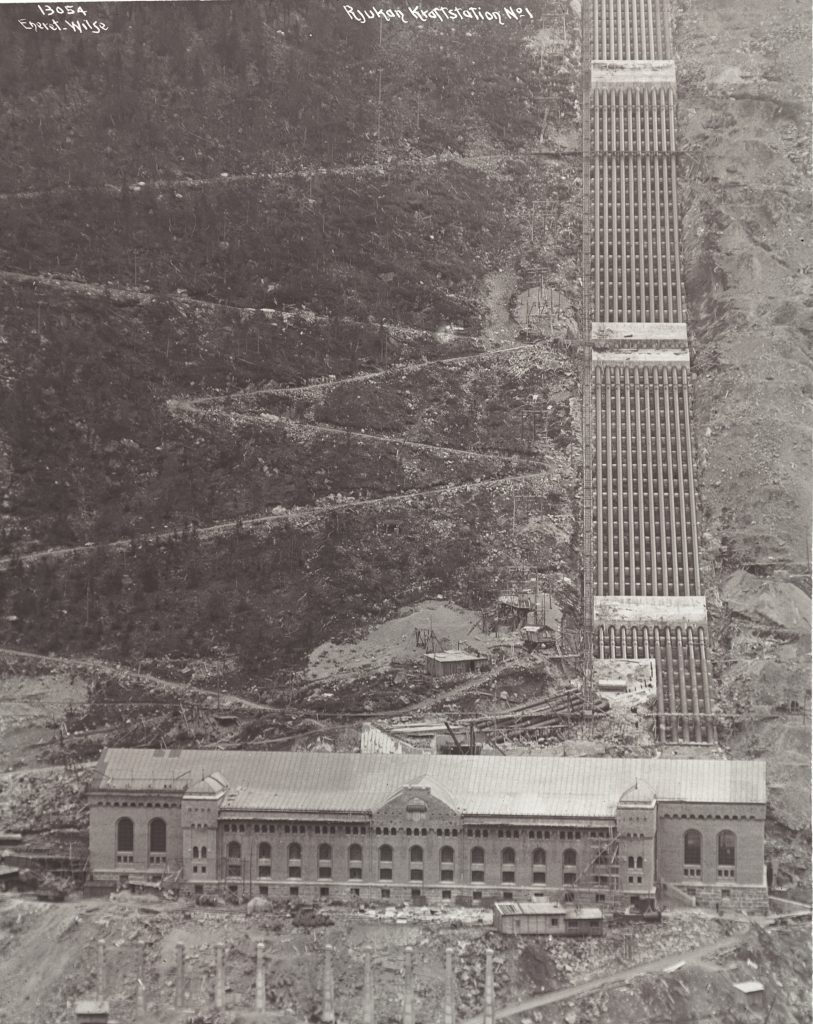 They needed electricity to make this work, so established the hydropower company Norsk Hydro in 1905. They set up an experimental factory in Notodden in 1905. The first nitrate factory in Rjukan was Vemork (Rjukan I), which began operations in 1911. At the time, Vemork was the largest power plant with direct current production.
Other plants in Rjukan
Other plants went up around Rjukan, and they are still visible today. Here's just two of them:
Såheim Power Plant: It is from 1914. Hydro Energi owns the building. An old piece from the power plant is in a park in Rjukan.
Mår Power Plant: It's located just south of Rjukan. It was put into operation in 1948 and collects water from an intake reservoir.
Moreover, they saw the potential of Rjukan, and decided to take over its natural attractions for the exploitation of hydropower. The Rjukan Falls, which had previously been a tourist attraction, were now exploited for hydropower. Furthermore, the high mountain lake Møsvatn and the watercourse was taken over for industry. Their use as a tourist attraction diminished.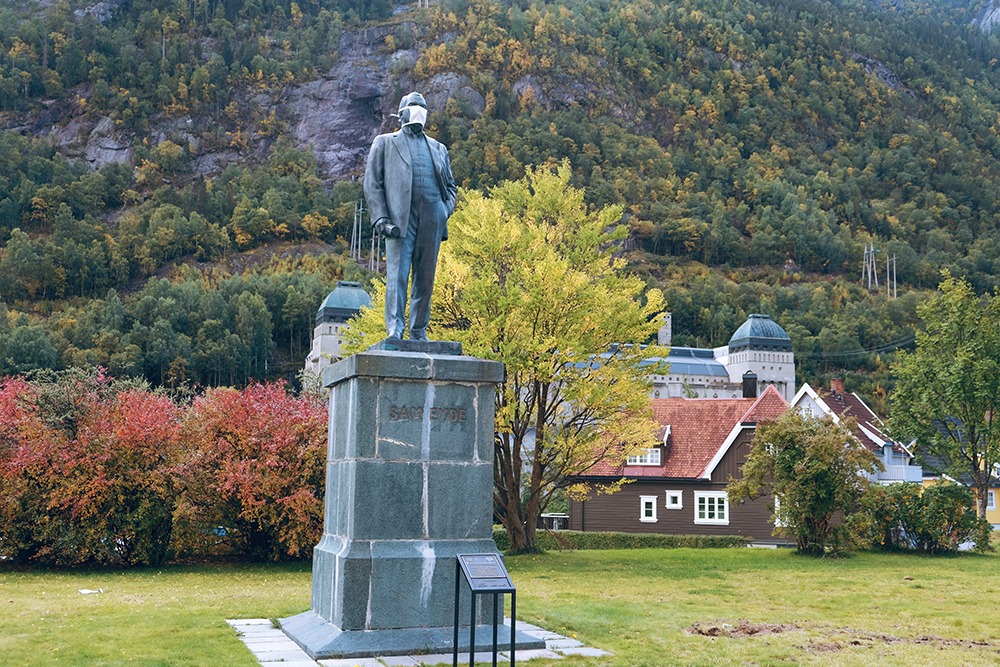 Building Rjukan
With these plants coming up in Rjukan, they needed to make a town. Rjukan was built between 1905 and 1916.
The man with the plan for Rjukan was Sam Eyde. He designed Rjukan from the ground up. This included the street layout, facilities, and architecture. Houses were designed from the ground up for the workers. Even the mailboxes and park benches were specifically designed. In 1925, 80% of the houses were controlled by Norsk Hydro.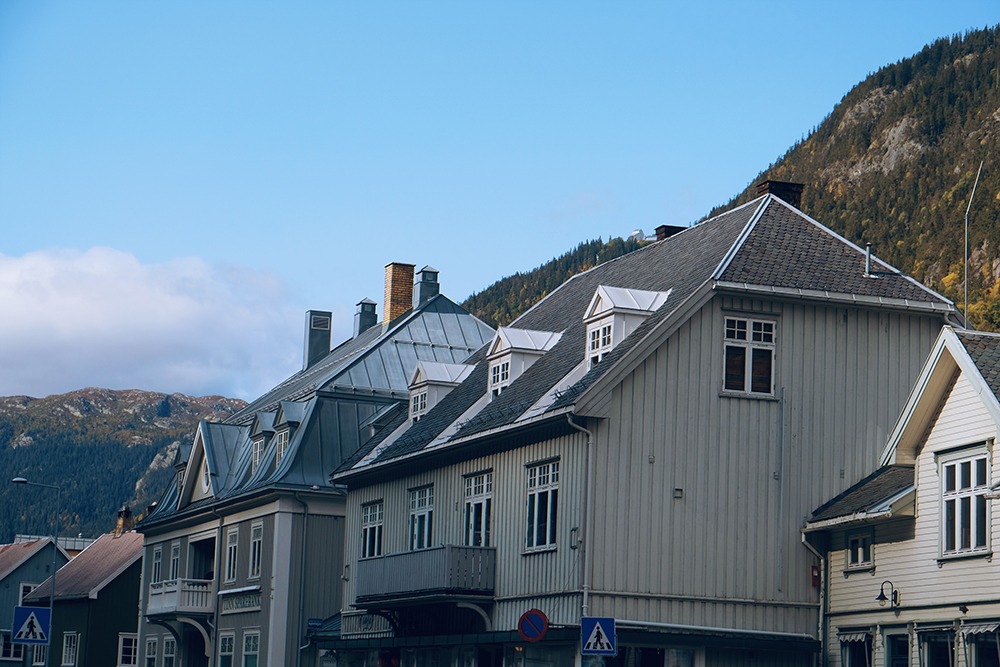 In 1910, the population was 2,200. Moreover, ten years later, it was 8,350. At its peak, 12,000 people lived in Rjukan.
The sun doesn't reach Rjukan between September and March. Eyde couldn't have his workers depressed, so he had the Krossobanen built. Moreover, it takes passengers up to a nearby mountain, where the sun still reaches all year long. Certainly, the Krossobanen opened in 1928 as a gift from Norsk Hydro.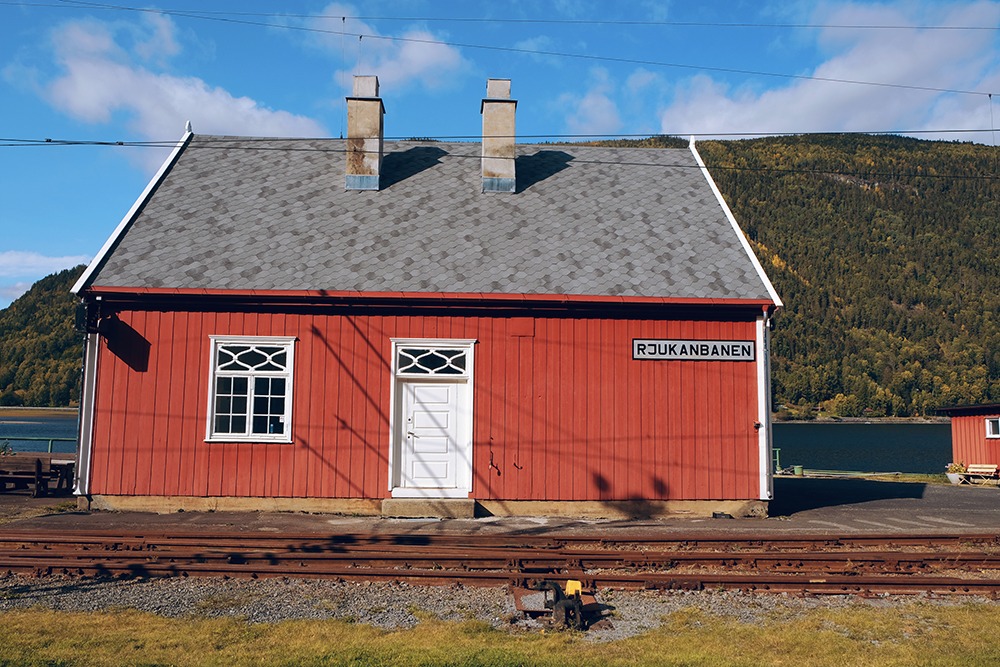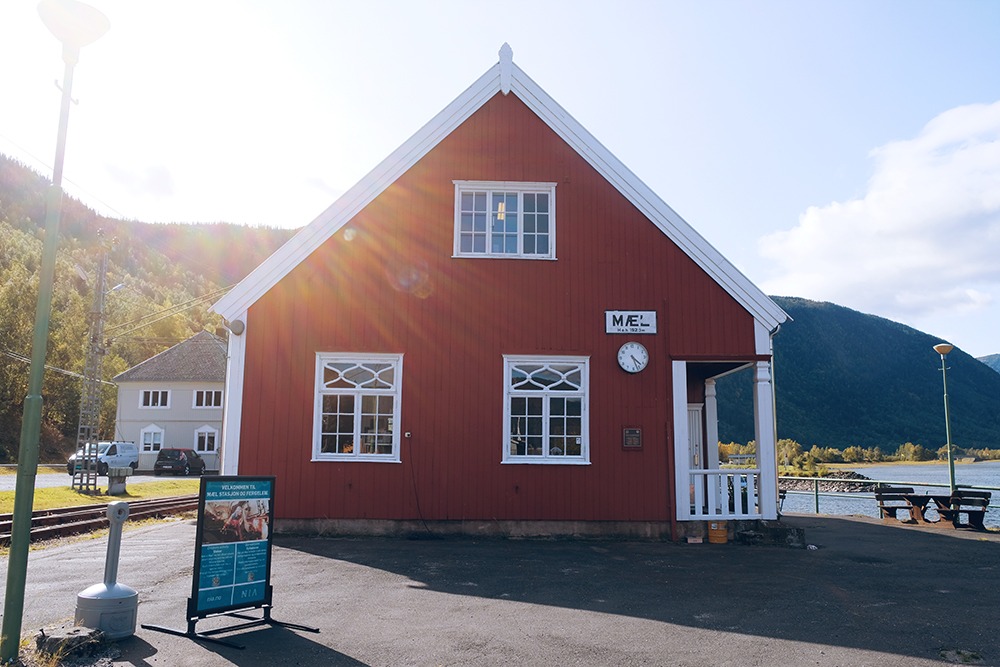 Transportation of Goods
With people and industry comes a need for transport. Moreover, a very detailed system was designed to transport goods from Rjukan down to the pier at Skien. The Rjukanbanen railway took goods from the plants to the Mael pier. From there, the railway ferry went across the Tinnsjøen Lake to Tinnoset. There the train went 34km to the Notodden pier. Goods were then loaded on barges and taken on the Telemark canal system to Skien. King Haakon VII opened the Rjukanbanen on 10 August 1909. It is no longer in operation, but the pier at Mael has been preserved.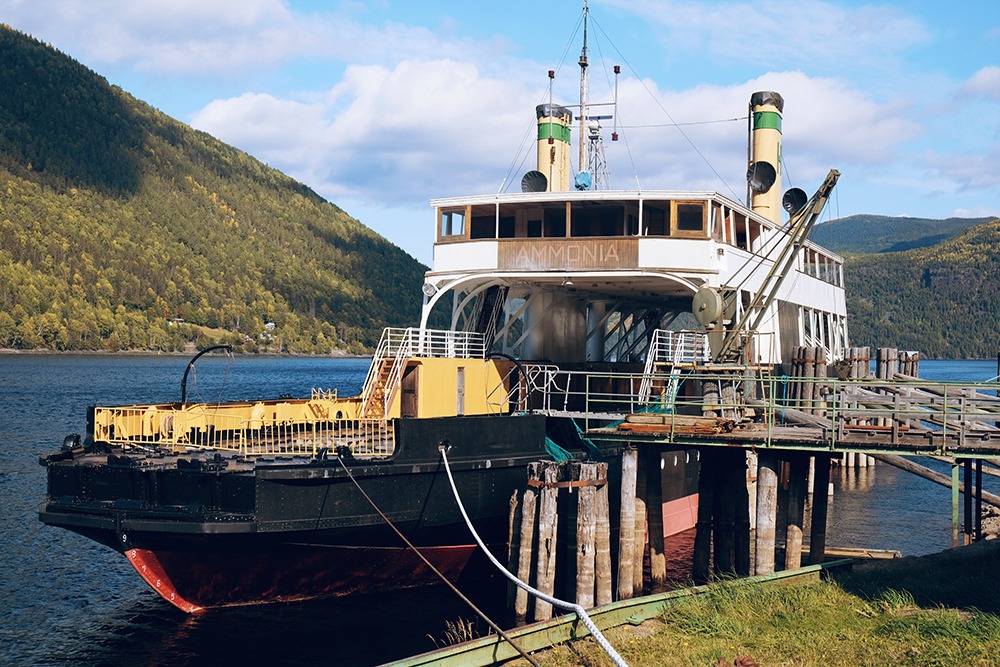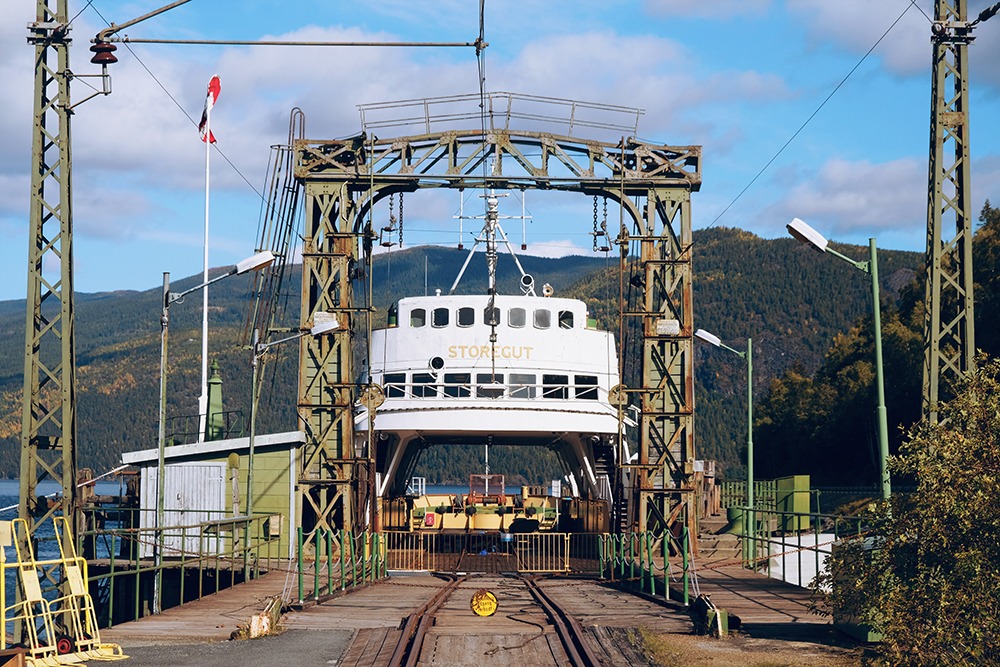 The Development of Heavy Water
Rjukan is most known today for its connection to the development of heavy water at its Vemork plant. I won't go into too much detail about what happened here during the war; that's for a separate article once I visit the Industrial Workers Museum.
As we know, between 1907 and 1911 Norsk Hydro built the plant at Vemork. In 1934, they built an adjacent hydrogen plant. Certainly, a by-product of hydrogen projection via water electrolysis is heavy water.
The Nobel Prize winner Odd Hassel told Norsk Hydro they were producing heavy water; they didn't know before then!
What is Heavy Water?
Heavy water is a form of water that contains only deuterium (heavy hydrogen), rather than common hydrogen. Moreover, the presence of the heavier hydrogen isotope gives the water different nuclear properties. Water has two hydrogen atoms and one oxygen atom. Heavy water has deuterium instead of hydrogen. Furthermore, regular hydrogen has one proton in its nucleus, while heavy water has one proton and one neutron. The increase of mass gives it physical and chemical properties when compared to normal water. It looks like water, but is 10% heavier.
One purpose of heavy water is using it in nuclear reactors. Heavy water slows the neutrons so they can react with uranium in the reactor. One use of heavy water is developing nuclear weapons.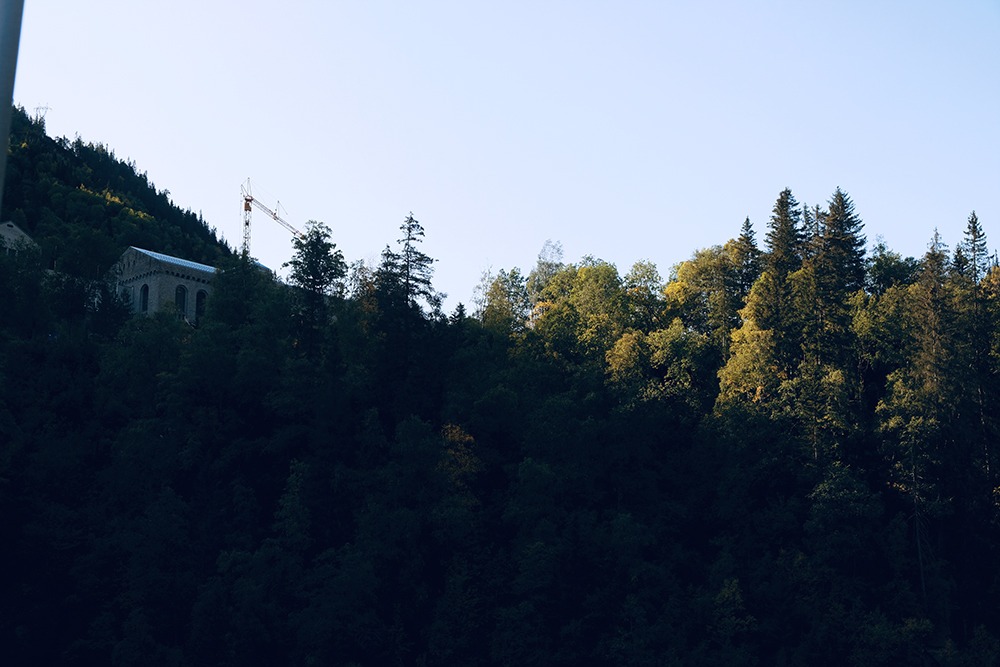 World War II
This is where we get into World War II. During the war, the Germans took over Norsk Hydro. German scientists discovered that uranium is useful for energy and weapons. Also, heavy water acts as a moderator in a reactor and contributes to the refining of uranium, suitable for atomic bombs. If you aren't a science person, all that matters is that the Germans were developing heavy water at Vemork in Norway for their atomic bomb.
Norwegian resistance members discovered this, and immediately set about sabotaging their operations. They launched several attacks on the facility. The most famous is the sabotage operation in winter 1943. While they were able to damage the facility, production soon continued. However, the Norwegians were able to destroy the boats leaving Rjukan via Mael and thus halt the Germans plans to export the heavy water back to Germany. The ship that carried the heavy water is under the lake near Mael.
The heavy water facility was blown up in 1977. In 2017, the secret cellar used by the Germans was discovered. It is currently being preserved so visitors can see the remains.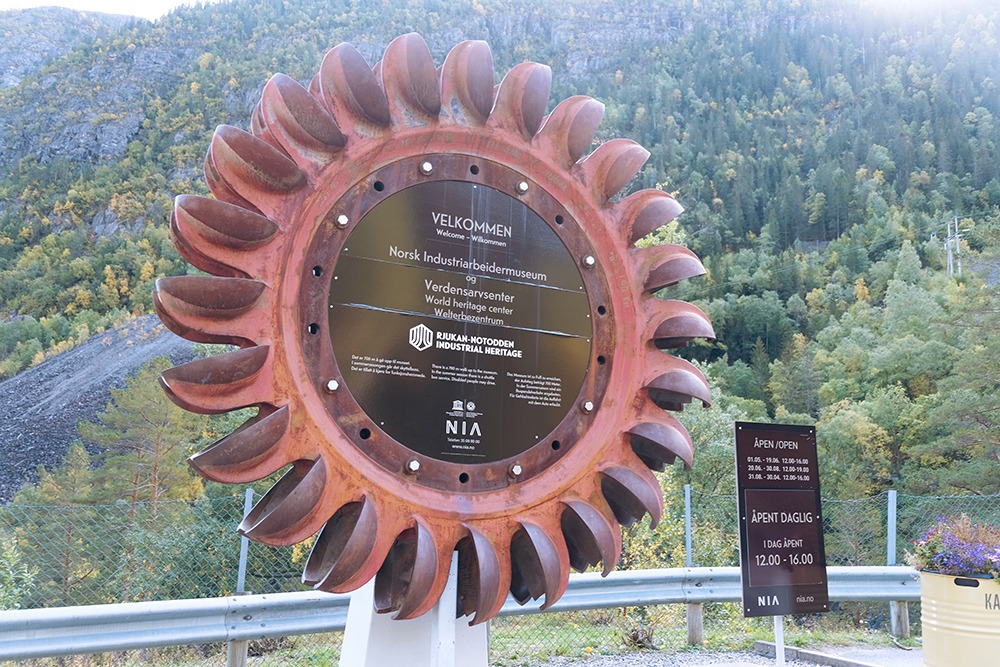 Today Vemork power station is the Norwegian Industrial Workers' Museum. The history of Rjukan and the industrial worker is told, in addition to the history of war and sabotage associated with the place.
Post-War Industrial Shift
Production continued after the Second World War. In 1955, Norsk Hydro was a powerhouse (in all senses of the word!) with 18% of the global export market for fertiliser products.
After 1960, most of the production in Rjukan was moved out of town to more modern factories in Porsgrunn. Moreover, Rjukan lost its status as major industrial town. However some industry is still present here, but on a much smaller scale.
Ammonia production ended in Notodden in 1968 and in Rjukan in 1989. Furthermore, they replaced Vemork with a new facility behind the mountains in 1971. Today the power plants serve as heritage sites and museums.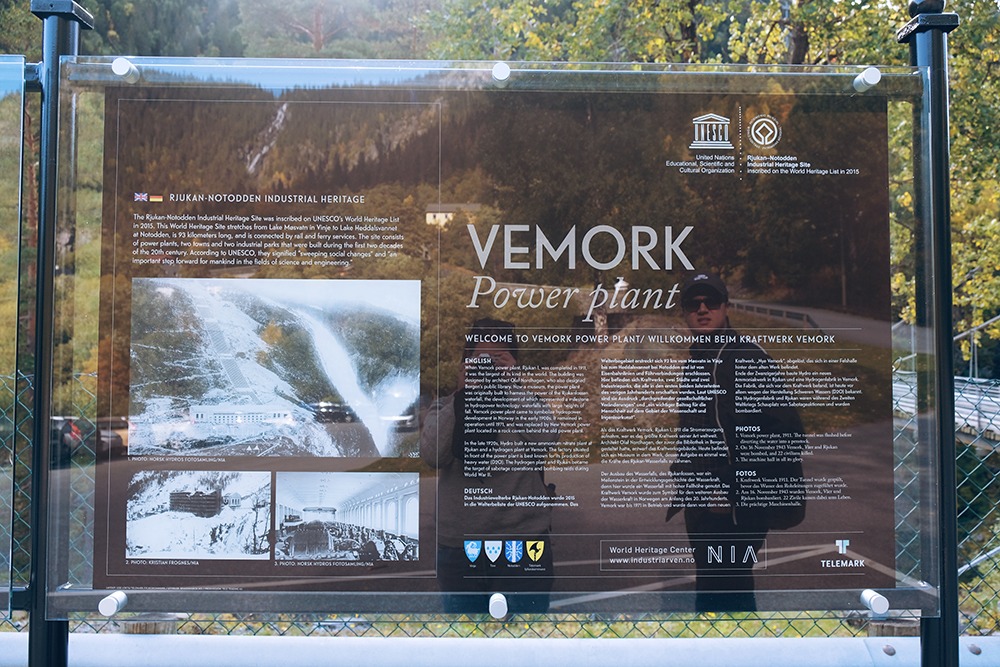 UNESCO Status
After the turn of the century, Rjukan began to refocus its prime source of income. It found that tourism could be a huge industry here. After all, it was in the 19th century. With that the town decided to push for UNESCO World Heritage status for its industrial plants.
The application was for Rjukan and Notodden. Above all, they represent the second industrial revolution consisting of industry, hydropower, transport and factory cities. The cities went on the UNESCO list on 5 July 2015. This is exactly 108 years and 1 day after Sam Eyde's plans began for Rjukan.
Here's the reason UNESCO added it:
Located in a dramatic landscape of mountains, waterfalls and river valleys, the site comprises hydroelectric power plants, transmission lines, factories, transport systems and towns. The complex was established by the Norsk-Hydro Company to manufacture artificial fertiliser from nitrogen in the air. It was built to meet the Western world's growing demand for agricultural production in the early 20th century. The company towns of Rjukan and Notodden show workers' accommodation and social institutions linked by rail and ferry to ports where the fertilizer was loaded. The Rjukan-Notodden site manifests an exceptional combination of industrial assets and themes associated to the natural landscape. It stands out as an example of a new global industry in the early 20th century.

UNESCO World Heritage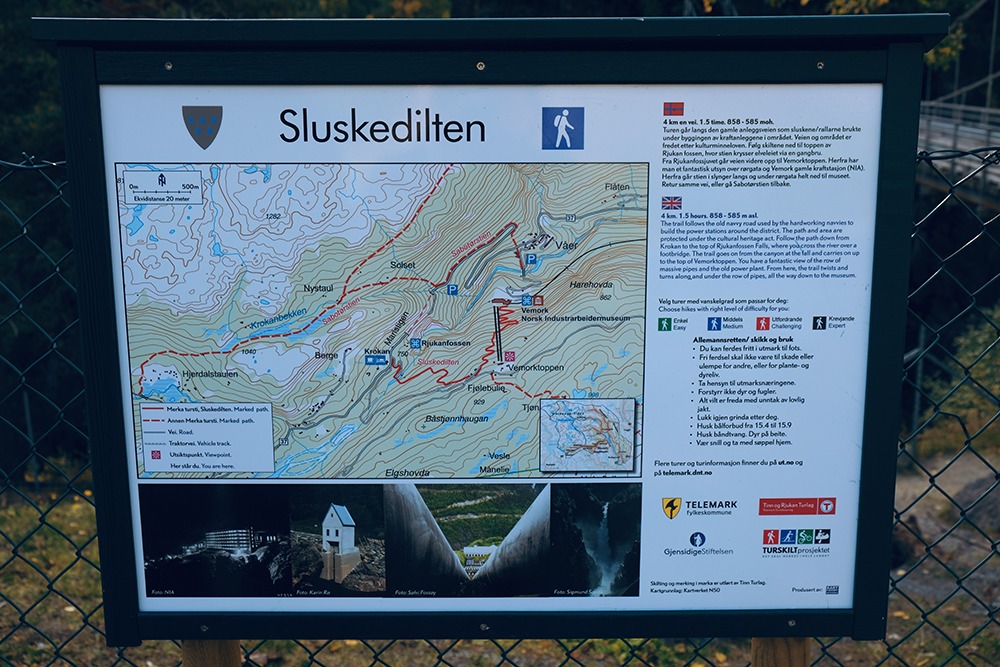 Rjukan Today
Today 3,100 people live in Rjukan. It is primarily a tourist destination. The surrounding mountains are great for skiers. Moreover, access to Hardangervidda national park is perfect for adventure seekers and hikers. Furthermore, there are numerous museums and visitor centres about the towns heritage.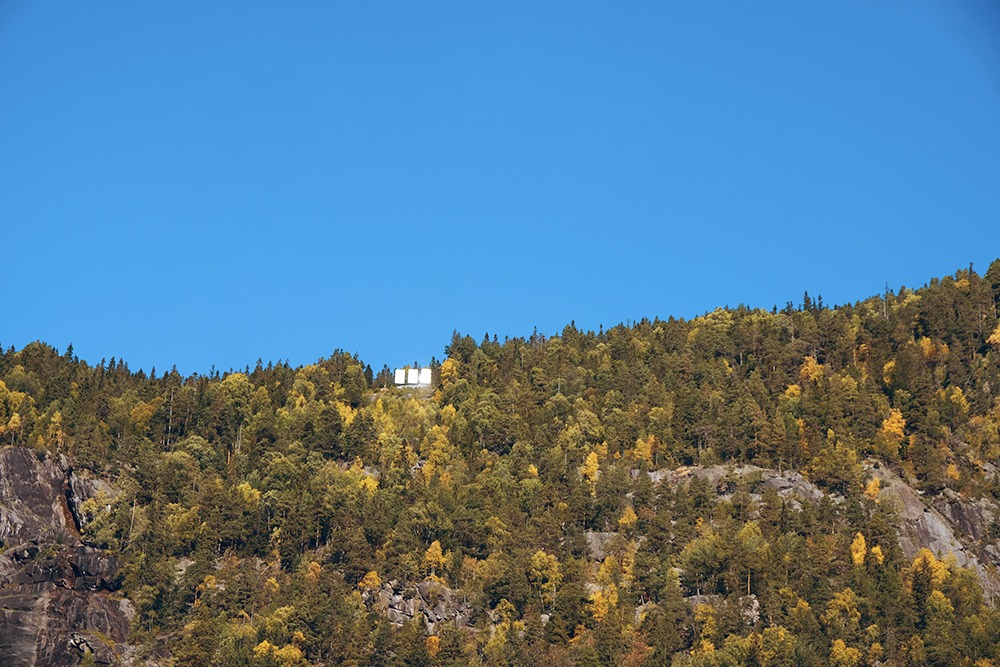 It's not all industry in Rjukan. The town is famous for its sun mirrors. Between September and March, Rjukan sits in the shadows. The mountain (thanks, Gaustatoppen) blocks the sun. In 2013, at the cost of 5 million NOK, large mirrors were put on the mountain. They reflect sun onto the town square. Every 12 March is Solfesten, a festival to celebrate the return of the sun.
Resources
Visiting Rjukan
By Car: Rjukan is a 2.5 hour drive from Oslo. You can take a short detour via the famous Heddal Stave Church. Rjukan is 1.5 hours from Dalen, 2 hours from Skien, and 5.5 hours from Bergen.
Public Transport: There are no direct public transport routes to Rjukan; you have to take multiple buses. This includes from all nearby cities.
How Long to Stay: I would recommend spending at least one night in Rjukan. This will give you time to do Gaustabanen and the Vemork Museum, though they can both be easily spread over 2 days. If you are interested in World War II or hiking, you can do the same trail the resistance workers took when they had their famous sabotage operation. It is a middle-grade hike and will take you past some heritage sites. Click here to learn more. Another hike will take you along the pipes for the Vemork station (click here).
Note: Vemork Museum is not an easy walk from Rjukan town centre. Having a car is highly recommended.