Odda is a small town located in the Ullensvang municipality in the county of Vestlandet in Western Norway. The town is famous for its proximity to nature, namely the Trolltunga hike and the Folgefonna National Park. However, it's worth spending some time in Odda itself. The town is historic for its rapid and important industrial growth that took place at the start of the 20th century, so much so that it became UNESCO World Heritage-listed in 2009. Here are some interesting facts about Odda to highlight what makes this town special and unique.
Interesting Facts about Odda
Interesting Facts about Odda
2019 Statistics
Published on 1 January 2020 on ssb.no. This is for the municipality of Ullensvang, of which Odda is part of.
Visit the ssb.no website here. I'll try to update this every year; if my statistics are out of date, notify me in the comments.
Population 11,048
19 babies were born in 2019, while 29 people died
The population is currently declining; in 2030, it's expected that 10,360 people will live in the municipality
The main industry is 'sekundærnæring', which refers to goods that are produced by processing raw materials from agriculture and forestry. This includes mining, general goods, water and power plants, oil refining and construction. The raw materials are extracted and then produced and processed by factories.
The second largest industry is hospitality services (e.g. hotels, restaurants, shops and real estate), while the third-largest is health and social services
92% of children attend kindergarten
49.6% of students use public transport to get to school
3,762 detached houses; 807 apartments. 79% own their property
33.3% live on agricultural property
2.11 residents per household on average
6,630 books were borrowed from the library; 16.1 visits per cinema performance
There are 10 voluntary teams and associations
80.6% are members of the Church of Norway; 4.9% are members of other faiths
Population density of 4 inhabitants per km2. 64% live in urban areas
The municipality is operating at a loss of 4.4%
History
Odda grew up around the smelter in the early 20th century.
The name 'Odda' comes from an old farm that used to stand in the area. Additionally, the church was on the site.
Odda has been populated for centuries, but it wasn't until the mid-19th century that the population really began to grow. First this was from tourism, but later it was from industry.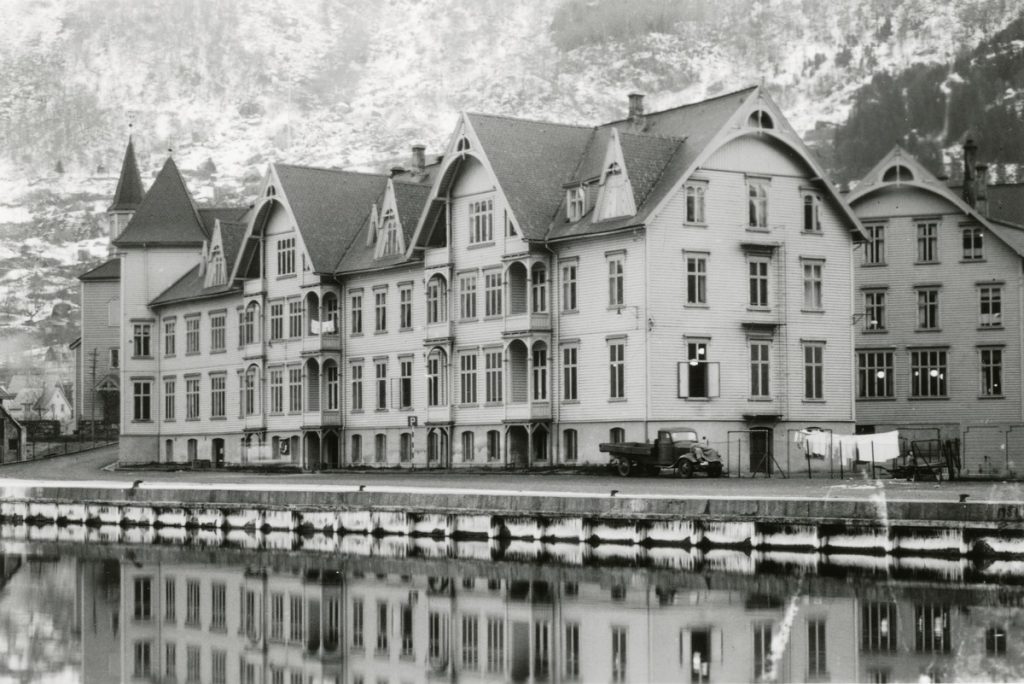 One of the most important historical buildings in Odda was the Hardanger Hotel, which was torn down in the 1970s.
Kaiser Wilhelm II visited Odda every year between 1891 and 1914. He gifted the town with its first hospital and many fire hydrants.
The Odda Smelteverk, which closed down in 2003, has been on the UNESCO List of World Heritage Sites since 2009. It shares this title with important industrial sites throughout southwestern Norway. The statement says:
"What makes Odda smelteverk so important and central to the application of Norway's hydro power sites and pioneer chemical industry as a World Heritage Site is the fact that here in an internationally unique way the physical remains of an early chemical production process are still present."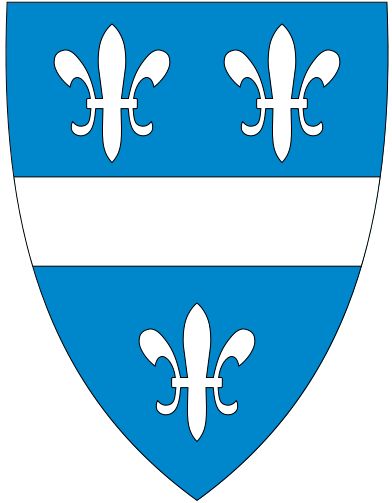 The municipality is named after the old Ullensvang farm, since the first church was built there. The Old Norse word is Ullinsvangr – the first part references the Norse god Ullin, while the last part vangr means field or meadow. The coat of arms comes from a nobleman, Sigurd Brynulvsson Galte, and it can be seen on his grave dating back to 1302. It is the oldest gravestone in the village and the arms are well known. In 2020, the colour scheme was changed from red/yellow to blue/white after Odda municipality merged with Ullensvang municipality. 1https://www.heraldry-wiki.com/heraldrywiki/index.php?title=Ullensvang
Geography
Odda is located on the southern tip of Sørfjorden (Southern Fjord), which is a branch of the Hardangerfjord (the second-longest fjord in Norway). Sørfjorden is surrounded by very steep mountains and renowned for its beauty.
The Sørfjorden is 38km (24 mi) long and is the longest arm that branches off the Hardangerfjord.
All the villages along the Sørfjorden are filled with fruit farms and orchards, growing fruits like apples and cherries.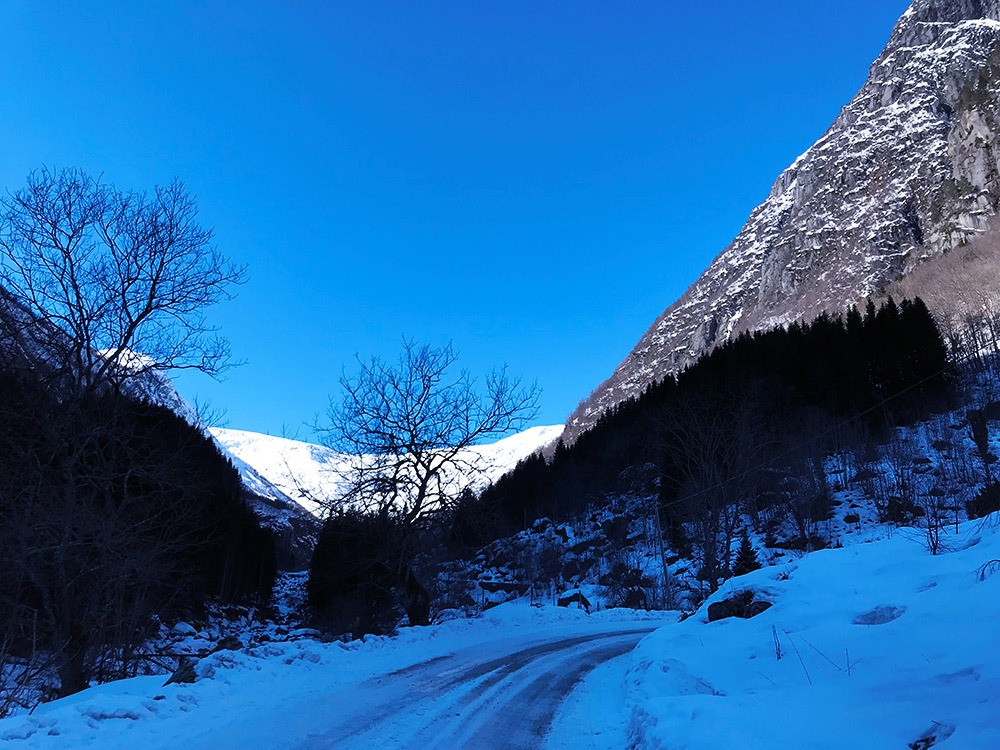 In the western part of Odda is the Folgefonna Glacier, including the Buarbreen Glacier close to the town centre.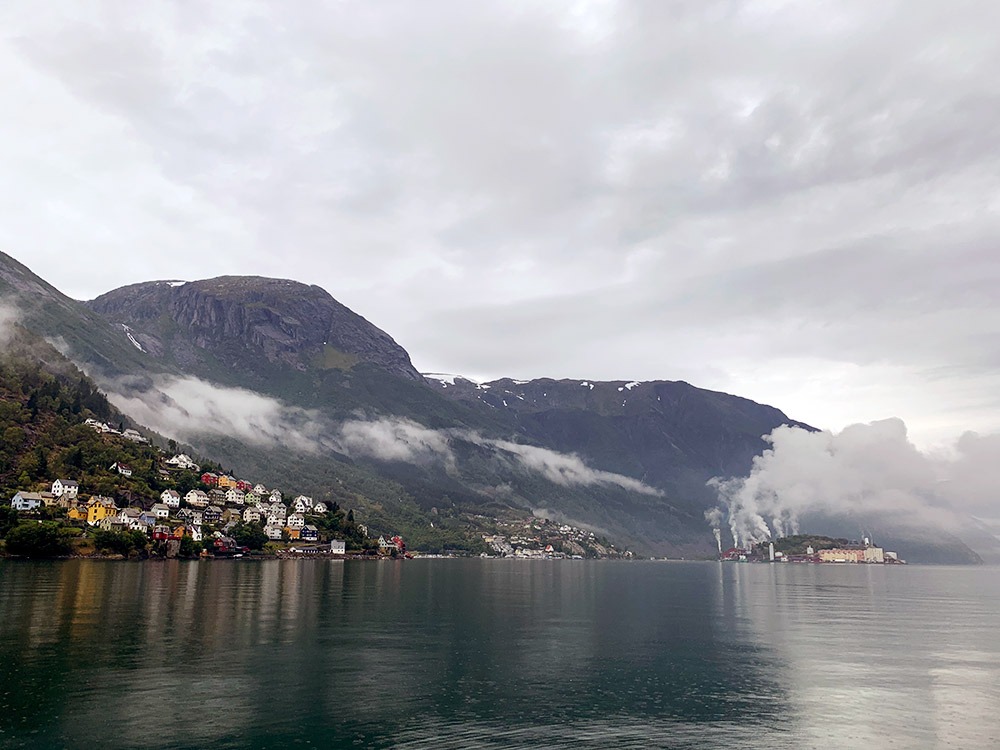 Industry
Odda is the commercial and economic centre of the entire Hardanger region.
Odda Hospital is the main hospital for the inhabitants of Hardanger.
The municipality, Ullensvang Municipality, is Norway's largest supplier of fruit, especially cherries and apples.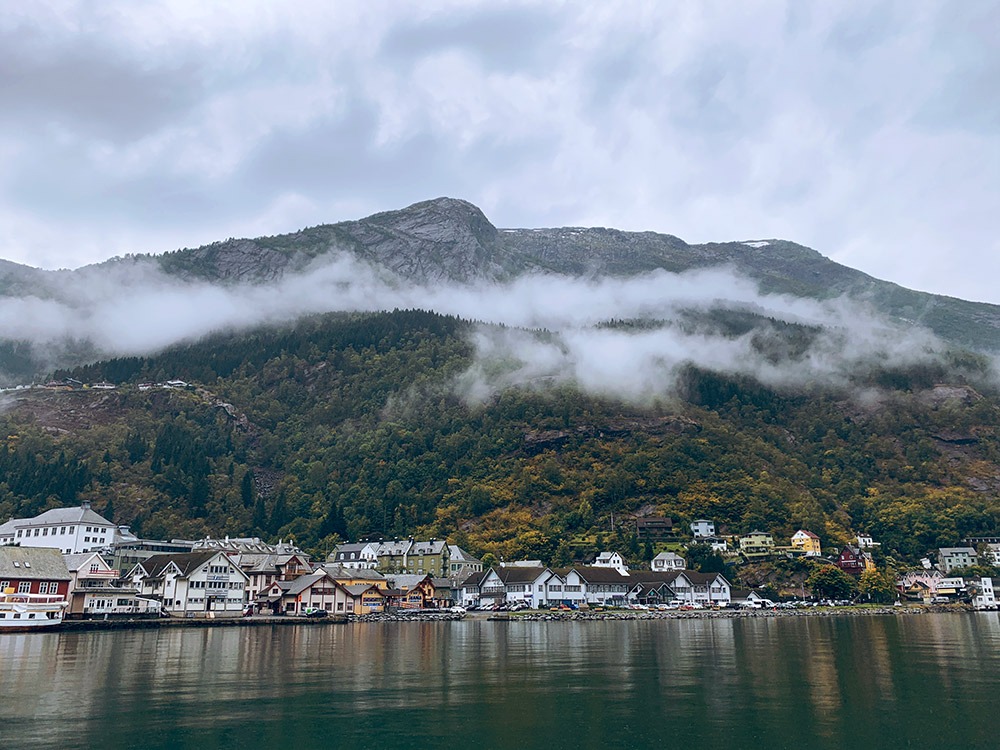 Culture & Everyday Life
The locals in Odda have a unique dialect. When migrants came from across the country to work at the smelter, they brought their unique dialects. Moreover, they developed a new dialect in Odda that's a mixture of what's spoken in their home regions. Most importantly, this is a phenomenon termed by linguists as a 'Koine Language'.
Odda has its own song, called the Oddasangen. The melody was written by Andreas L. Eide and the text was written by Haakon Scheide Lutken. The song was first published on 17 May 1914.
Listen to it here: https://www.youtube.com/watch?v=ATYC0Z_j11U
Every summer in nearby Lofthus is the Norwegian Championship of Cherry Stone Spitting. The current record is 14.24m (46.7ft).
Famous People from Odda
Knut Knutsen (1832-1915)
See Also
Knut Knutsen is one of Norway's first professional photographers. His work includes images from most of Norway and documents Norwegian history and ethnology. He left a collection of 13,500 wet and dry plate negatives, and about 20,000 albumin silver prints. The negative and print collection are at the Picture Collection, University of Bergen Library.2https://en.wikipedia.org/wiki/Knud_Knudsen_(photographer)
Anne Birkefeldt Ragde (1957-)
Anne Birkefeldt Ragde is a Norwegian novelist known for her children and young adult books. Her most famous novel is a biography about Sigrid Undset, for which she was awarded the Brage Prize.
Svein Olav Herstad (1969-)
Svein Olav Herstad is a jazz pianist known from his own bands and several recordings with musicians.
Leif Einar Lothe (1969-)
Leif Einar Lothe is a Norwegian television personality known as 'Lothepus' – he is a starring character in the documentary series Fjorden Cowboys. He also releases music, which you can listen to below.
https://www.youtube.com/watch?v=UHfs_CrhSq4
Håkon Opdal (1982-)
Håkon Opdal is a Norwegian professional football player who plays for Bergen Brann as a goalkeeper.
More Interesting Facts about Odda
I hope you enjoyed these facts about Odda! If you have any that you think I should add, please mention your facts about Odda in the comments.