Located 400km above the Arctic Circle, Tromsø is the capital of the Arctic and a perfect starting point for your northern adventure. There's a vibrant university community here, lending way to many unique bars, cafes and restaurants. 
Tromsø is also a historic place. It emerged as an important town for Arctic hunting and exploration, and people from all over Europe came here to exploit the natural resources. Additionally, the Sami people have lived here for thousands of years, and their indigenous culture is an important part of Tromsø today. 
If you're here in winter, make sure you allow several days to make the most of seeing the northern lights. 
Everything you need to know about Tromsø's rich history, including Arctic exploration and World War II.
Read More »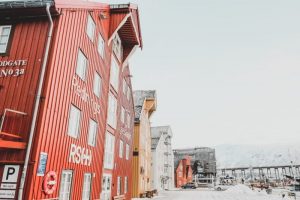 Explore Tromsø on foot with my self-guided walking tour. It's designed for those riding Hurtigruten but can be anybody!
Read More »