When you visit Røros, you have to go to the museum. Located just by the church, the museum is a reconstruction of the Smeltehytta that once stood here (I'll explain what that is below). Inside you'll find an overview of the unique mining history in Røros, from the process to the finance and beyond. But the museum isn't just about mining – a topic I know doesn't appeal to everyone – but the museum is about life in Røros. What was it like to live here 300 years ago? What happened to the Sami people? By visiting the museum, you get this newfound appreciation for the difficulty of living in such a remote spot.
Back in September 2020, I visited the museum during my road-trip around southern Norway. I was impressed by many aspects of the museum, and it helped when I walked through Røros afterwards. I've found information about the museum online to be scattered, so I've put together this guide to help you get an understanding of what to expect when visiting.
What is a Smeltehytta? The History of the Site Explained
A Smeltehytta – or smelting cabin in English – is the place where the copper ore underwent a long and laborious smelting process before the finished product was exported. The mining didn't take place in Røros but the surrounding area; once the copper ore was extracted, it was transported by horse and sledge to one of the many Smeltehytta's around Røros. There were twelve Smeltehytta's in total. The Smeltehytta had to be built by a river to utilise the waterpower, as well as be close to timber as the process required a lot of wood.
I explain the mining history in-depth on a separate page, which you can view here.
It's believed one of the first-ever Smeltehytta's was built on the site where the museum is today, and the town of Røros grew around it. Sadly, that Smeltehytta is long gone; the cabins were never really preserved. As mining was modernised, so was the smelting process. Also, the Smeltehytta in Røros burned down in 1953 and then again in 1975. Between 1986 and 1988 it was rebuilt as a cultural monument and museum, and a lot of work went into making it look as much like the real thing as possible.
Inside the Museum
Arriving at the Museum
Signs are pointing to the museum all over town. If you are on foot, it's a couple of minutes walk from the main street. If you have just arrived by train, it's only a ten-minute walk (800m). Otherwise, there is a very large car-park outside the museum itself. Please note, though, that the roads leading up to the museum are very narrow for cars and most are one-way; pay attention to which way they go!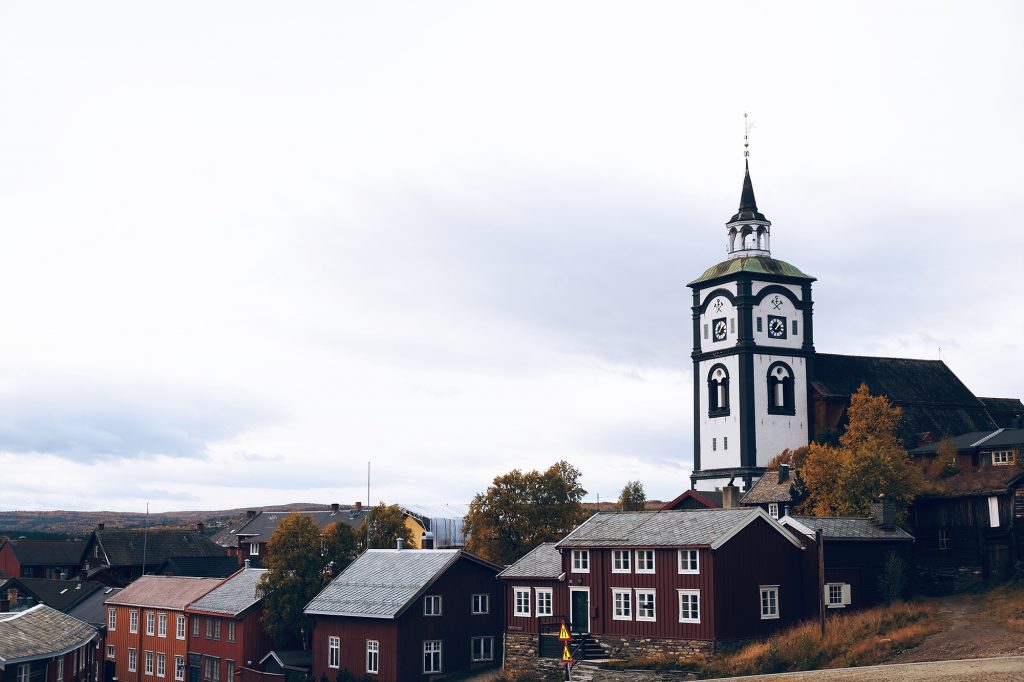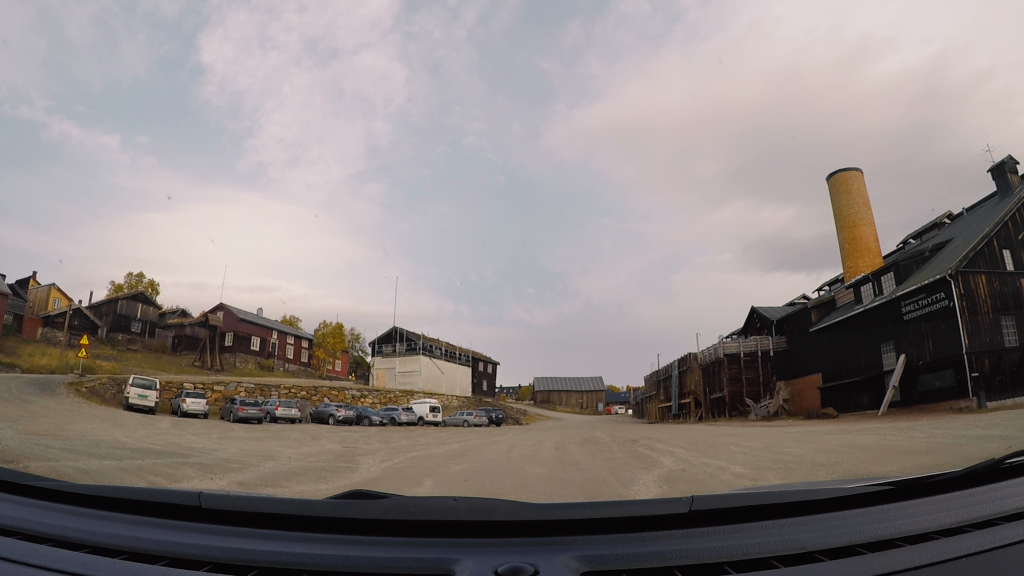 After parking at the museum, you get an excellent view of Røros Church. Such an amazing view, but don't let it distract you! You can explore the town after. I got so distracted I forgot to take a photo of the museum.
Entrance + Top Floor
You enter the museum on the top floor. The reception desk is right there, with the souvenir shop just behind. To your right will be an exhibition about Røros as a UNESCO World Heritage-listed region. It's mostly just text on boards, but there are some great images there. The exhibition also shows you the other UNESCO sites in Norway, including beautiful Bryggen in Bergen. You can see what it looks like here.
The shop is excellent, but I'll talk about that below.
Once you get your ticket and brochure, you head downstairs to the bottom floor: it's two floors down. There's also a lift. This is where the main exhibitions are.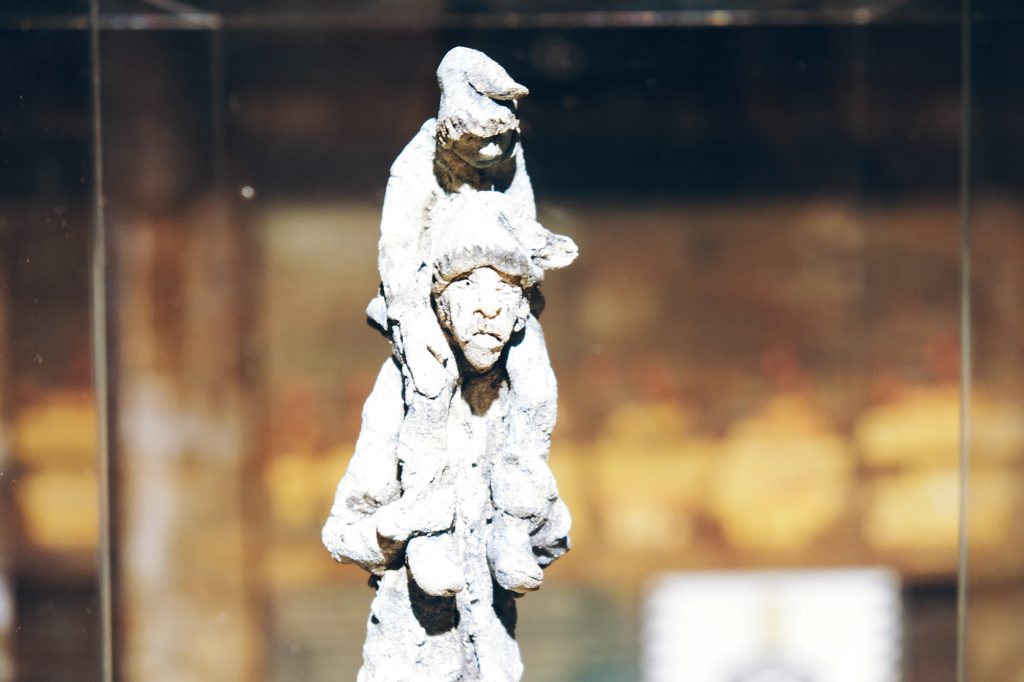 Vaskaryss og Bersa: A Sculpture Exhibition
Before you walk into the main exhibition about mining, you'll pass through this sculpture exhibit. It's called 'Vaskaryss og Bersa' and it is a series of sculptures by local artist Per Sverre Dahl. The sculptures depict the dark side of mining in the early years: child labour and poor work conditions. The sculptures are excellent, but you are likely to skip right by them on your way to the main exhibit.
The Main Exhibit: Mining around Røros
This is what you came for. It shows examples of how mining and smelting took place in Røros from the 17th to the 19th century – i.e. pre-modernisation. It highlights the organisation, use of materials, and financing.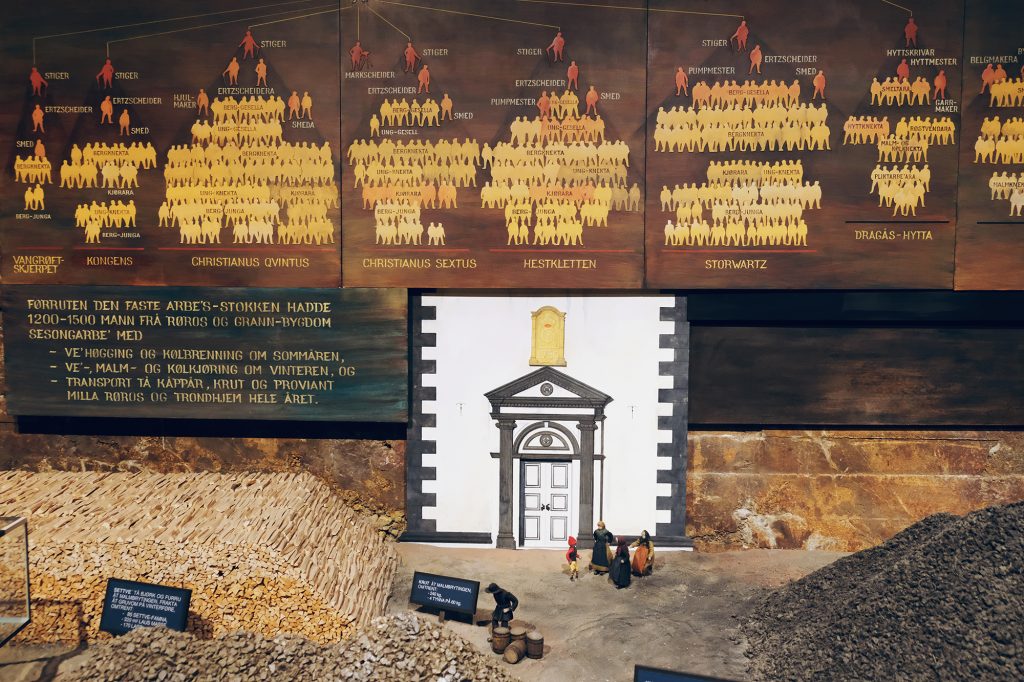 Immediately you're greeted with this huge display that says all the names of the mines and all the different jobs at each mine. It also shows how long they lasted. It's a great visual representation of just how big mining was here, but note it's all in Norwegian – old Norwegian too!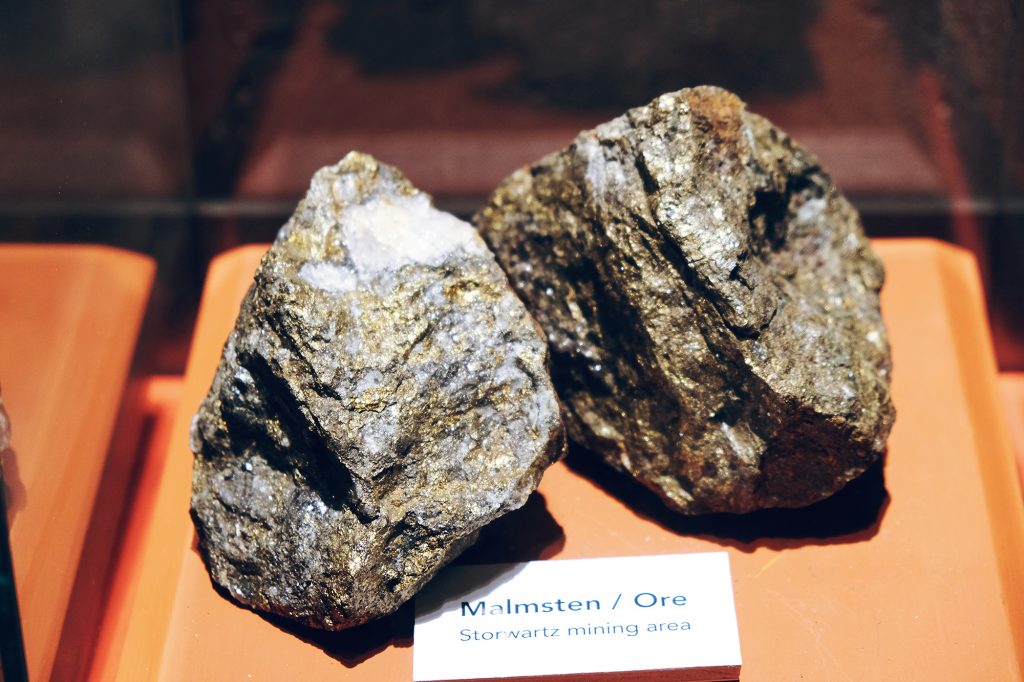 Of course, one of the first displays is copper ore. You have to see what they made their money on. This piece is taken from Gamle Storwartz mine – the first mine in the region.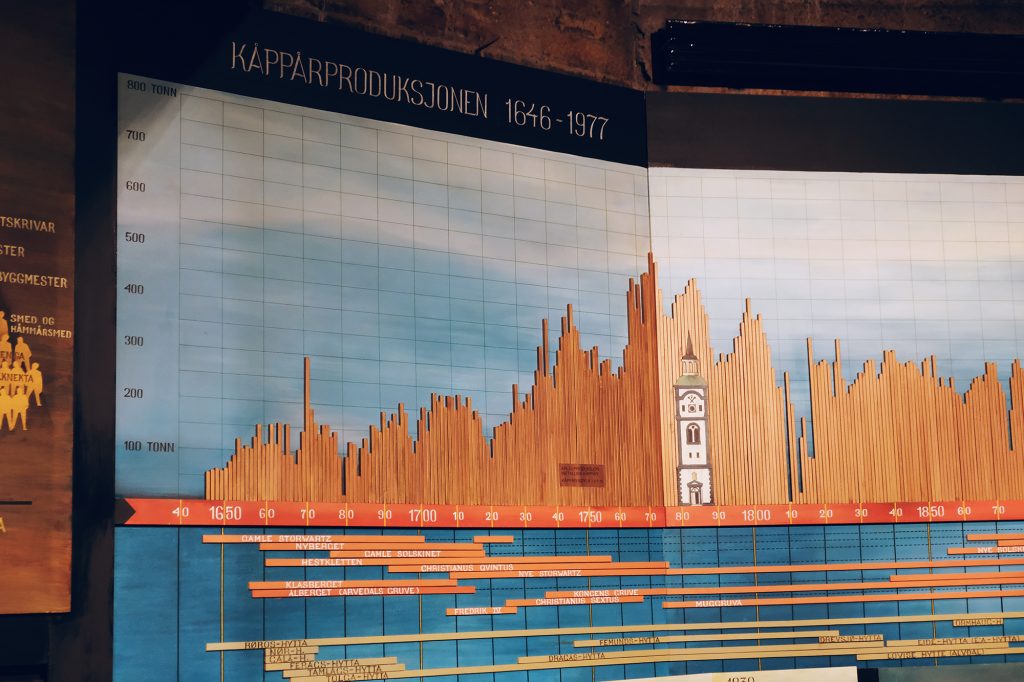 There is another incredible display outlining how much copper was extracted each year, plus when each mine was in operation. I love visual displays like this; it's so much nicer than reading a wall of text. If you read many of my pieces about museums, you'll see I don't care much for museums that are just made up of text. I like visual representations – that's why I go to museums! If I wanted just text, I'd read a book. Anyway.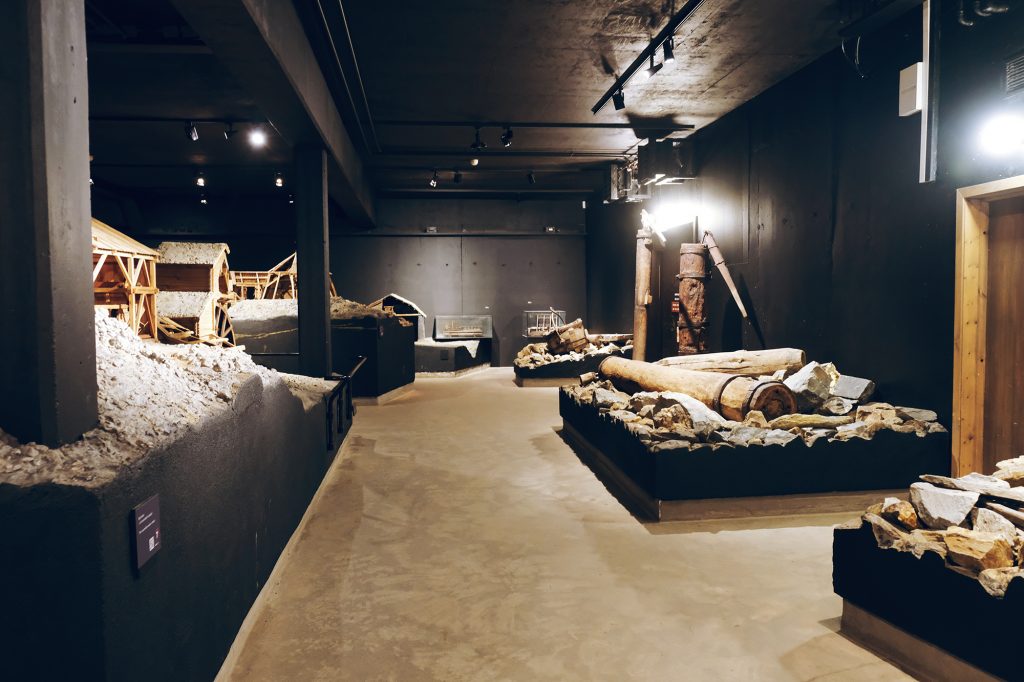 After passing these displays, you turn into the main room. Here you see the models that represent how the process works. There's also a section with items from the old mines. I should say that the items leftover from the mines is very minimal. While I found that disappointing, it's worth remembering that the miners were not exactly preoccupied with preserving everything when doing that hard manual labour every day.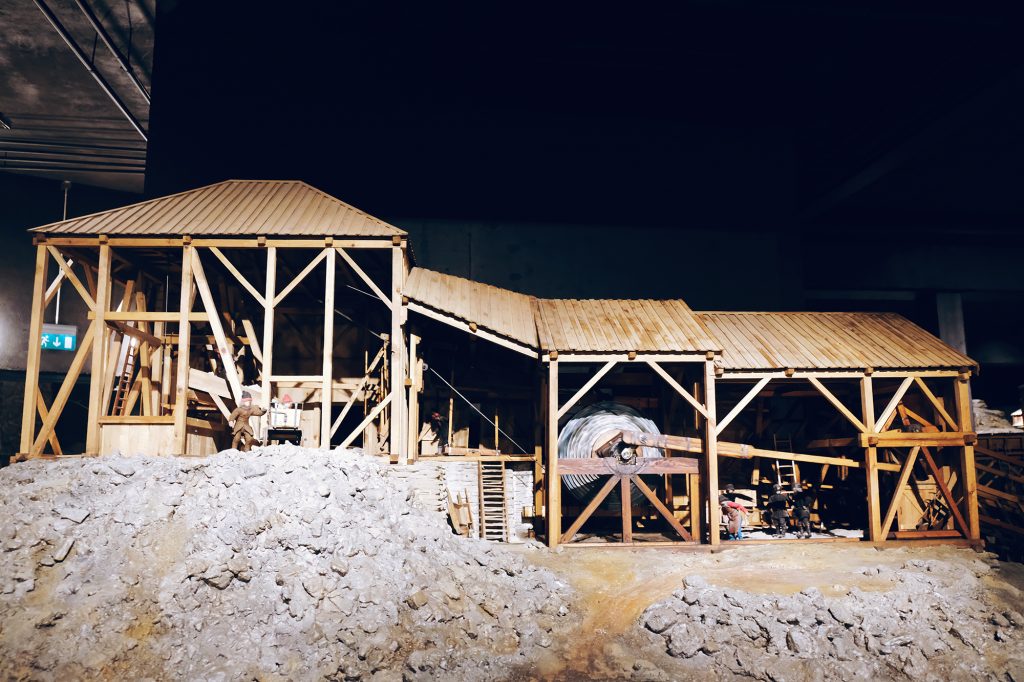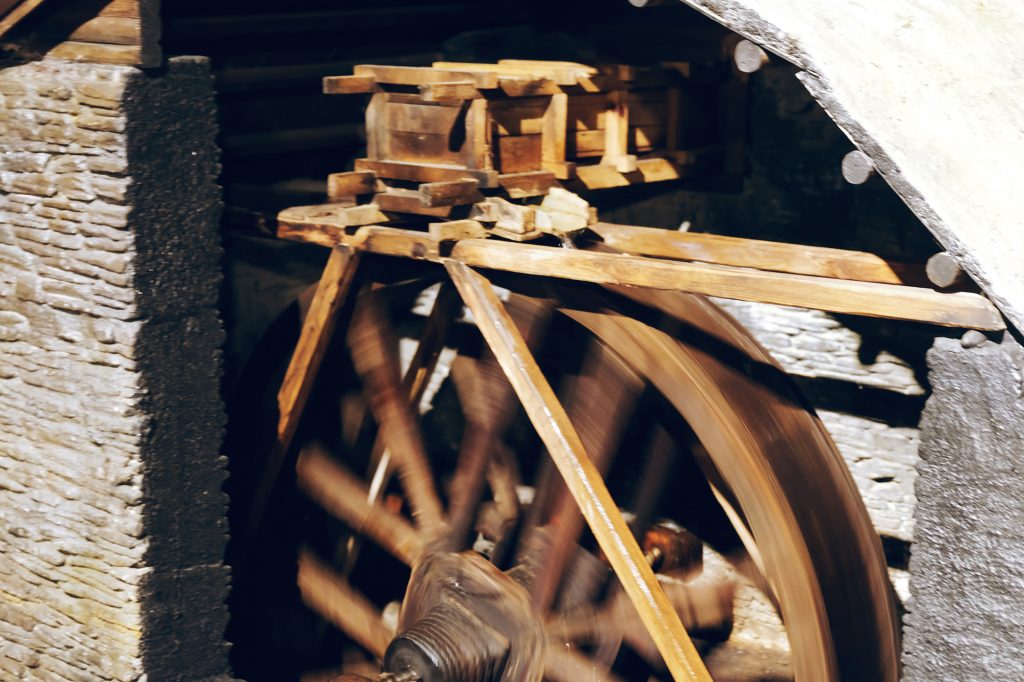 The models are incredible. They move and replicate exactly what the mining process was like. It helped me understand how it all worked. I was mesmerised by the quality and attention to detail that went into these models. They are fantastic. You'll spend most of your time here looking at them.
The Ruins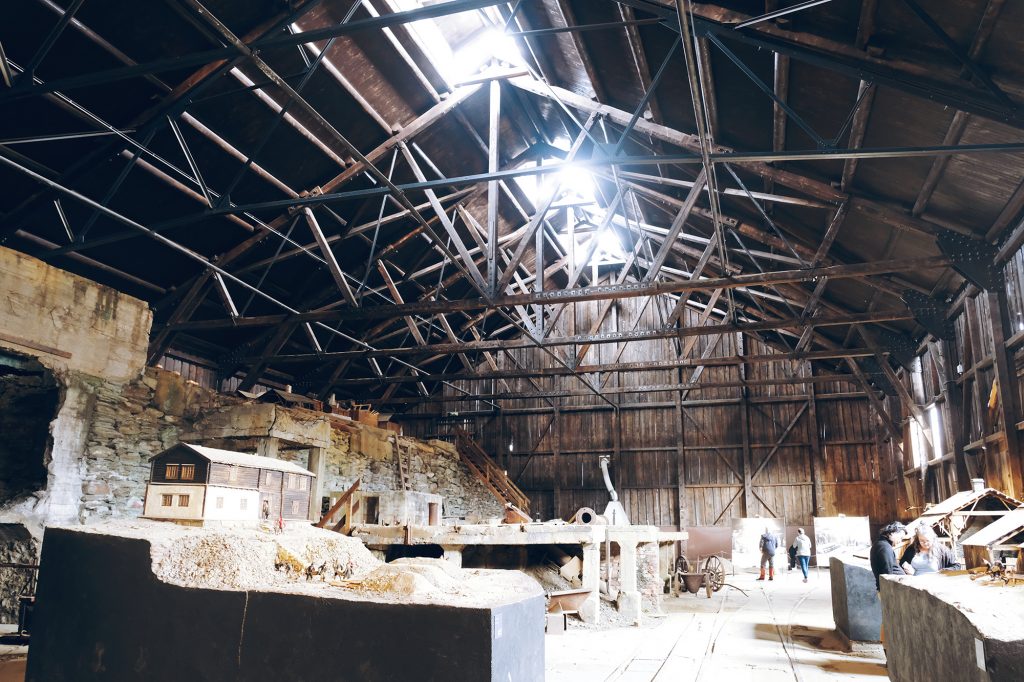 After walking through this room, you'll reach the end. It feels small but go through the large barn door to your left. This is an additional room with models, but there's also the remains of the old smelter here.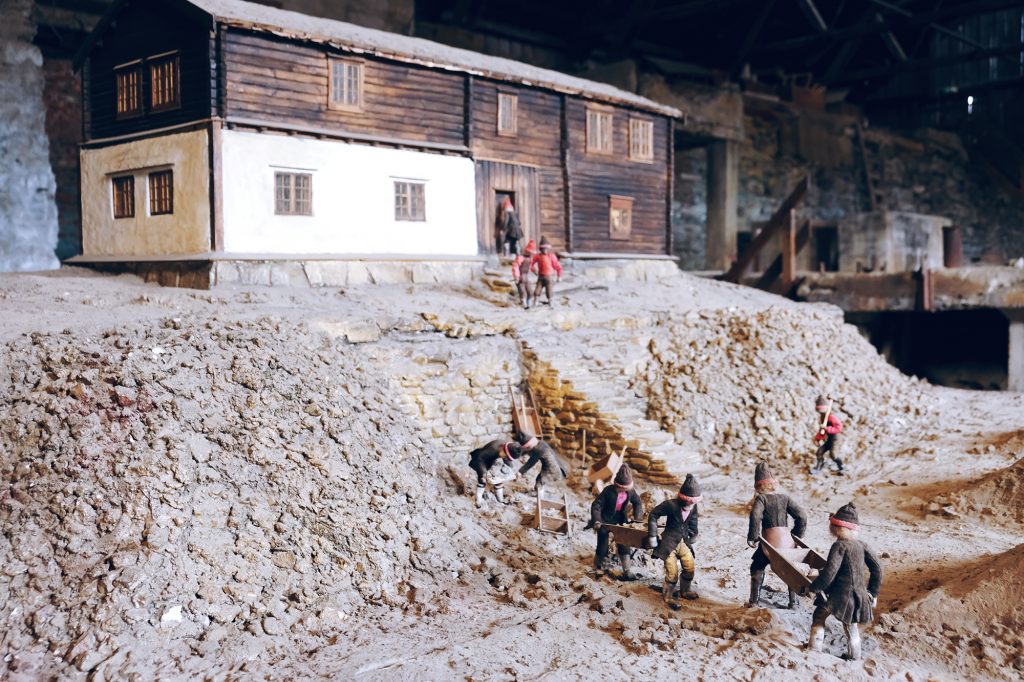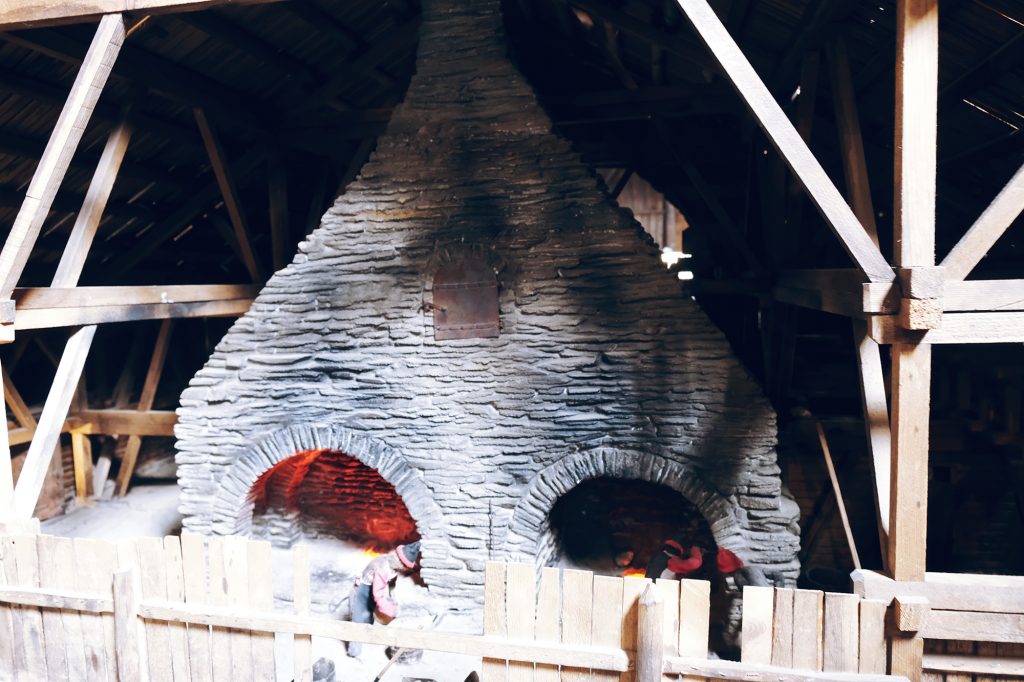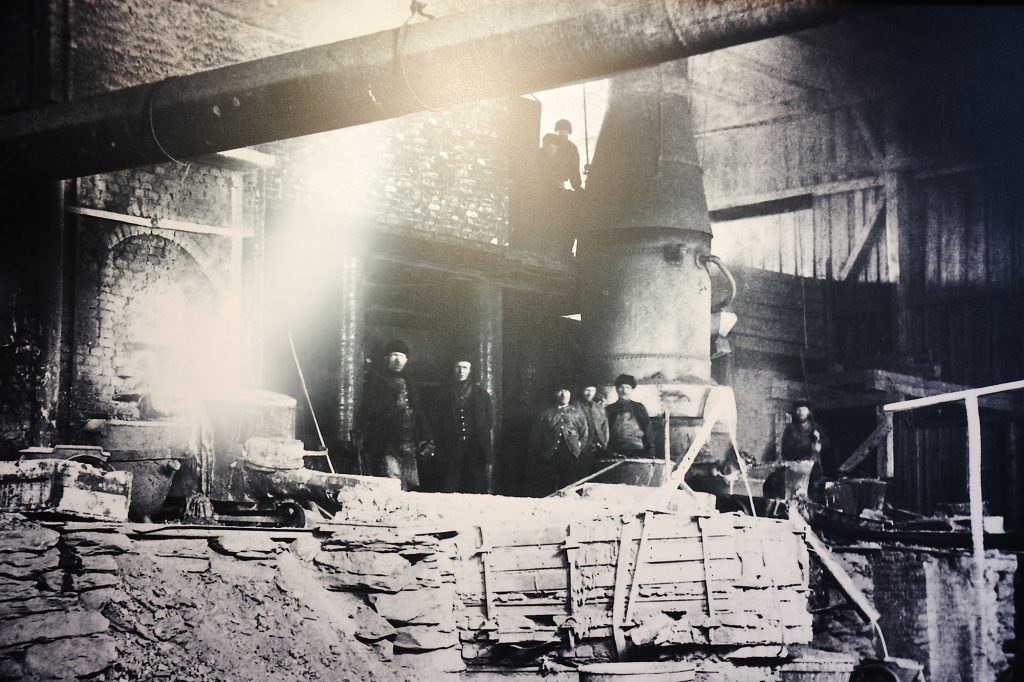 In this room, you'll also find some old photos. Many of these photos can be seen online here.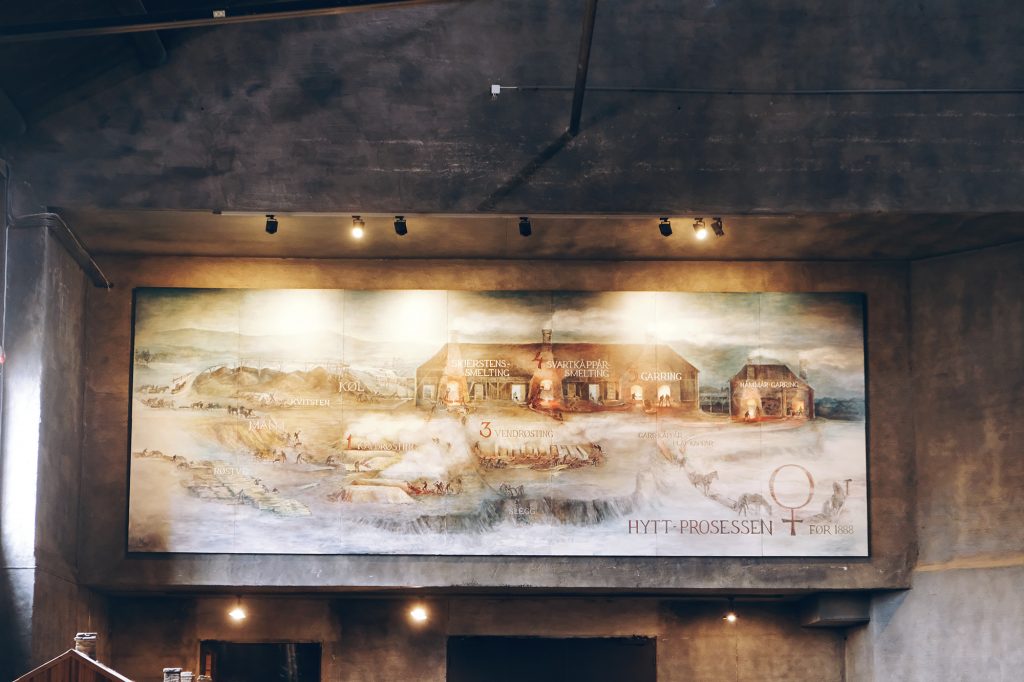 Be sure to look up! This painting is above the entrance to this room.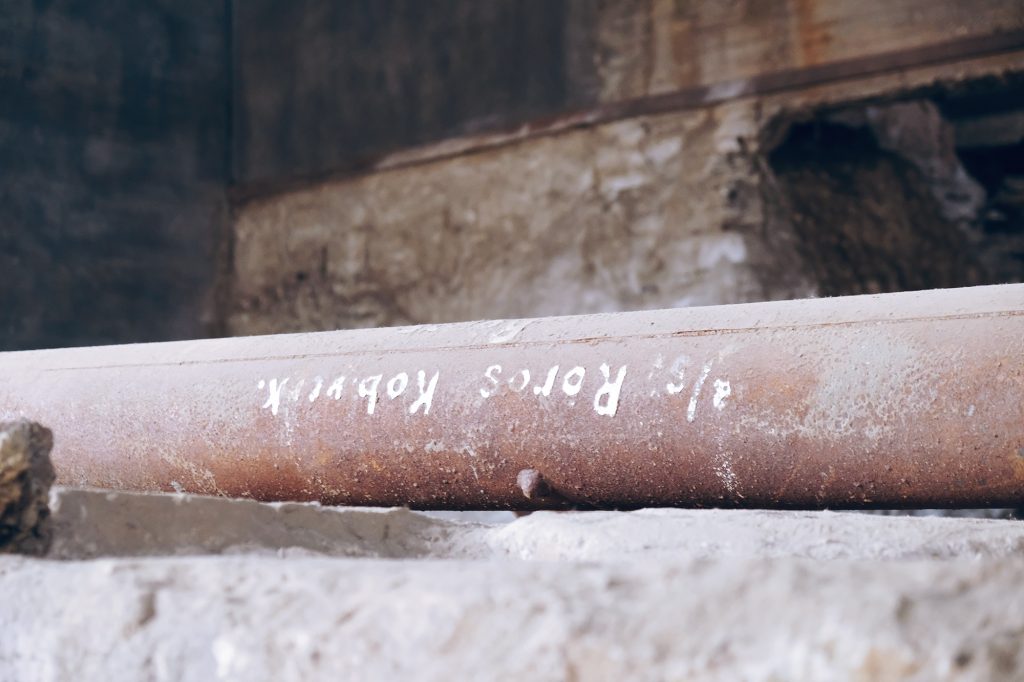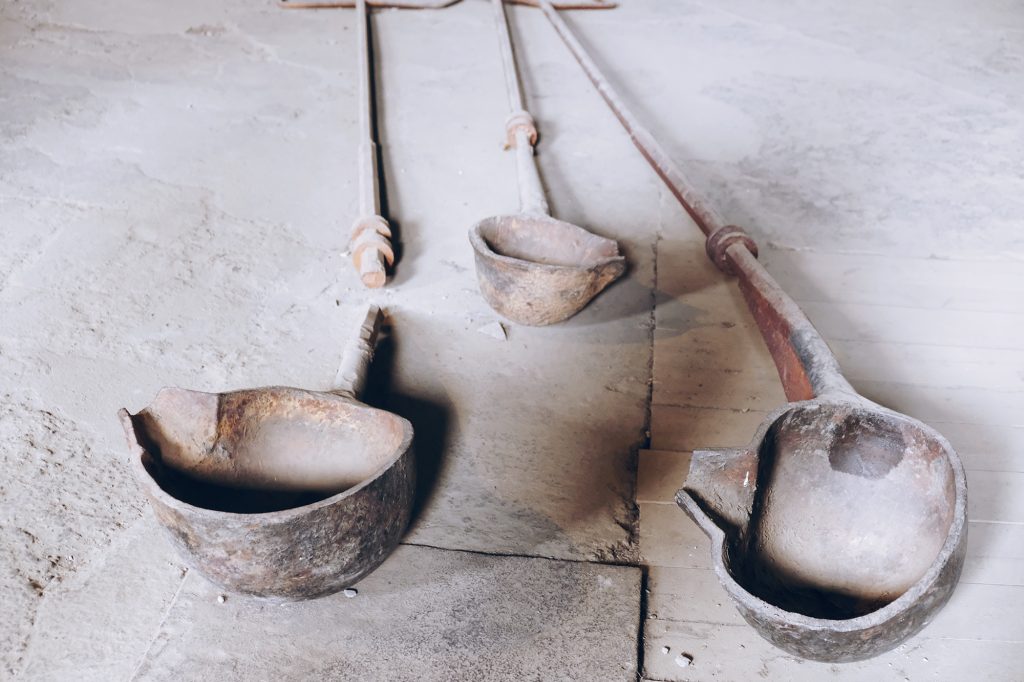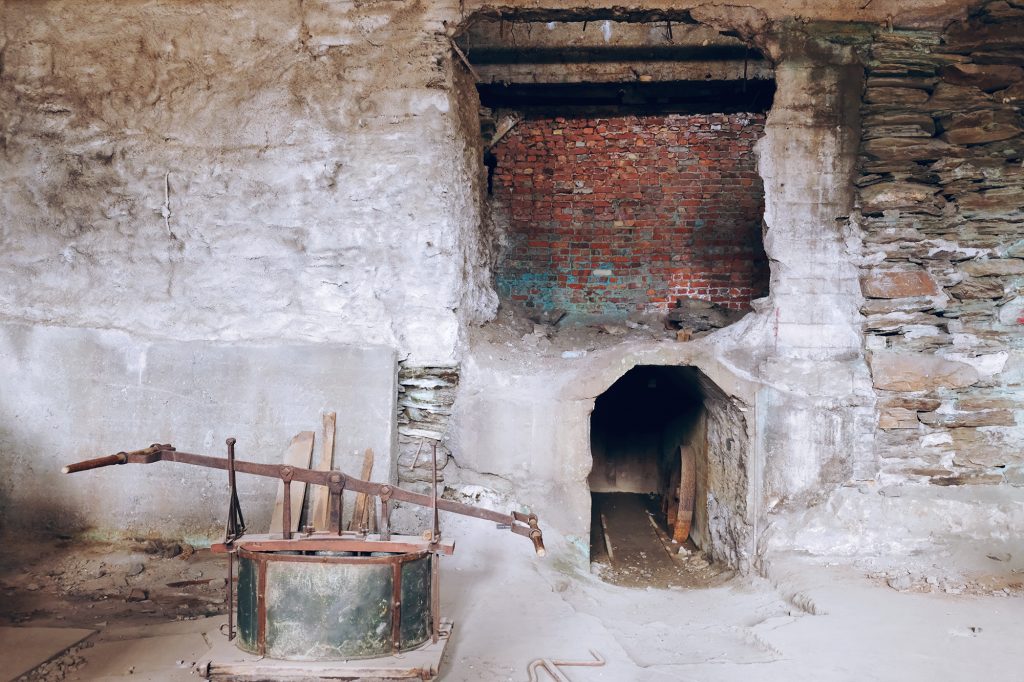 The barn-like room is where you see most of the old smelter. It's great any of it remains considering it burned down in 1953 and 1975. There are old tools and gear here, and they aren't in any exhibition case. They are just left scattered around, as though the workers have put them down for their break. I like this authenticity. It's rough, rugged, and authentic.
However, the room is small. You're done in no time. Head back to the main exhibition room and then from there you head upstairs.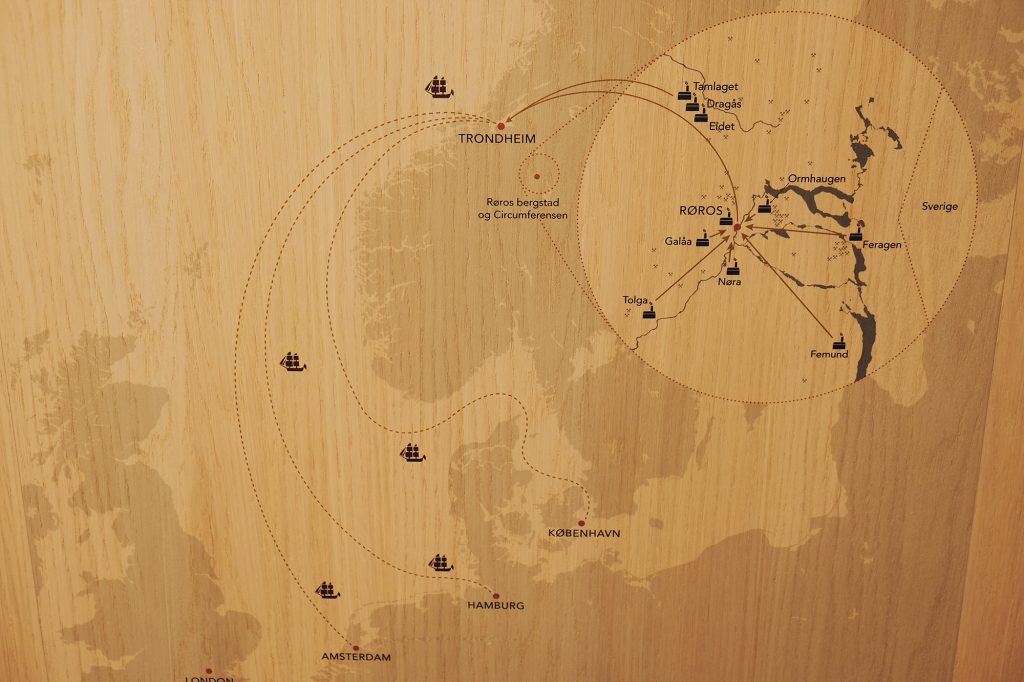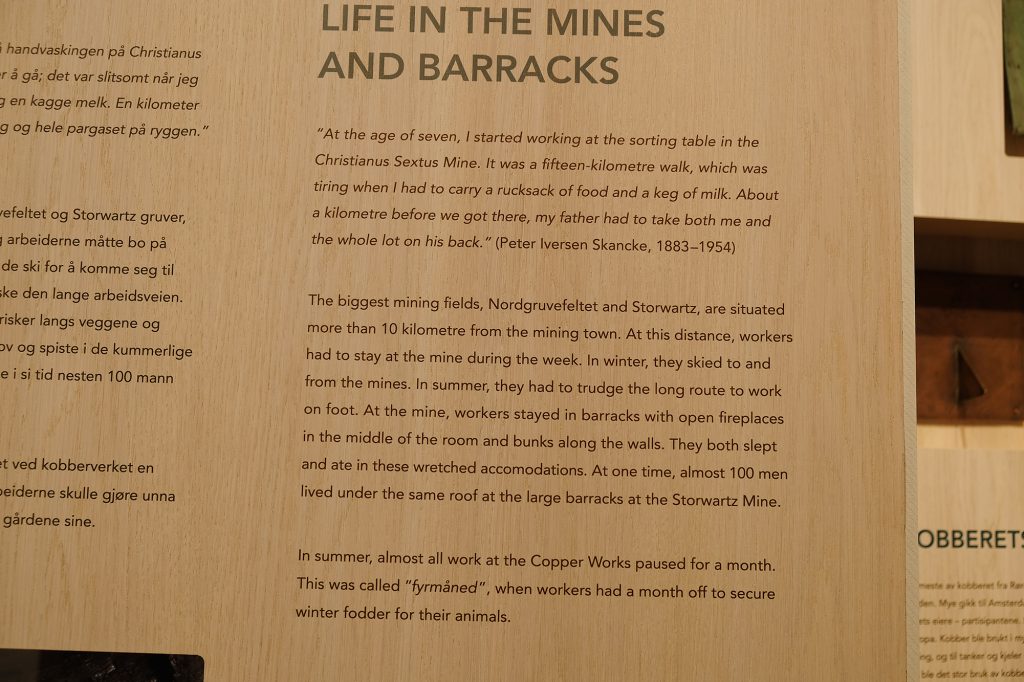 Text in the Main Exhibition
The displays are written in both English and Norwegian, and they are fairly easy to read. There are also good maps and images to get an idea of how the mining process worked.
Upper Floor Exhibitions
On the middle floor is an exhibition called Ti Finpussa (In Their Finery). It is a collection of clothing pieces that were worn by people in Røros throughout the 18th and 19th centuries. It shows how people dressed for the weekend, holidays, and parties. The clothing is inspired by European trends, but also reflects the practical needs of the people living here.
I remember that almost all the information was in Norwegian. Luckily I had my husband there to translate, but we moved through this exhibition pretty fast and I didn't take any photo.
You can see the exhibition here.
Temporary Exhibitions
The museum has temporary exhibitions every year. We didn't go – I don't think there were any when we visited. In 2021 they have an exhibition on the Alta Hydropower project, which is interesting considering Alta is very far away from Røros. My guess is that it ties in with the Sami community in Røros. Click here to view info on the exhibit.
Interestingly, I couldn't find any info about the temporary exhibitions on their English website; just the Norwegian website. Either they haven't updated it, or they are only doing it in Norwegian.
Visiting
How long should I spend there?
The museum is small, and we were in and out within an hour. Of course, that depends on your interests.
When is it open?
The opening hours are:
20 June – 15 August: 10.00 – 18.00
16 August – 10 September: 10.00 – 16.00
11 September – 31 May: 10.00 – 15.00
1 June – 19 June: 10.00 – 16.00
NOTE – they update their website often, and I may not be able to update in time. Check the current opening hours here.
How much does it cost?
2021 prices are:
Adult NOK 120
Student/Senior NOK 100
Children under 16 with adult: Free (not groups)
If you buy tickets to Olav's Mine, a guided tour of Røros and Røros Museum Smelthytta simultaneously, you get a 10% discount on all tickets! I would highly recommend this!
Up-to-date prices can be found on their museum website here.
Practical Info
Accessibility
The main exhibition is down two flights of stairs, but there is a lift as well.
Audio Guides
They have audio guides you can borrow at the museum, or you can load it up on your phone ahead of time. The ones in the museum come in English, Norwegian, French and German. The one online seems to be in English.
The audio guide for your phone is here.
Want to get a really good overview of the museum? You can listen to it all online here. Or wait until you actually get there.
Guided Tours
Guided tours are available in the summer, and I highly recommend them. During summer, they have one English-language tour a day at 11am. During winter, they offer guided tours in English and Norwegian at 1pm.
Check the current tour info here.
Online Exhibitions
There is a crazy amount of information online, and there are two websites that are 'online exhibitions'.
The first one is about Røros on the World UNESCO List. There is so much info there. Click here to view the website.
The second website is about Sami Culture & Heritage in Røros. Why is this an online-only exhibition? I wish I could've seen this in person. Click here to view the website.
Parking
Parking is free and located just outside the museum. It's a fairly large carpark.
Shop
The shop is huge and full of goodies. There are many, many books on Røros – most of them are in Norwegian, though.
There's a section of Sami goods, including jewellery and handicrafts. The husband surprised me with a necklace from there; he knows Sami jewellery is my favourite thing.
You can find the Røros tweed blankets here, as well as locally made ceramics and food.
There's also the standard t-shirts, postcards and magnets type of souvenirs.
Where to go from here?
Once you're done, I recommend leaving the car at the carpark and doing a self-guided walk (or guided walking tour) through the town. There's lots to see and learn about. If you've got a phone handy, there are signs everywhere with QR codes linking to informative websites about the site.
But there's a topic for another article.
Another popular place to go is the only mine open to the public: Olavsgruva. You have to go through the mine with a guided tour, so plan ahead. Sadly it was closed when we were in Røros (thanks COVID) – but we can go next time we are in Røros!
Have Your Say
Have you been to the museum or have any questions? Let me know in the comments!