The Weather
Temperatures
| | | | | | |
| --- | --- | --- | --- | --- | --- |
| | 2019 High | 2019 Low | 2019 Average | Normal Average | Deviance |
| Oslo | +31.7C (26 July) | +9.2C (4 July) | +17.9C | +16.4C | +1.5C |
| Bergen | +33.4C (26 July) | +6.2C (5 July) | +16.2C | +14.3C | +1.9C |
| Tromsø | +23.9C (21 July) | +6.6C (31 July) | +12C | +11.8C | + 0.2C |
Source: yr.no
Precipitation, Snow & Wind
| | | | | | | |
| --- | --- | --- | --- | --- | --- | --- |
| | Wettest Day | Total Precipitation | Normal | Days with Precipitation | Snow Days | Highest Wind Gust |
| Oslo | 20 July (15.1mm) | 58.4mm | 81mm | 10 | 0 | 17 m/s (4 July) |
| Bergen | 31 July (45.4mm) | 151.5mm | 148mm | 14 | 0 | 17.7 m/s (29 July) |
| Tromsø | 2 July (4.1mm) | 10.3mm | 73mm | 4 | 0 | 14.8 m/s (29 July) |
Source: yr.no
Sunrise/Sunset
| | | | | | | | | |
| --- | --- | --- | --- | --- | --- | --- | --- | --- |
| | 1 July Sunrise/Sunset | 1 July Day Length | 10 July Sunrise/Sunset | 10 July Day Length | 20 July Sunrise/Sunset | 20 July Day Length | 30 July Sunrise/Sunset | 30 July Day Length |
| Oslo | 4am / 10:40pm | 18:39:58 | 4:13am / 10:30pm | 18:17:20 | 4:32am / 10:13pm | 17:40:43 | 4:54am / 9:50pm | 16:56:06 |
| Bergen | 4:16am / 11:07pm | 18:50:42 | 4:30am / 10:57pm | 18:27:00 | 4:49am / 10:38pm | 17:48:54 | 5:12am / 10:15pm | 17:02:46 |
| Tromsø | Up all day | 24:00:00 | Up all day | 24:00:00 | Up all day | 24:00:00 | 2:08am / 10:35pm | 21:16:41 |
Note: Does not include twilight hours, which does make the days feel longer, especially for Northern Norway (i.e It's not completely dark all day). Source/For Full Statistics: https://www.timeanddate.com/sun/norway/oslo?month=1&year=2020
Note: Throughout June in Oslo & Bergen there is no true dark night; just a nautical twilight.
Note: In Tromsø, it's the midnight sun until the 26th of July. After that, there is a civil twilight.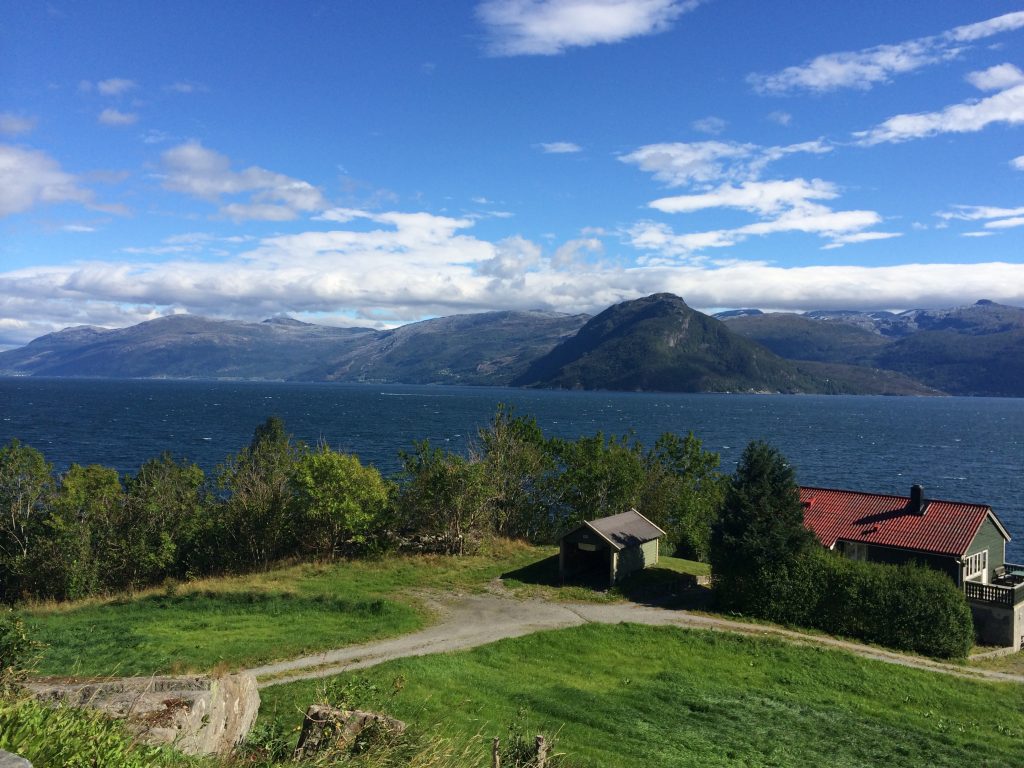 Weather Overview
Summer is here! July is the hottest month of the year. In the last couple of years, this is when we've been getting our heat waves, with temperatures going over 30 degrees celsius.
Being here during the heat is not nice. Hotels are typically not air-conditioned, and the same goes for museums and shops. It's hot and hard to avoid it. If you are looking to enjoy the hot weather, maybe choose a country that can handle it a little better?
Sunlight
July is a month without darkness. For the first half of the month, the midnight sun is still shining above the Arctic Circle. By the end of the month it does set again, but it's not truly dark. I'd love to be up there around the time of the year where the sun sets for a short time then rises again. That would be amazing to see.
Tourism
July is the high season for Norway. Not only is it the peak season for international tourists, it's also the summer holiday period in Europe. Expect Norwegians on holiday, Europeans caravanning on the roads, and countless cruise ships along the harbour. But there's a reason why this month is so popular: it's the warmest month of the year!
Driving along the fjords with endless tour buses and caravans is a little scary, and scenic viewpoints are often without free parking spaces.
Most sites and attractions are open for extended hours, but there are crowds and higher prices. Accommodation is booked out months in advance, so plan ahead.
Most tourists visit the southern half of Norway, including Oslo, Bergen, and the fjords in between. Geiranger is also a very popular destination. The Lofoten Islands is popular for the adventurous.
There are many things you can do in July, including swimming, hiking, cycling, or eating and drinking outdoors.
July is not the nicest time to visit the fjords; often there are many cruise ships and bus tours, making it unpleasant to travel into otherwise calm nature.
Events
Gladmat in Stavanger is believed to be the largest food festival in Scandinavia
Riddu Riddu Festival is one of the main festivals in Norway. It started in 1991 with a group of youngsters barbecuing and discussing their Sami culture. Today you get to know the indigenous culture of the Sami's while the latest artists from northern Norway perform under the midnight sun