Table of Contents
The Weather
Temperatures
| | | | | | |
| --- | --- | --- | --- | --- | --- |
|  | 2019 High | 2019 Low | 2019 Average | Normal Average | Deviance |
| Oslo | +6.9C (19 November) | -7.2C (30 November) | +1C | +0.7C | -0.3C |
| Bergen | +11.7C (22 November) | -4.7C (11 November) | +3C | +4.6C | -1.6C |
| Tromsø | +6.3C (21 November) | -12.4C (21 November) | -2.4C | -0.6C | -1.8C |
Source: yr.no
Precipitation, Snow & Wind
| | | | | | | |
| --- | --- | --- | --- | --- | --- | --- |
|  | Wettest Day | Total Precipitation | Normal | Days with Precipitation | Snow Days | Highest Wind Gust |
| Oslo | 19 November (19.2mm) | 112.3mm | 73mm | 16 | 6 (max depth 10cm) | 15.3 m/s |
| Bergen | 13 November (28mm) | 58.5mm | 259mm | 7 | 0 | 15.8 m/s |
| Tromsø | 3 November (20mm) | 105.3mm | 105mm | 12 | Every day (max depth 53cm) | 19.4 m/s |
Sunrise/Sunset
1 Nov Sunrise/Sunset
1 Nov Day Length
10 Nov Sunrise/Sunset
10 Nov Day Length
20 Nov Sunrise/Sunset
20 Nov Day Length
30 Nov Sunrise/Sunset

30 Nov Day Length
Oslo
7:39am / 4:20pm
8:40:42
8:02am / 3:58pm
7:55:38
8:27am / 3:37pm
7:09:40
8:49am / 3:21pm
6:31:17
Bergen
8:03am / 4:39pm
8:36:21
8:27am / 4:17pm
7:50:09
8:52am / 3:55pm
7:02:52
9:15am / 3:38pm
6:23:14
Tromsø
8:12am / 2:41pm
6:28:53
8:59am / 1:56pm
4:57:03
10:02am / 12:56pm
2:54:49
Down all day
Civil Twilight: 8:47am – 2:17pm
0:00:00
Note: Does not include twilight hours, which does make the days feel longer, especially for Northern Norway (i.e It's not completely dark all day). Source/For Full Statistics: https://www.timeanddate.com/sun/norway/oslo?month=1&year=2020
Note: From 27 November the sun doesn't rise in Tromsø, but there is still a twilight sky. I've included numbers for the brightest of the twilights, civil twilight, but it is a little brighter for longer.
Source: yr.no
Weather Overview
Winter is starting to set in, and the temperature will begin to drop. On top of that, November is a very rainy month. We do get some snow in November, but it's quite rare.
The Northern Lights are visible in September.
The last autumn colours in southern Norway disappear during November, and in the north it begins snowing. The air is crisp and chilly, and the fewer daylight hours start to become more noticeable. By the end of November, the sun doesn't rise in Northern Norway and Bergen gets about 6 hours of daylight.
Northern Lights
The Northern lights are visible in November.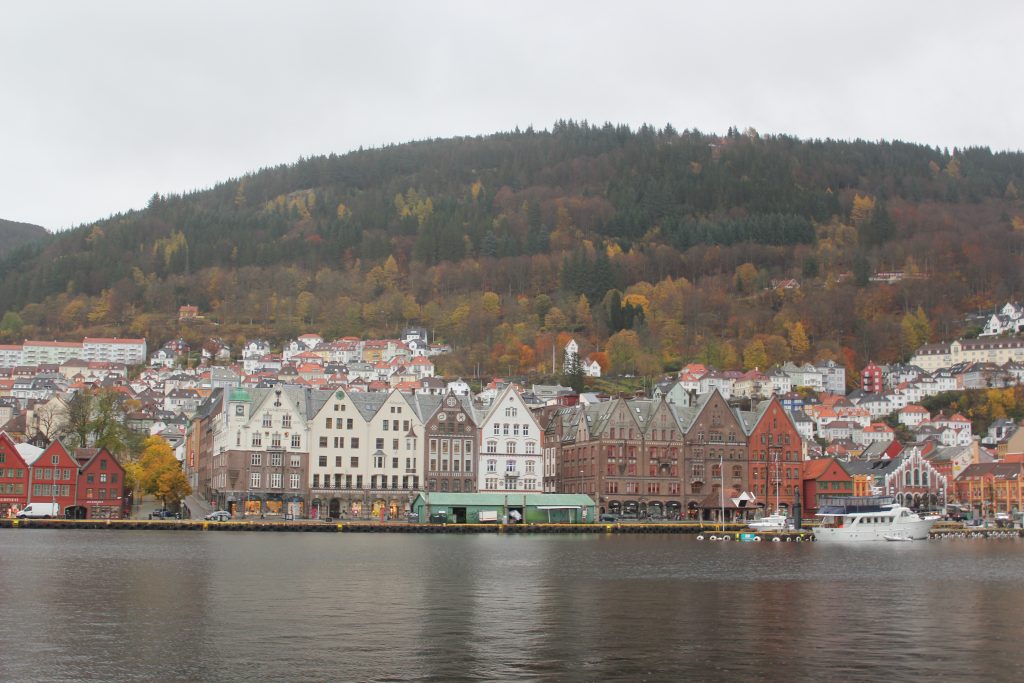 Tourism
This is one of the more peaceful months. We do get some winter tourists, but not as many as you'd expect later in the winter season.
It's unlikely that winter activities will be ready in November; there isn't much snowfall in south and not enough snowfall in the north. November is typically grey and rainy, making it not the best month for outdoor activities.
Events
Rakfisk Festival. During the first weekend of November, the town of Fagernes hosts this festival in honor of the fishy delicacy called rakfisk (semi-fermented trout), and it has grown to become one of the largest food events in Norway drawing more than 25,000 people every year. Producers of rakfisk and other local products and handicrafts turn the streets into one big marketplace with more than 100 small stands where you can sample and buy their products. There's also concerts and dancing.