Table of Contents
The Weather
Temperatures
| | | | | | |
| --- | --- | --- | --- | --- | --- |
|  | 2019 High | 2019 Low | 2019 Average | Normal Average | Deviance |
| Oslo | +14.1C (1 October) | -2.9C (7 October) | +5.4C | +6.3C | -0.9C |
| Bergen | +15.3C (2 October) | +0.8C (30 October) | +8C | +8.6C | -0.6C |
| Tromsø | +8.3C (1 October) | -7.4C (27 October) | +0.6C | +3.2C | -2.6C |
Source: yr.no
Precipitation, Snow & Wind
| | | | | | | |
| --- | --- | --- | --- | --- | --- | --- |
|  | Wettest Day | Total Precipitation | Normal | Days with Precipitation | Snow Days | Highest Wind Gust |
| Oslo | 16 October (28.8mm) | 110.3mm | 84mm | 15 | 0 | 14.4 m/s |
| Bergen | 23 October (62.5mm) | 292.2mm | 271mm | 20 | 0 | 15.7 m/s |
| Tromsø | 21 October (11mm) | 55.4mm | 129mm | 9 | 6 (max depth 16cm) | 18.5 m/s |
Sunrise/Sunset
1 Oct Sunrise/Sunset
1 Oct Day Length
10 Oct Sunrise/Sunset
10 Oct Day Length
20 Oct Sunrise/Sunset
20 Oct Day Length
30 Oct Sunrise/Sunset
Note: daylight savings ends
30 Oct Day Length
Oslo
7:23am / 6:48pm
11:25:14
7:44am / 6:21pm
10:36:57
8:09am / 5:52pm
9:43:32
7:34am / 4:25pm
8:51:00
Bergen
7:45am / 7:09pm
11:24:24
8:07am / 6:42pm
10:35:09
8:32am / 6:13pm
9:40:37
7:58am / 4:45pm
8:46:55
Tromsø
7am / 6:04pm
11:04:18
7:36am / 5:24pm
9:47:49
8:17am / 4:38pm
8:20:16
8:03am / 2:51pm
6:48:07
Note: Does not include twilight hours, which does make the days feel longer, especially for Northern Norway (i.e It's not completely dark all day). Source/For Full Statistics: https://www.timeanddate.com/sun/norway/oslo?month=1&year=2020
Source: yr.no
Weather Overview
Typically a rainy month. Snowfall is not that common. The north may start seeing its first snowfall, while southern Norway starts to get those lovely autumn colours. You will experience the changing of the seasons – possibly in just a few hours – so be prepared for any kind of temperature.
The daylight hours are fairly normal; there's no polar light or short daylight yet. That makes it possible to still enjoy Norway during the day, and you can also hunt for northern ligts at night.
Northern Lights
October is a good month for seeing the northern lights as there are typically less rainy days than in December/January.
Tourism
October is generally a quiet month, though you still may get some groups from summer travelling. By the end of October, though, it's normally pretty quiet. It's also the beginning of winter travel, so some groups will come to Norway looking for the northern lights.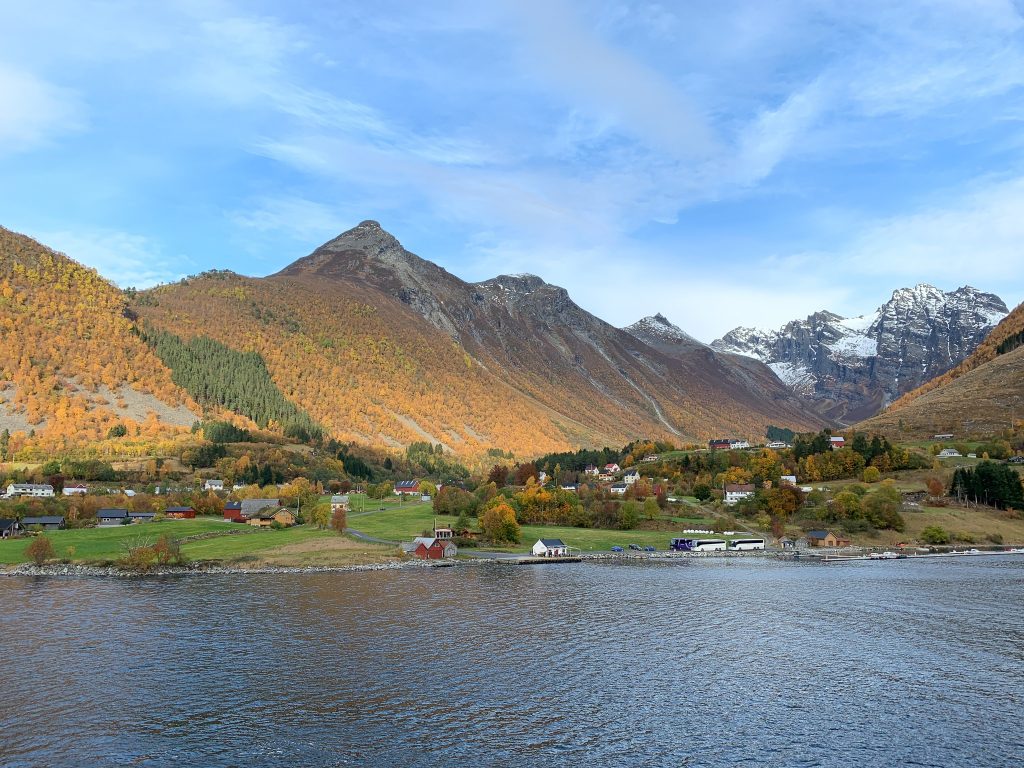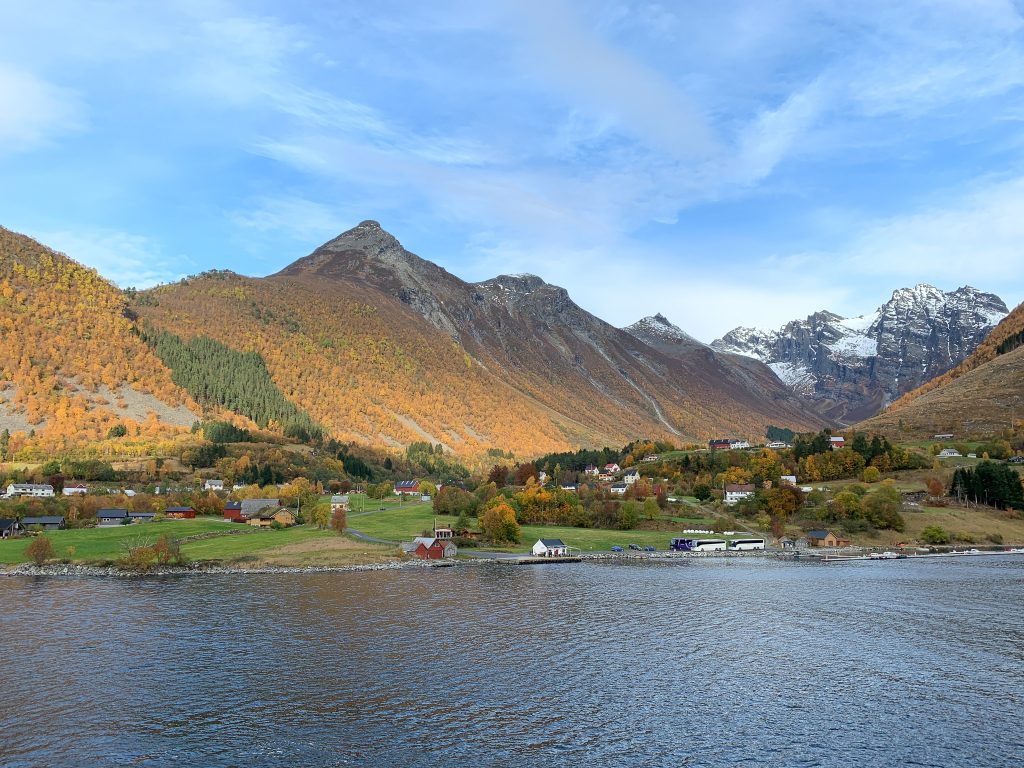 Nature
All of the trees turn orange in October (or late September). While it's not as dramatic as the autumn changes in New England, for example, it's absolutely gorgeous, especially on the fjords.
Events
There are school holidays in October, so you'll see many families out and about hiking the mountains and forests.